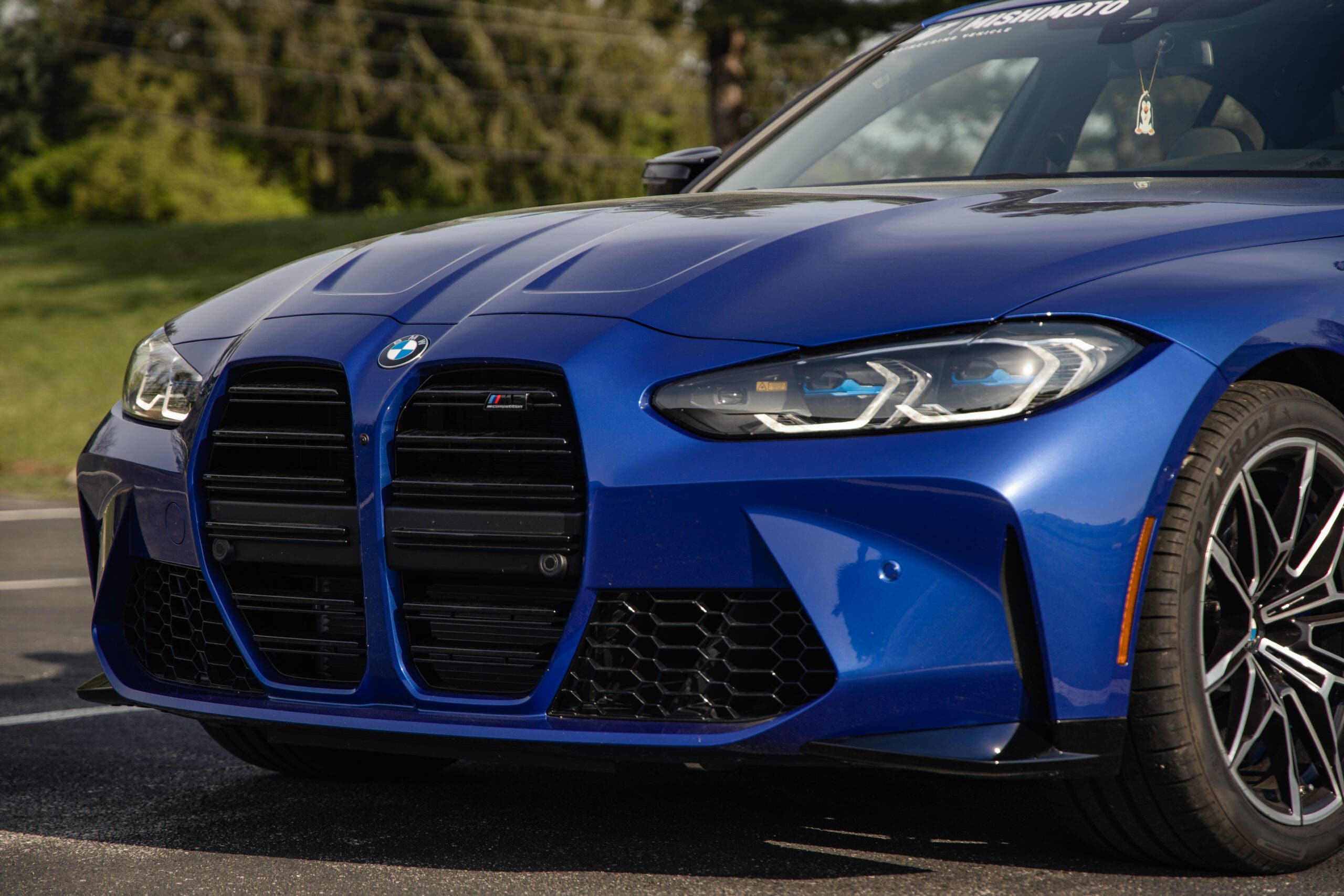 Specialty Experience - 2021+ BMW G8X M3/M4 Oil Cooler R&D, Part 1 - Stock Review and Design Plans
Posted:
February 17, 2022
Oil is the lifeblood of any motorized vehicle out there. Proper lubrication is key to ensuring all of your engine's components keep from melting or shredding each other to pieces. Whether you're trudging through your daily commute or conquering the track, maintaining proper oil temperatures is vital for both the performance and longevity of your G8X M3 or M4. These M's make driving a much more special experience, but high temperatures or a leaky cooler can knock them down a few pegs.
BMW's unrelenting efficiency is both a blessing and a curse, specifically when it comes to its ability to package components in and around the engine bay neatly. On the one hand, it makes for a neatly arranged engine bay laid out for optimal performance. Still, it also means some essential components are either hard to reach or mounted in a precarious position, like the oil cooler, for example.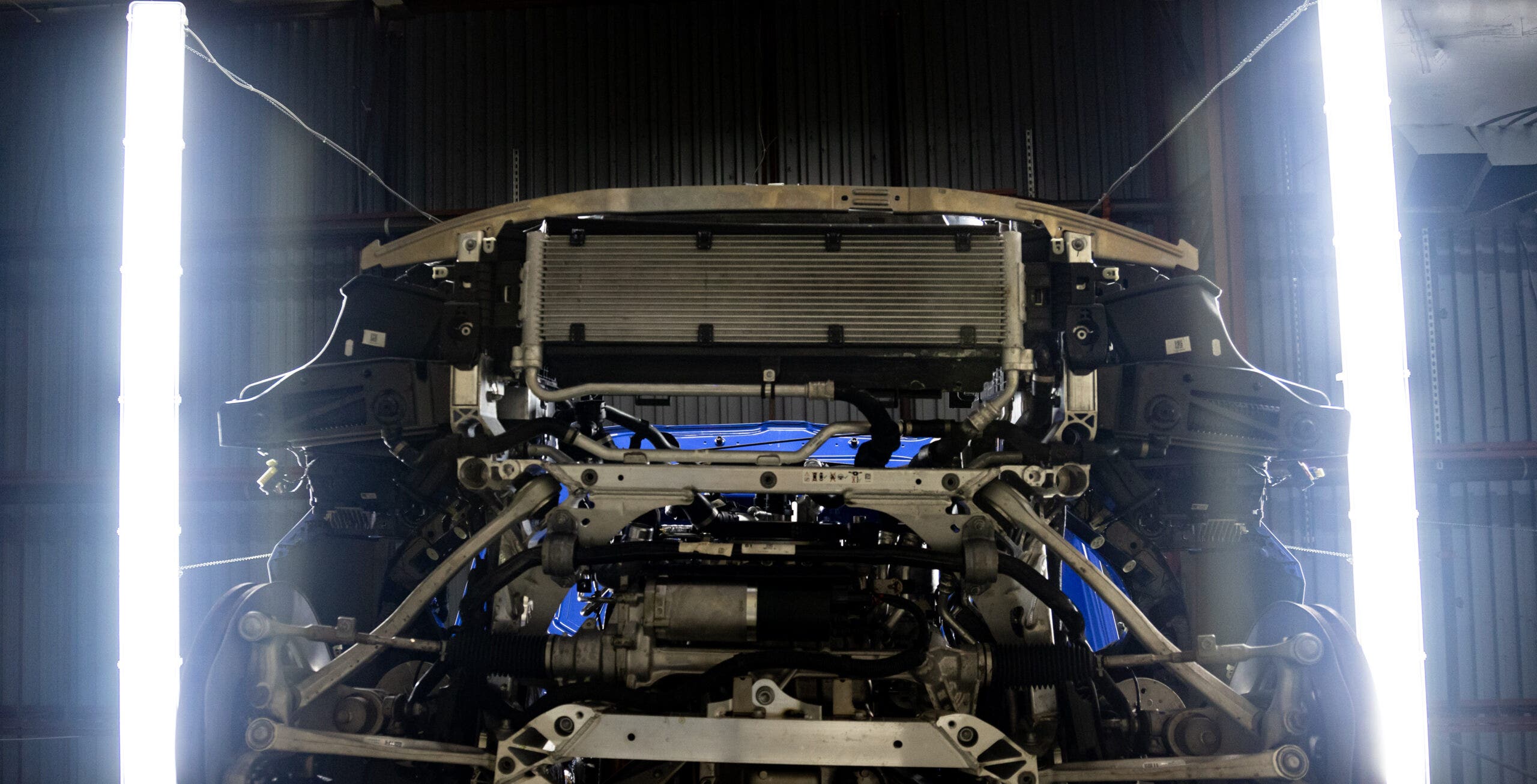 BMW's decision to mount the oil cooler perpendicular with the rest of the cooling stack isn't new to this generation and was something that we even improved on for the F8X and F1X platforms as well. This location has its advantages, specifically when it comes to performance. For starters, this method aids in global temperature management by reducing obstructions to the heat exchanger and radiator. This cooler also utilizes the aerodynamics of the vehicle to pull air through the fins, as explained in this graphic: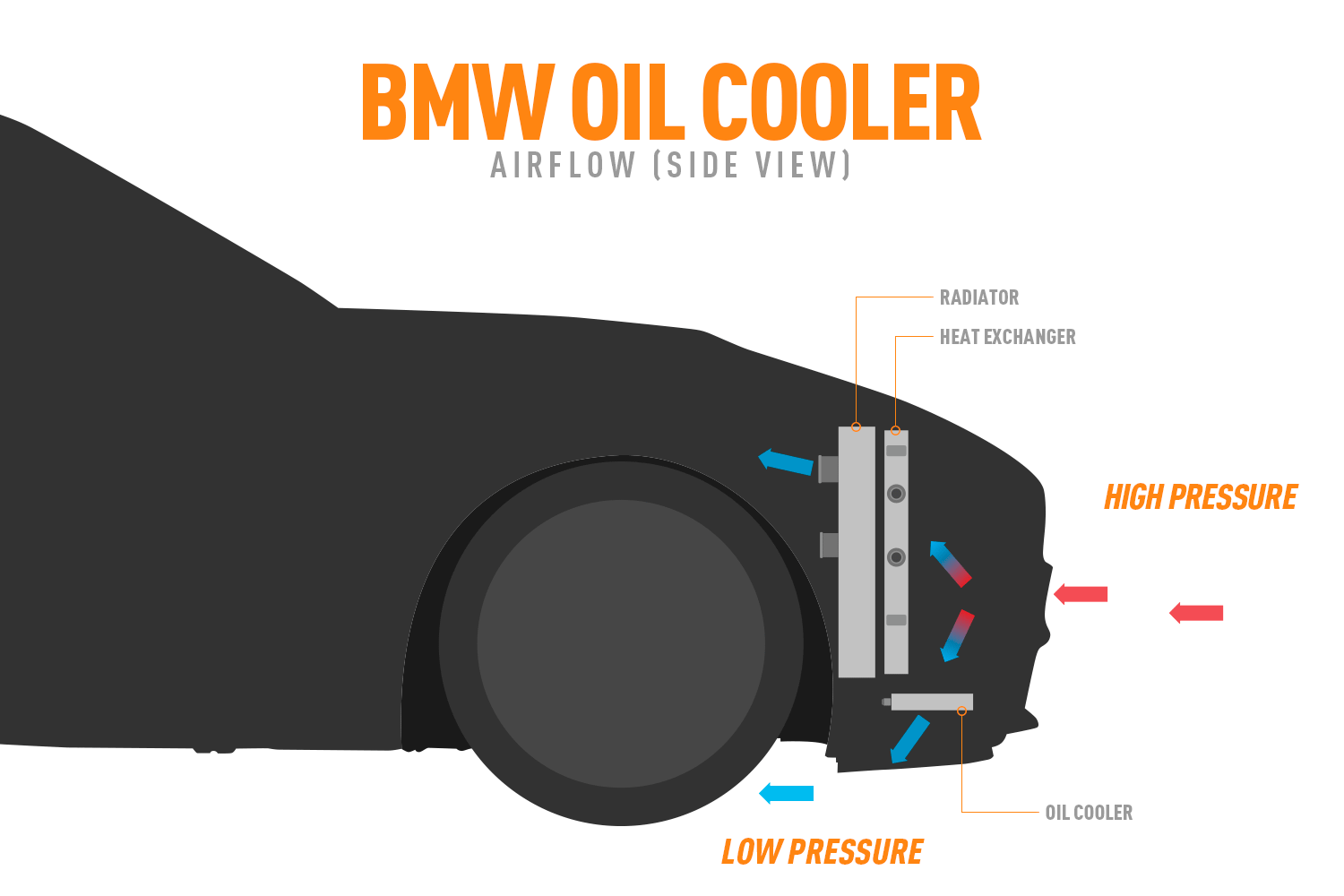 While this method is ideal for fitting more coolers to the front of the vehicle, it also means leaving the oil cooler in harm's way. These low-slung sports sedans and coupes are more likely to catch parking barriers, curbs, and road debris. The risk only increases after they're lowered even more.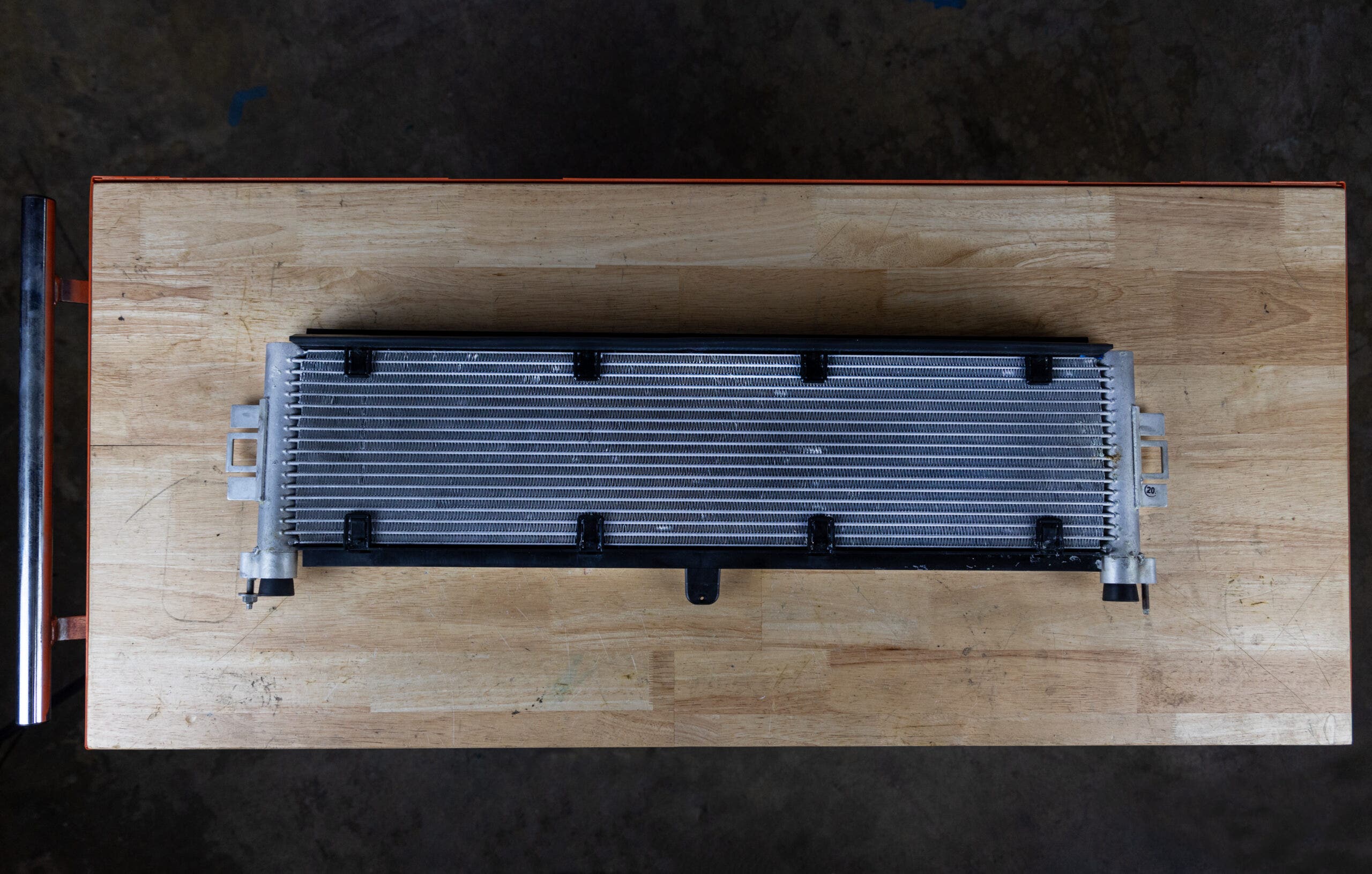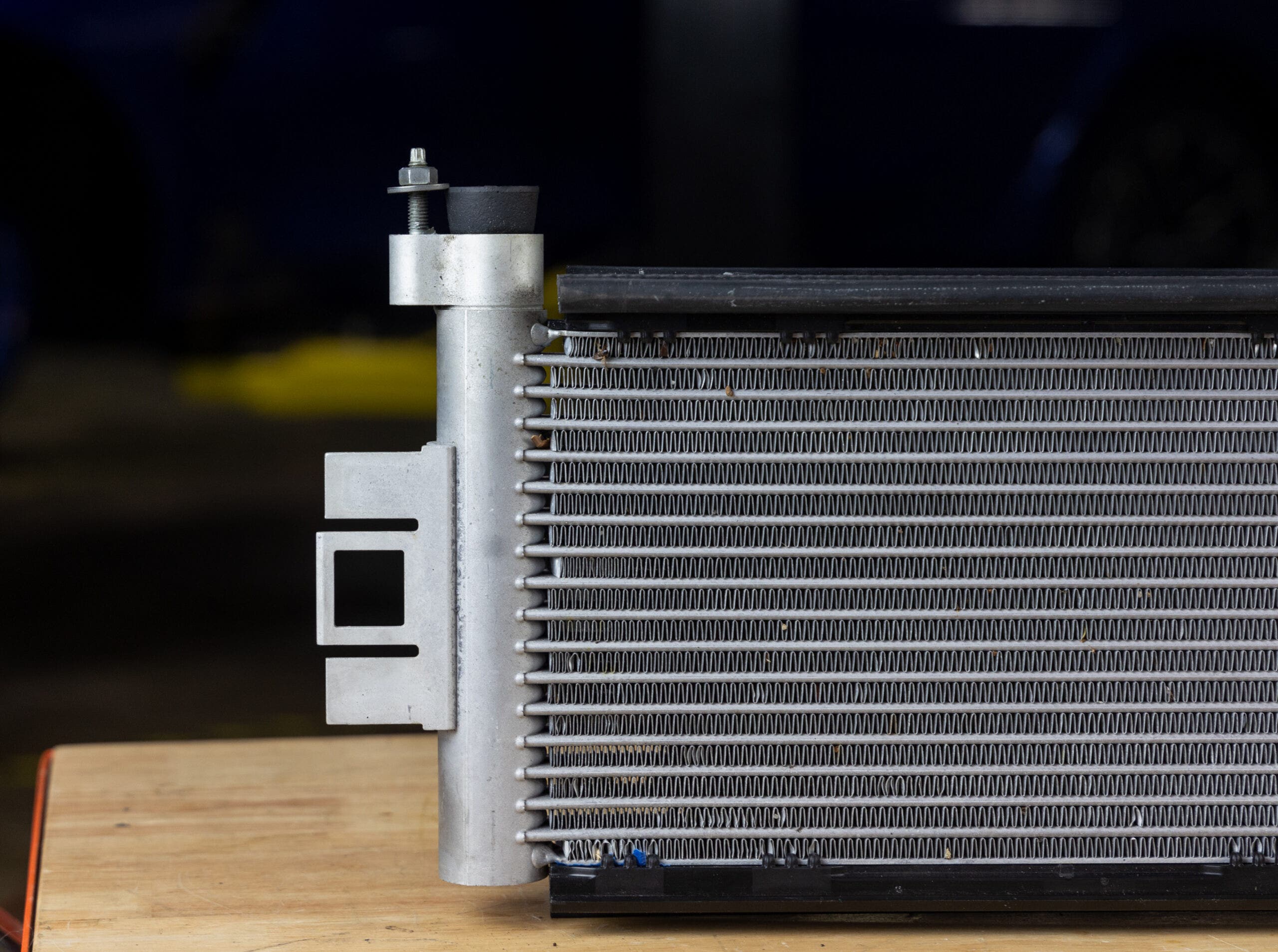 From the factory, BMW equipped the G80 and G82 with a lightweight tube-and-fin oil cooler, aimed more toward striking a balance between manufacturing costs and performance. The large surface area provided by this cooler has no trouble keeping up with the twin-turbo S58 under the hood, but the core construction isn't the toughest, as we saw during the development of our F8X oil cooler:
To keep the oil securely in the system, there are only a few options. The first would be to opt for more of an Overlanding look for your M3 or give your oil cooler another layer of armor. Since we like the lower center of gravity in the G80, we're going with the armor.
We plan to start from the ground up with our new design, beginning with a new core. The tubes and fins will be swapped out for more sturdy bars and plates that are more suited to shrug off impacts. Our new design also grew and will be 10mm thicker than the stock core for added rigidity, plus the bonus of increased core volume, which is beneficial for cooling.
No new core would be complete without a matching pair of end tanks. However, we still had durability in mind for these and opted for CNC-machined billet aluminum end tanks Instead of the extruded tubes found on the OEM unit to solidify the cooler further.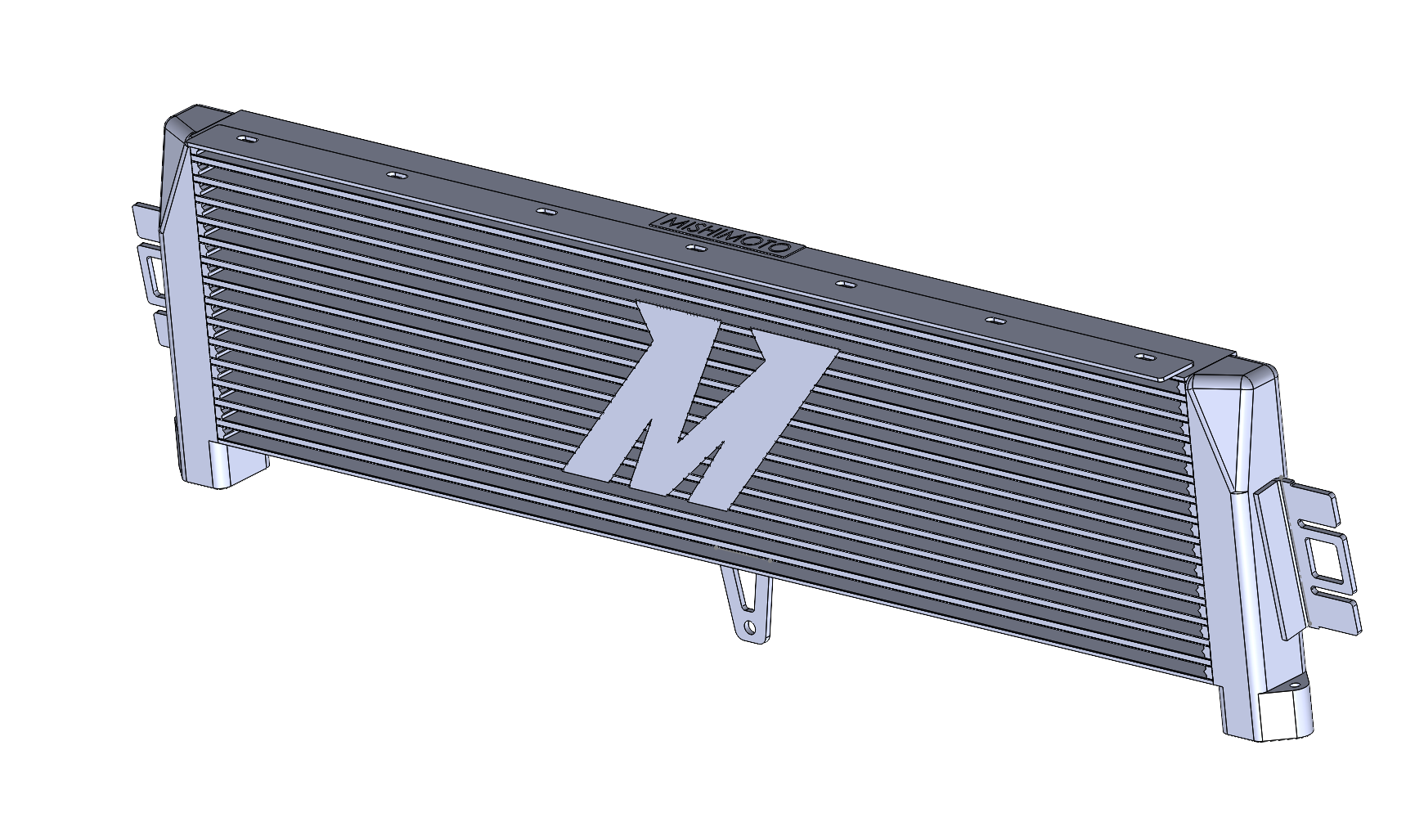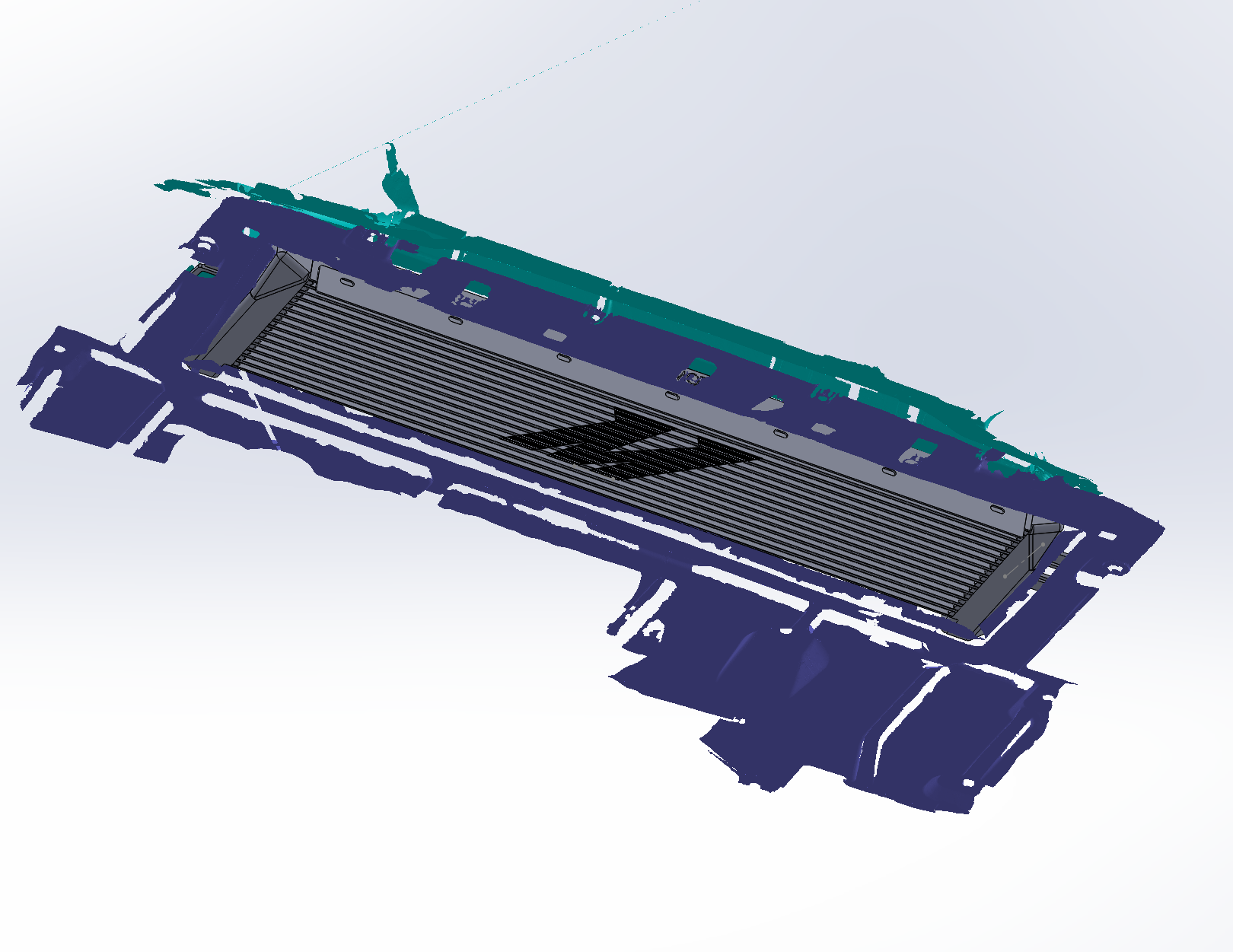 There's something special about BMW's M3. This executive sports compact never fails to elevate every driving experience, so it's no wonder it routinely raises the bar with every generation. As extraordinary as these vehicles are, they still rely on the same principles as every other car out there. High temperatures and busted oil coolers tend to dash any feeling of euphoria from your drive, but luckily we're already on the path to keep that from happening. Make sure that you stay tuned for the first look at our prototype and production level kit coming soon! In the meantime, how low are you going with your M3 or M4? Let us know in the comments!
Thanks for Reading!
-Nick