A History of Experience - 2017+ Ford 6.7L Powerstroke Primary Radiator: Pre-Sale Launch
The difference between success and failure is often a matter of experience. Nothing quite compares to the lessons learned from doing, and even failures can build success. Experience is an endless road to becoming better and at Mishimoto, we are constantly drawing on our experience to make better products for our customers. Our latest addition to the Mishimoto line of Powerstroke products is the result of years of experience producing powerful cooling products for some of the most powerful trucks on earth.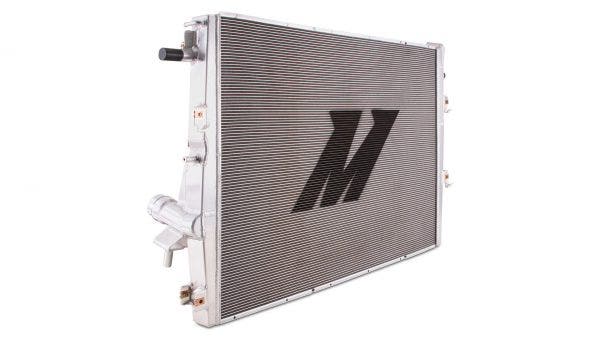 The Mishimoto 2017+ 6.7L Powerstroke aluminum primary radiator combines the best features of our previous Powerstroke radiators for a strong and efficient design. Like our 2011-2016 6.7L radiator, strutted tubes throughout the core of the radiator help resist flex while increasing the pressure and heat tolerance of the radiator. To further protect the radiator from vibration and flex, we've also carried over the rubberized mounting pegs from our previous generation 6.7L and 6.4L Powerstroke radiators.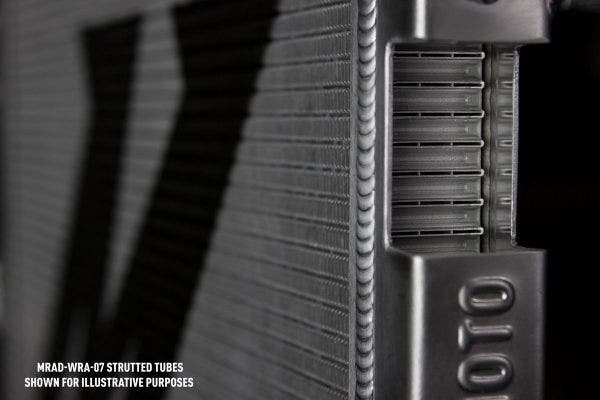 Regarding performance, our 2017+ 6.7L radiator picks up where our 2011-2016 radiator left off. Compared to the stock radiator, the Mishimoto 2017+ 6.7L primary radiator holds 62% more coolant. This extra coolant means that the cooling system can carry more heat away from the engine. To help pull that heat out of the coolant, this radiator also employs a 68% greater fin surface area than the stock radiator. By adding 15 rows of fins and making each row denser, we've given the radiator more contact with the air, and more contact means more heat transfer.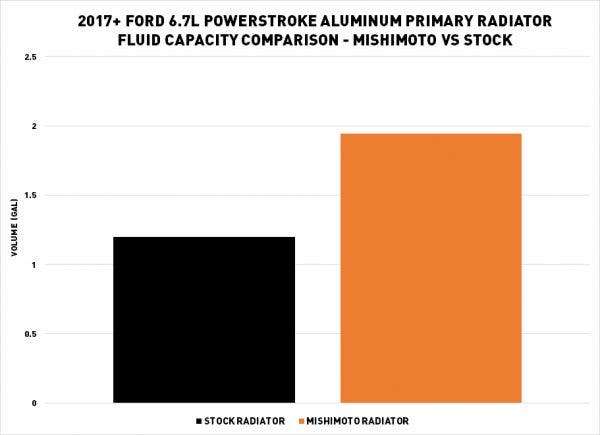 None of these improvements would matter if our radiator didn't fit. But, like all Mishimoto radiators, our engineers took special care to make our 2017+ 6.7L radiator fit like stock while providing all the benefits of a Mishimoto all-aluminum replacement. Our CNC-machined inlet and outlet ensure leak-free running for years to come. Of course, the Mishimoto 2017+ Ford 6.7L Powerstroke aluminum primary radiator is backed by our Mishimoto Lifetime Warranty so you never have to worry about buying another radiator again.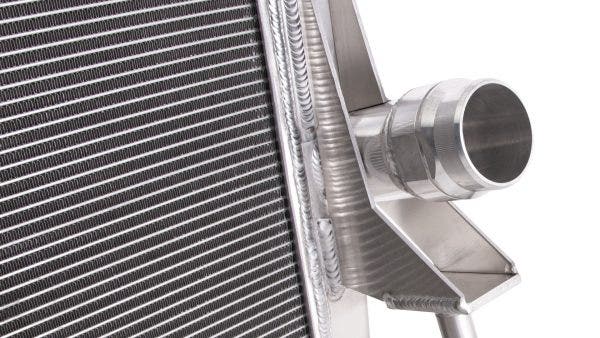 If experience tells us anything, it's that hard work and attention to detail often yields the best products. We've put our years of experience into our 2017+ 6.7L Powerstroke radiator and now it's time to offer it to you. For a limited time, this radiator will be on discounted pre-sale, so head over to our site to check it out and, as always, let us know what you think.
Thanks for reading!
-Steve