Protecting the N55 - Catch Can R&D, Part 3: Test Results and Final Look
Posted:
February 07, 2017
Nothing ruins a weekend drive through your favorite back roads more than an unexpected check engine light (CEL). That is, nothing except a flashing check engine light.  Having driven my fair share of Volkswagens, Audis, and more recently Subaru's, I've become quite accustomed to the warm, orange glow of a lit check engine light.  A solid CEL is something that no longer worries me; it's something that I, and most people who modify cars, have come to expect every now and then.  What does still haunt my dreams, however, is the flashing CEL. What's the difference? A solid CEL is usually a fault that's not life-threatening to the engine.  Small issues like loose fuel caps, small vacuum leaks, and dirty throttle bodies all cause a solid CEL. But what causes a flashing CEL is something much more dangerous: a major misfire.
The Orange Omen
Major misfires can be the result of the simplest issues, like old spark plugs, or something more serious and expensive, like a failing ignition coil.  A major misfire can also be caused by dirty valves, an issue that many owners of direct-injected vehicles, especially N54 BMW drivers, are familiar with.  As we discussed in previous posts, direct-injected engines can suffer from a buildup of carbon on the back of intake valves, leading to misfires.  BMW's equipped with the N54 engine are notorious for having issues with carbon buildup on valves, often needing an expensive valve cleaning after only 30,000 miles.  But this is an N55 catch can post, right? Right.  So, let's talk about the N55.
In the last two posts, we looked at the stock N55 PCV system, discussed its complexity, and how it utilizes every bit of German engineering that BMW could squeeze into such a system.  We also looked at its weak points, including the fact that turbo-charged engines inherently generate more blow-by than naturally-aspirated motors.  This particular PCV system also routes the blow-by into the intake before the turbo, meaning it's not just the valves that are exposed to blow-by. Coupling that with the normal disadvantages of a direct-injection fuel system means that the N55 will eventually fall victim to carbon buildup, just like its N54 brethren; and we can prove it.
Initial Test Results and a Surprising Discovery
Our initial N55 catch can prototype has been on the volunteer R&D vehicle for about 5,000 miles and it's time to bring it in and see the fruits of our labor, as well as fit it with our production sample.  We've actually been keeping a close eye on this project since the last update. In fact, a few months ago we took a trip to see how the system was doing after about 1,000 miles of being on the car.  After removing the catch can from the still very hot engine (it was lunch time and we weren't about to wait for it to cool down), we found something very encouraging. After only 1/10th of an oil change interval, the catch can had collected about 5ml of blow-by. Five milliliters may not sound like a lot, but that's more than enough to begin coating all 12 intake valves of the N55. Knowing that the catch can system would be effective, we reinstalled the catch can and asked our volunteer to drive the car another 4,000 miles while we started production.
What we found when the car came back to our facility for a production sample test fitting was surprising, even to the project manager and me.  The catch can had not been emptied since the 1,000 mile test, so we were expecting something along the lines of four times what we initially saw, which would be about 20ml. Instead, we found that the can was almost completely full.
We measured about 60ml of blow-by which was well above the baffle and beginning to contact the filter element at the top of the can. This time, we found a significant amount of clear fluid (probably a mixture of fuel and water), oil, something that looked like gelled fuel and general slime (definitely the scientific term for it).  The blow-by also smelled like the time I accidently ran my lawnmower on a mixture of 2-stroke and diesel fuel.  Needless to say, our catch can system had been quite effective.  All that was left to do now was test fit the production sample.
The Final Look
In the time that it took to remove the engine cover and one bolt from the coolant reservoir, we had the production sample installed and were basking in the awesome OEM look that Jason, the project engineer, had achieved.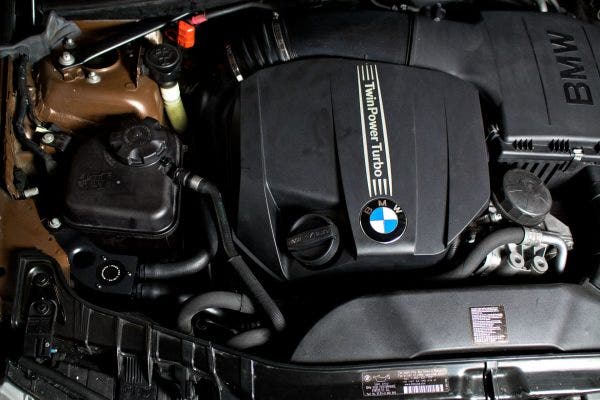 To the untrained eye, it's hard to tell what's different about this engine bay from any other stock 135i, but any enthusiast will know that whoever owns this car likes to keep the engine as clean as the body lines.  Now that we know the catch can fits and works beautifully, we'll be pushing through production, and soon, you'll be able to buy this kit in pre-sale!  Check out the rest of the photos of the installed kit below and as always, feel free to leave us any comments or questions you have.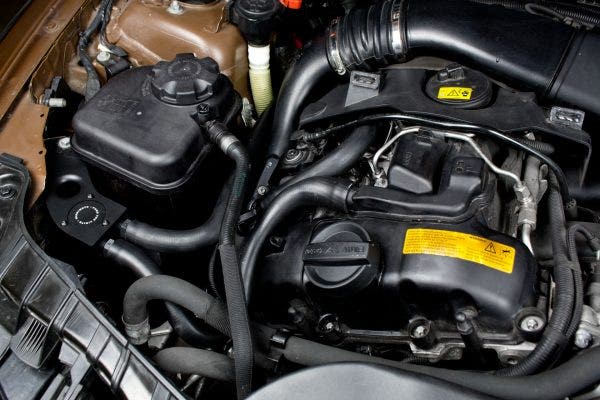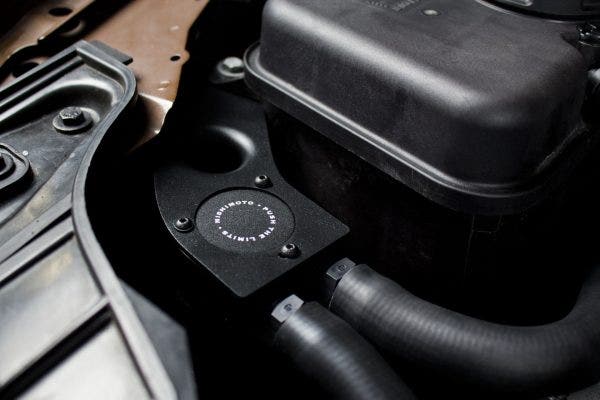 Thanks for reading!
-Steve