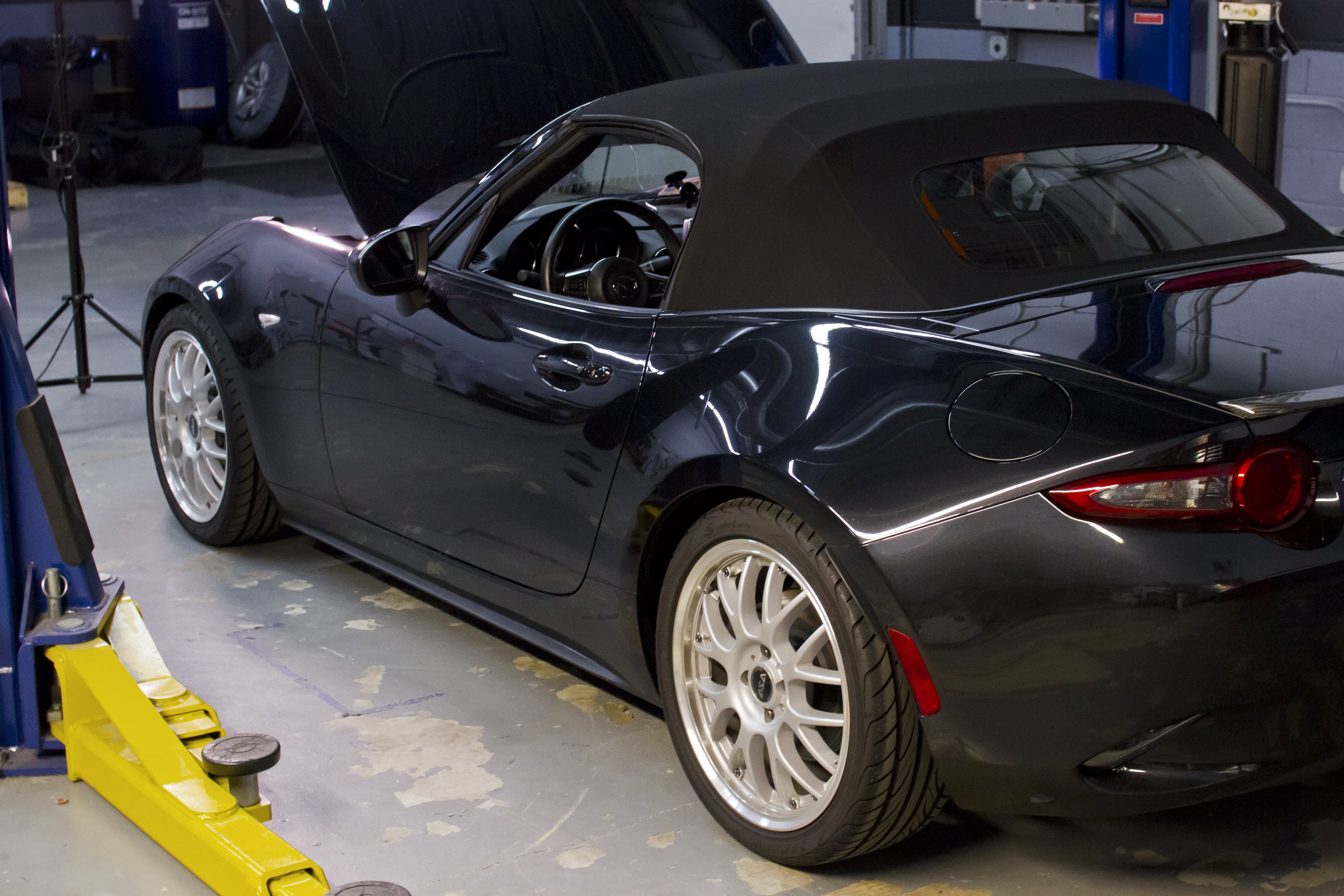 Simplify, Then Add Washer Fluid - Washer Reservoir R&D: Test-fit, Prototype, Pre-Sale!
Posted:
September 26, 2016
At Mishimoto, we know how passionate the enthusiast community is about the fact that Miata Is Always The Answer, and we share that passion!
But by the same logic, we also feel strongly that Washer-fluid Always Sloshes Heavily Everywhere, Rendering FR-layout Legends Unnecessarily In-Direct. Always up for a way to improve on an already wonderful car, we are here to change that by bringing you a 2016+ ND Miata windshield washer fluid reservoir that embodies the true spirit of the car not only by being attractive, but also by shaving some pounds and adding some lightness (if I may borrow the expression from another famed light-weight roadster enthusiast).
I've found most weight-loss programs to be a bit over the top and borderline pseudoscientific, but at Mishimoto, we've adopted a three-step plan that works very well for us.
Here's a photo of the stock tank that we will be replacing: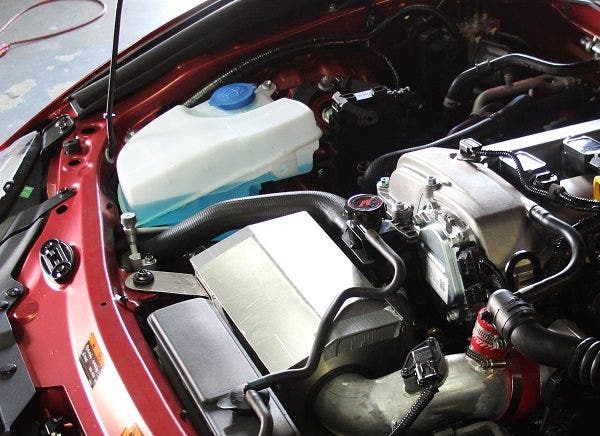 Step 1: Make it lightweight
I feel like I barely even need to elaborate on this to a group of Miata owners; I once met a Miata driver who told me that his primary dieting motivation was improved autocross times. It is important for Miata parts to be lightweight, and every little bit counts, so we've cut the size of the reservoir roughly in half to keep those kilos off. Our tank holds .75 gallons less fluid than stock, saving a grand total of 6lbs when full of washer fluid - this way, you can scrub weight but also have a nice, clear windshield.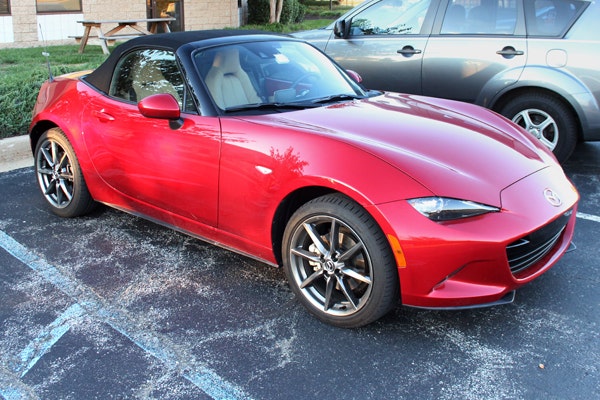 To put that in perspective, three of my coworkers had Chipotle burritos for lunch yesterday (clearly, not avid autocrossers), and from their delicious eating experience, a new unit of measurement was born: 3 burritos at 4.56lbs, or 1 Mishilunch. All told, we are helping your Miata shed 1.32 Mishilunches of weight. That's just about four burritos, and that's with guacamole, thank you very much.
Our first step was to whip together a model of our miata parts on the computer. Steve, the project engineer, accomplished this one in Solidworks.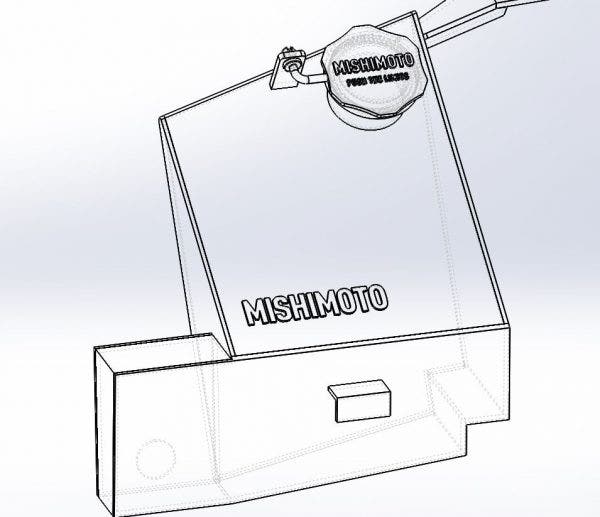 Next, with the dimensions of the tank sorted out, we measured out the components and fabricated a prototype to test the fitment.
Step 2: Make it pretty
As with most under-hood modification, function and form are both important parts of the equation. Steve has done what he could to make this thing look awesome. He ensured that the angle of the aluminum on the top of the tank closely matched the angle of the strut tower, and this really helped a lot to bring that part of the bay together to comprise a sharp, cohesive aesthetic. After making several changes to the original design to guarantee fitment to the highest standard, it was time to create a prototype. Have a look at some installed shots, below.
Here's one more shot of the tank in black.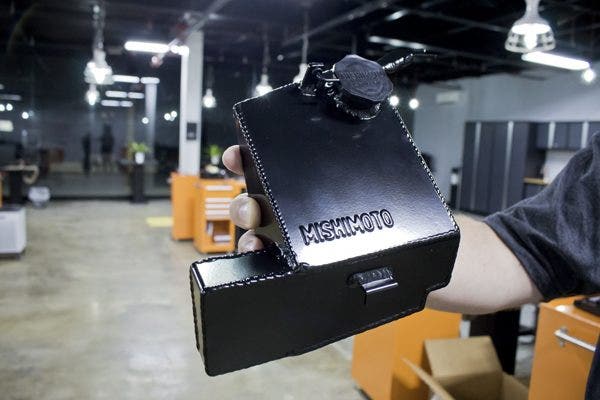 Step 3: Give me a discount on these Miata Parts!
I'll do one better: not only we are holding a discounted pre-sale for this tank, but that pre-sale actually begins right now. For a limited time, take advantage of this forum members-only discount to pick up one of these for your ND Miata. This windshield washer tank is available in the polished finish pictured or in a black powdercoat finish for a more understated, refined appearance.
Thanks for reading,
-Gardiner