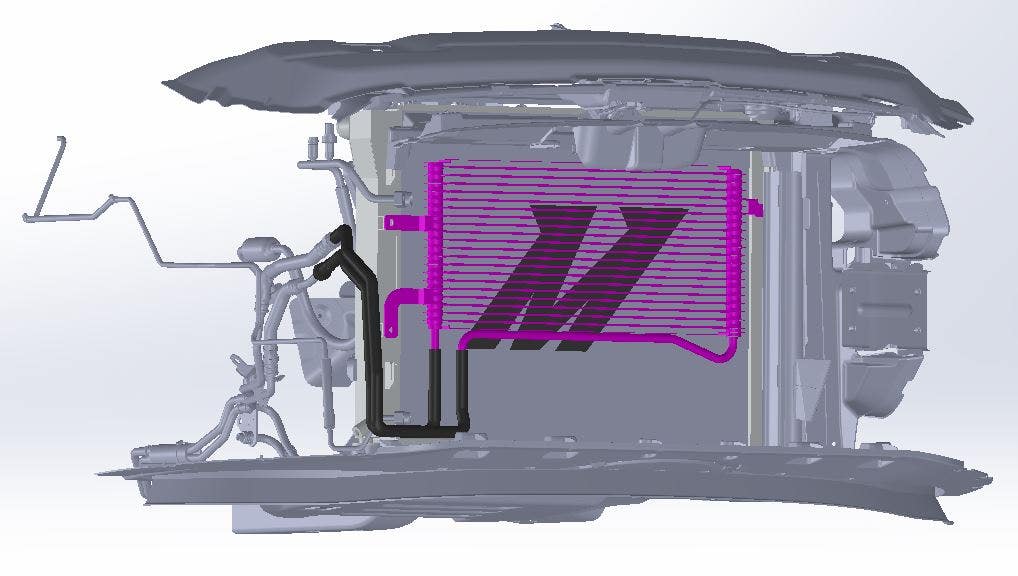 Keep your Cool - Transmission Cooler R&D, Part 1: Prototype Design
Posted:
September 21, 2016
Over the past year we have been getting acquainted with our Mustang GT, and in the process we've developed an entire line of cooling products for it. In the spirit of staying cool, we are on to our next project, the Mustang GT Automatic Transmission Cooler.
Heat is generally the enemy of an automatic transmission. In fact, the Ford factory service manual notes that when the GT's computer senses the transmission overheating, it will limit RPMs until the temperature returns to a normal range. There is nothing worse than a track day ending early due to high temps of any kind, including in the transmission. Whether you are taking your GT to the track or doing any sort of hard driving, you may have considered the addition of a trans cooler. Ford certainly did. For this generation of Mustang they included an air-to-oil cooler rather than the water-to-oil coolers of older generations.
Mishimoto's Design Plans
Our game plan is to go with the design that Ford laid out for this S550, but with some improvements. We will stick with the stock-style liquid-to-air heat exchanger, and increase its size.
The stock trans cooler is located between the radiator and the AC condenser, so we do not have a ton of room to work with in increasing the width of the cooler. However, there is room to increase the height of the cooler, which will add some additional capacity.
Using data obtained from the GT and the stock cooler, we were able to create a model of what our prototype will look like. Check it out below!
Coming Up!
Now that we have our prototype designed, next up is prototype test fitment. Stay tuned for a look at our actual prototype, and to see how it fits with our GT. In the meantime, let us know what you think of our Mustang GT auto trans cooler in the comments below.
Thanks for reading !
-Sara