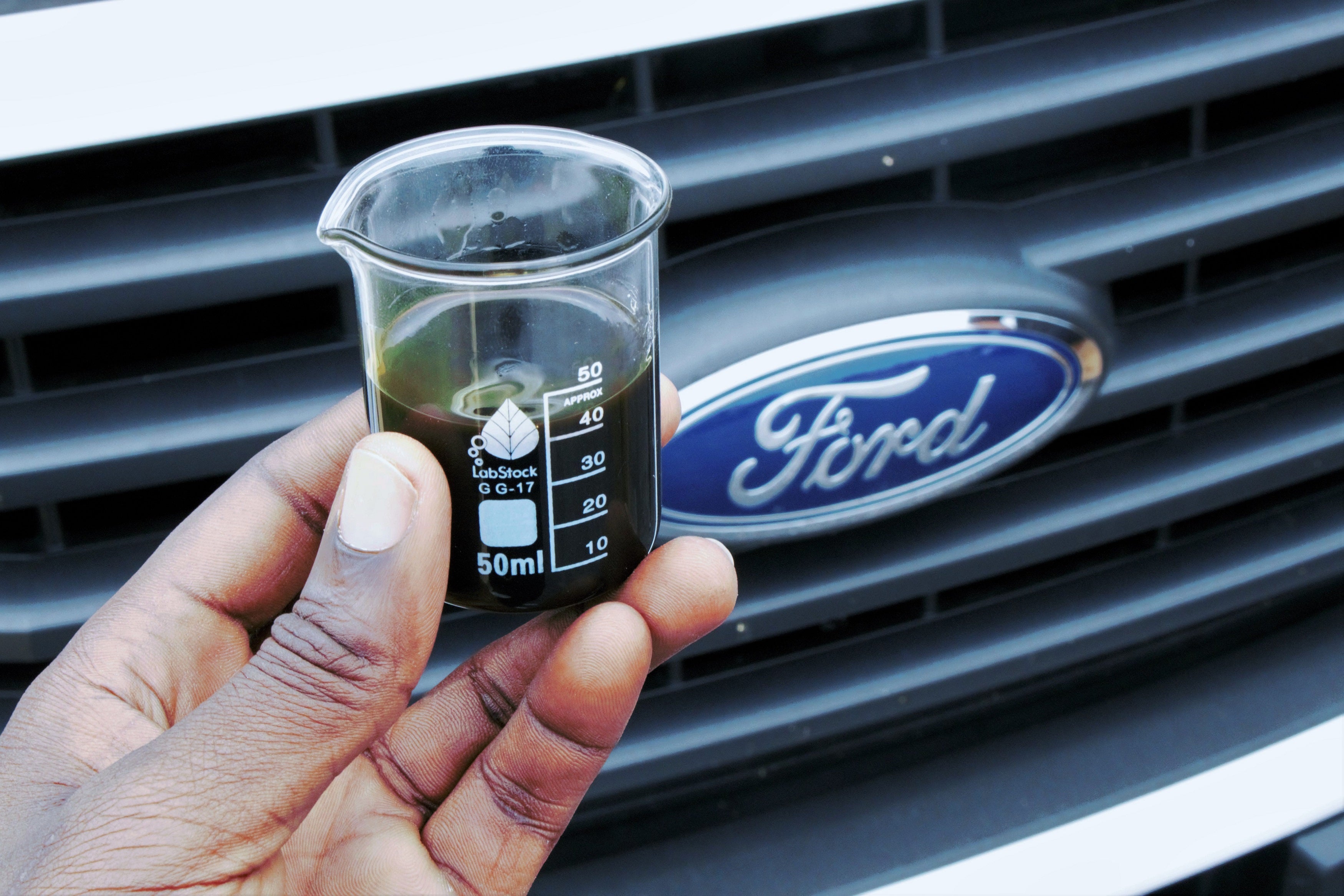 Bye-Bye Blow-By - Catch Can R&D, Part 2: Road Testing
Posted:
September 15, 2016
We have had some radio silence with this F150 catch can project, but we now have some updates that we are ready to spill! This has been an interesting project from the beginning. The bulk of time has mainly consisted of road testing; we've logged thousands of miles so far, and every single mile counts.
Let's backtrack a bit. When we began this project, we intended to see what a dual-can setup would accomplish. In the last update we explained the benefit of having a catch can as part of both the PCV and CCV systems. Also, our engineer, Dan, was in the process of creating a mounting bracket for the cans and getting ready for some road testing. Our prototype looked great, and the hoses were neatly situated to allow the engine cover to stay in place.
The 3.5L
On to road testing! When we make a catch can for any vehicle, road testing allows us to be sure that no codes will be thrown after installation. Newer Ford engines, particularly this EcoBoost are fairly sensitive to changes in crankcase vacuum pressure, and they will throw the check engine light (CEL) at the slightest hint of a pressure change. In the older 2011-2014 EcoBoost engines, a sensor in the bottom end of the engine measures this pressure; anything out of spec would be bad news for the motor.
The 2015 2.7L and 3.5L engines have this sensor in the CCV side of the system. This sensor is incredibly temperamental; in fact, it threw a CEL within a few minutes of driving our loaner 3.5L F150 EcoBoost with this dual-can prototype installed. Upon further design review and research on the subject, we discovered out that this was far from an isolated incident.
These sensors have quite a narrow voltage range. This means if the sensor reads anything that is even slightly below or above factory specifications, it will throw a CEL. This does not mean that these readings are actually unsafe. We suspect that these narrow parameters were set from the factory, so that is how these trucks end up with false readings of incorrect pressures. This theory is supported further by claims that CELs are thrown on bone stock EcoBoost trucks, without any evidence of tampering with the crankcase ventilation system! We are not alone.
So to re-cap, this dual-can setup, which gathered content from both the PCV and CCV sides of the system, kept throwing a CEL after more than 1,000 miles of testing. When we brought the truck back into our garage, we decided to use a single-can setup that is routed to only the PCV side, which doesn't have the sensor. After about another 1,500 miles, we were able to catch almost 50ml of oil!
That is a lot of oil for a mileage range that is less than the interval spec for oil changes. We will continue for now using the single-can setup for the 3.5L version of this EcoBoost, and we'll keep you updated on any design changes. Now what about the 2.7L? That's quite a different story "
The 2.7L
This kit will fit both the 2.7L and the 3.5L - don't forget that! In this stage of testing, we are still uncovering tidbits of information that puts an interesting divide between the two applications. Although the 2.7L EcoBoost is just the 3.5L's bouncing baby brother in size, there are some key differences we've noticed throughout our testing.
With our 2.7L, we could mimic the dual can setup that was on the 3.5L, without throwing a CEL! Great news right? Well, not really. We were expecting to see somewhat similar results, but after well over about 1,600 miles of driving, the truck never even hinted at throwing any codes. This came as a bit of a surprise to our engineers, so while we are still driving the truck to see if a code gets thrown, we are also theorizing about why there is no code yet. Another interesting thing about this truck is the amount of content collected after the first mileage test interval.
The above image shows very little content collected, even after more miles were put on 2.7L the truck than the on 3.5L. And get this: The can on the left is the PCV side, which is the same side where, on the 3.5L truck, almost 50 ml of oil were collected after more than 1,000 miles of driving. This can on the 2.7L application barely showed even 1 ml of content. However, the CCV side on the right (the side with the sensor) had closer to about 10ml of material inside. It also had a pungent smell of fuel instead of oil; even the viscosity was closer to that of a watery substance.
There is another interesting design difference in this application. Under boost, the intake manifold pressure would increase to a point where our PCV side hoses were ballooning and blowing off. This similar to what happens after you shake a bottle of soda. The content inside the cans begin to froth (or sizzle) and emit a strong oil vapor that reaches inside the cabin. As that happens, the hoses experience so much pressure that they pop right off their fittings, which happened a few times during testing. To fix this we included a check valve in one of our lines to help relieve some of that pressure.
What's Next?
We still have a lot more testing to do for both these applications. It's important that we log as many miles and as much data as possible so we can make an informed decision on the final design. Although we are still working to figure out this tricky CEL issue, we are close to wrapping up this project, so stay tuned for the next update!
-Diamaan