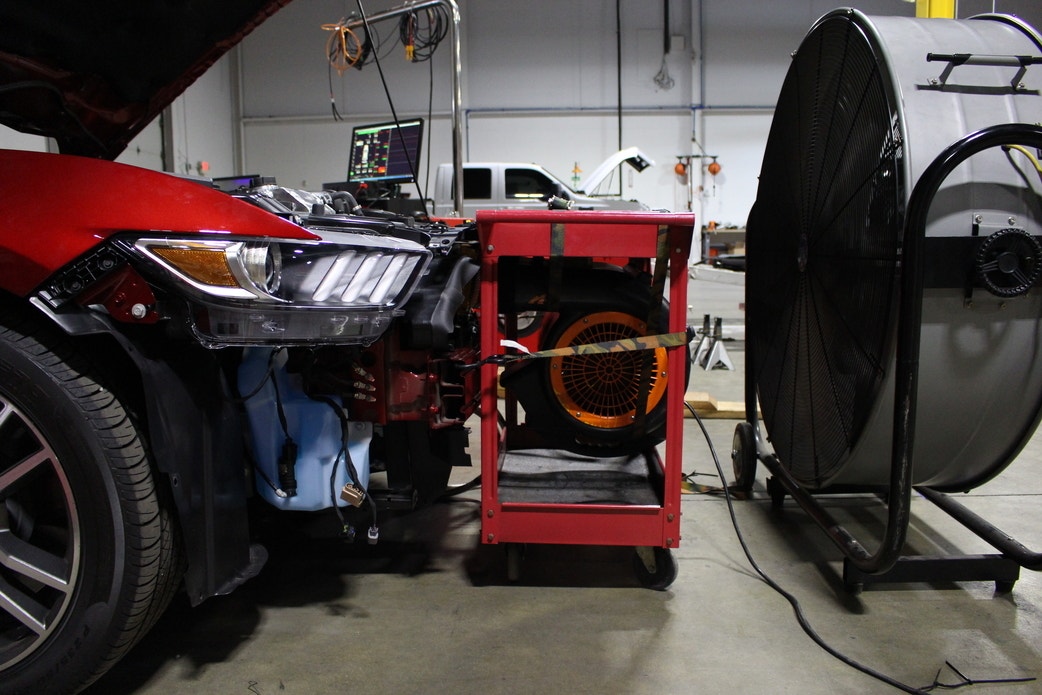 Working on a Cooler Coyote- Oil Cooler R&D, Part 4: Testing
In our last post we took a look at the fabrication of our all-new bar-and-plate oil cooler designed specifically for this project. Now that we have our coolers complete, it is on to testing. We will test our large bar-and-plate cooler, our small bar-and-plate cooler, and our traditional-style 19-row cooler. This will allow us to compare the effectiveness of our new design to the excellent heat exchangers we already offer.
Testing
We installed each version and gave them a chance to show us what they could do in not one, but two arenas of performance. Round 1 Fight!
Contenders:
19-Row Mishimoto Oil Cooler
Small cross-flow bar-and-plate cooler
Small dual-pass bar-and-plate cooler
Large cross-flow bar-and-plate cooler
Large dual-pass bar-and-plate cooler
We hooked up our 19-row cooler to our GT, as well as our all new bar-and-plate coolers, both large and small, and let them duke it out.
After this first round of testing, we could eliminate almost all options. The 19-row cooler (which served as our control) performed nearly identical to our smaller bar-and-plate cooler. In addition, the 19-row falls short of our expectations as far as space saving, so that option is out. Our smaller bar-and-plate cooler left a bit more cooling to be desired, so we eliminated that option as well.
As we discussed in a previous post, we are testing not only bar-and-plate coolers of different sizes, but different styles. We fabricated dual-pass coolers, as well as cross-flow coolers in both our small and large sizes. Testing revealed a large pressure drop with the dual-pass cooler that we did not see with the cross-flow cooler. Because we certainly don't want low oil pressure, the dual-pass cooler is out as well. Ladies and gentlemen we have a winner! Or do we?
Stock VS. Mishimoto Testing
Our champion had to best one more opponent, the stock liquid-to-liquid cooler, before it could claim its title. Due to space constraints, our sandwich plate does not fit with the stock cooler, so it must be removed to allow our thermostatic sandwich plate to mount up. We need to be sure that our oil cooler provides far superior cooling in comparison to the stock unit; otherwise, it's back to the drawing board.
Round 2! We saddled up our pony car with the road testing equipment and set out for the open trail. This required that we maintain a constant speed for repeatable testing so we couldn't coax the coyote too much (unfortunately!).
After our road testing it was clear that the Mishimoto Mustang GT oil cooler beat the stock cooler fair and square, and here are the temperature data plots to prove it.
Now that our crowned champion has proven its worth, it's pre-sale time! The discounted pre-sale is going on now, check out the Mustang GT oil cooler page and let us know what you think. Here is the winning oil cooler pictured in both black and silver. Note the black cooler comes unbranded for the stealthiest appearance. Check them out below and let us know what you think!
Can't get enough of Mishimoto's Mustang GT? Check out our previous Mustang oil cooler posts for a refresher on the design process, as well as other Mustang parts on our engineering blog.
Thanks for reading!
-Sara