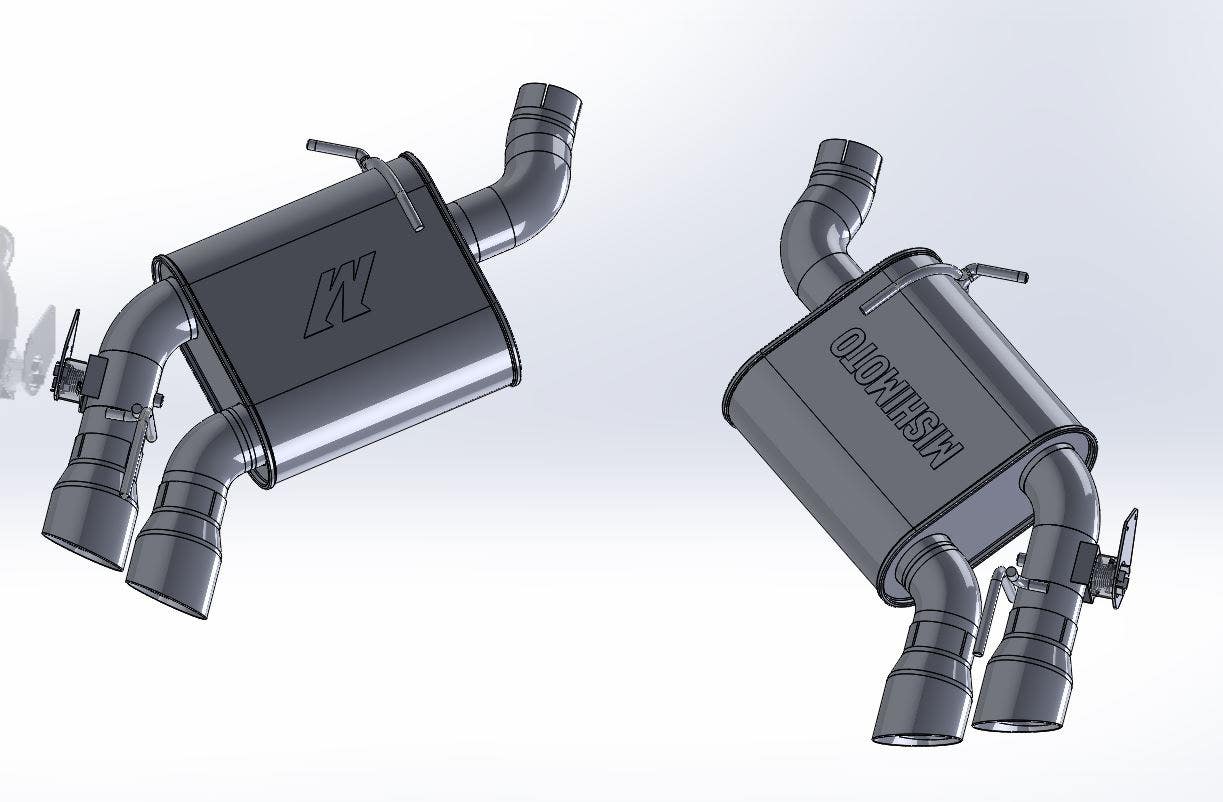 Tell Her About Them - Exhaust R&D, Part 3: Axleback Options
Our Mishimoto chefs have been very busy in our R&D kitchen, cooking up some wonderful 2016 Camaro exhaust prototypes with our 3D-modeling CAD software. Using nothing short of the finest ingredients, they have created a suite of 2016 Camaro SS exhaust options that are so delicious, Guy Fieri's mouth would surely be watering at the sight - though I'm sure he'd be even more tantalized if these were compatible with the first-gen Camaro!
Jiro Dreams of Mishi
We have decided to release five different 2016 Camaro exhaust systems, and we think they should satisfy just about anyone with an SS and a hunger for some killer sound. As we determined the crimped section upstream of the axle-back does not have an impact on power output, but it does make the system sound more refined. We will be retaining that section for sound and OEM functionality, but our axle-backs will replace the stock piping beginning just in front of the second hanger from the rear. The stock 2016 Camaro exhaust must be cut in order to install the Mishimoto exhaust, because the OEM system is one single piece from the header to the tips (thanks, GM!). That said, there is no need to fret, because our axle-backs neck down to the OEM diameter and will fit securely attached with our clamping hardware.
My good friend Anthony Bourdain mentioned to me the other day that we're in the running for at least two Michelin stars, but I bet you guys will give us three once you get a taste of these systems.
Let's take a peek at what's on the menu!
Dual-Mode (or NPP, for those who speak GM)
Our first special is our NPP axle-back. (If "NPP" and "dual-mode" mean nothing to you, here is an explanation.) That's right people - we will be retaining full dual-mode functionality in this variant. This 2016 Camaro SS exhaust system includes custom valves, engineered right here in Delaware, that have been incorporated into the tip section in a way not unlike the stock setup. As such, the stock actuators simply swap right over to our new valves. Function is exactly the same as with the stock 2016 Camaro exhaust, although both modes will sound even better than before. In tour mode, the LT1's snarl will remain somewhat contained so that you don't need to worry about your rudely awakened neighbors angrily pulling out their steak knives whenever you leave for work. But race mode, of course, will scream. (We're giving Gordon Ramsey a run for his money!)
Non-NPP Options
For those of you who opted to order your Camaro without the dual-mode option, we've got something to satiate any of your tastes. This axle-back will be available in your choice of two volume levels, but perhaps even more exciting is that both of those options will be available as a dual-tipped system or a quad-tipped system. This will allow non-NPP owners to use quad tips to achieve an aggressive, flush aesthetic by swapping out the rear bumper valence with one that has larger exhaust cutouts; this could be an NPP rear valence or an aftermarket bumper (or something custom for any innovators out there).
If you have a more refined, moderate palate, our first 2016 Camaro exhaust system is designed to be a bit more civilized. Don't worry, we threw in a pinch of aggression too, but this system will keep the loudness low relative to some of your other options. Here are some 3D models of that system, with dual and quad tips respectively.
Moderate Non-NPP System, Dual Tip
Moderate Non-NPP System, Quad Tip
Of course, for those of you* who live for the rush of always looking over your shoulder in fear of cranky, steak knife-wielding neighbors, we will be offering an aggressive system that is sure to have every window pane in your neighborhood buzzing in anticipation.
This system features a light touch of acoustic tuning from a resonator, but it is not muffled and will certainly be a hit among anyone who wants to unleash the true, boisterous sound of GM's latest V8. Check out some shots below!
*I would put myself squarely in this category.
Aggressive Non-NPP System, Dual Tip
Aggressive Non-NPP System, Quad Tip
Time for Dessert"
And now for the icing on the cake (this culinary metaphor is getting tired, I know). We will be offering every one of the aforementioned 2016 Camaro exhaust options with your choice of flat black or polished tips! The lead engineer on this project, Steve, spent a great deal of time designing the tips, and they look exquisite! You'll see what I mean in a future post.
Coming Soon"
We will go into more detail with some finer photos of this 2016 Camaro SS exhaust, more info on the tips, and eventually, some sound bites (ha!).
Until then,
-Gardiner