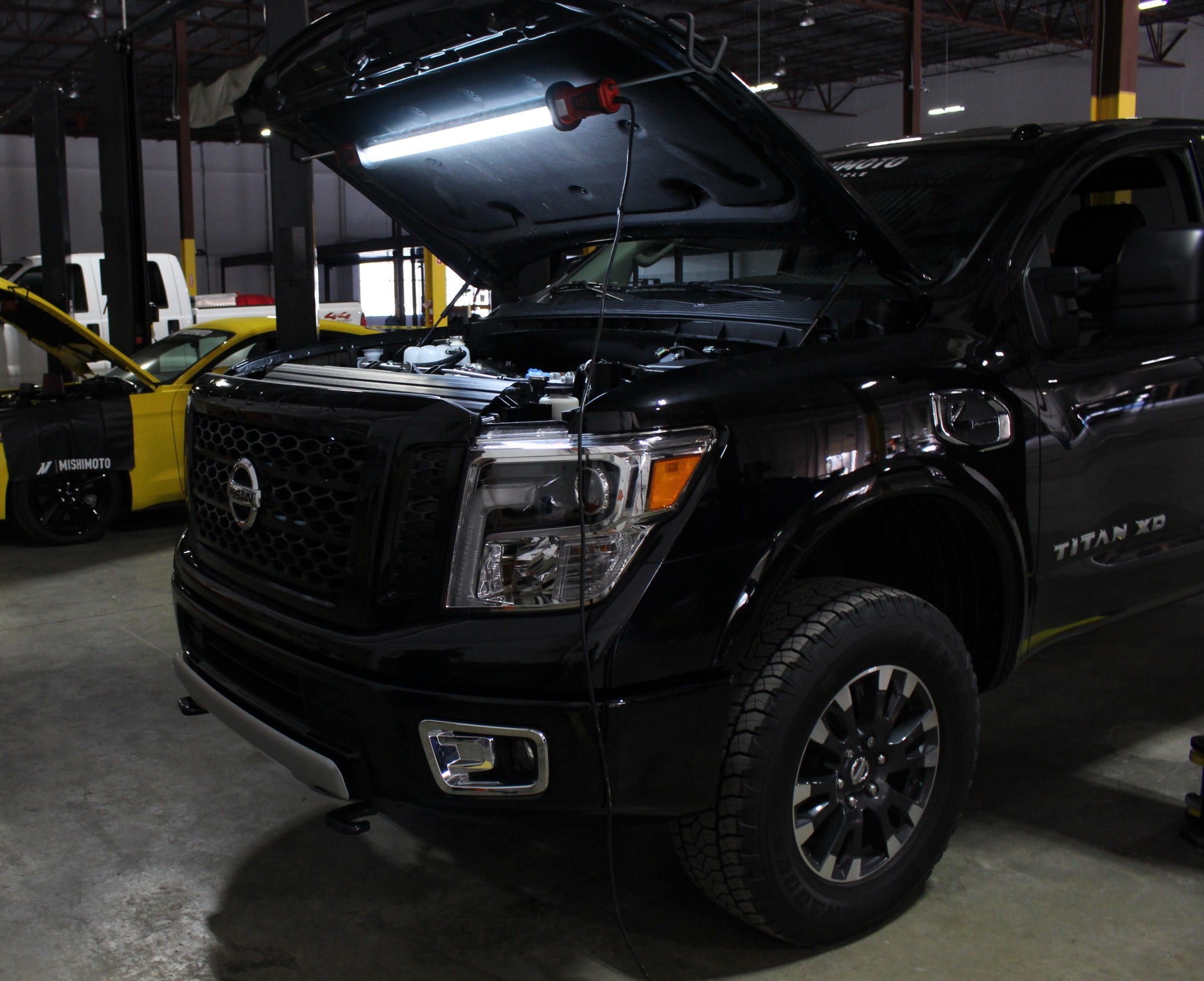 Conquering the Catch Can - Catch Can R&D, Part 1: Initial Fabrication
Here at Mishimoto, we know the importance of a good catch can as far as preventative maintenance goes. For most vehicles, installing a catch can means protecting your engine from the silent monster that is blow-by. Blow by can consist of excess oil, fuel, moisture, and pure evil. Engines with direct-injection, like our good friend the Titan XD, are prone to blow-by creeping its way back into the engine through the intake, and caking debris on valves which can be very harmful to an engine over time. To read more in depth about blow-by, check out our complete write up on Blow-By 101.
Not to worry gentle Titan, we are here to help. Our engineers usually start with a catch can on most project vehicles as we want to protect our newest investment. For the Titan, this proved to be more difficult than we had originally thought. We began as many stories do, with a bracket. Our lead engineer, Dan, decided on a location for our first prototype, then set out to fabricate it.
A few tweaks later and we had the bracket mounted up and ready for the catch can itself. We decided to start with one of our previous catch can designs and modify it to accommodate our Cummins. We knew this catch can would need some tweaking, especially in the filter department, as diesel engines have been known to react poorly with a restrictive filter on a PCV system than others would.
First Round of Testing
We had a hunch this project was going to be a challenge, and our suspicions were confirmed as soon as we rolled out of the garage to begin testing. Our Titan decided to throw a tantrum and ended up in limp mode prompting us to return to home base so we could further evaluate our first prototype. Not to worry Titan, TeamMishi is up to the challenge. The team has several ideas about the cause of limp mode and are eager to design a second prototype that will play well with this Cummins.
Coming Up!
Would the Titan XD be consumed by its nemesis blow-by? Or would TeamMishi swoop in, just in the nick of time to save the valves? Tune in to our next post to find out!
Thanks for Reading!
Sara