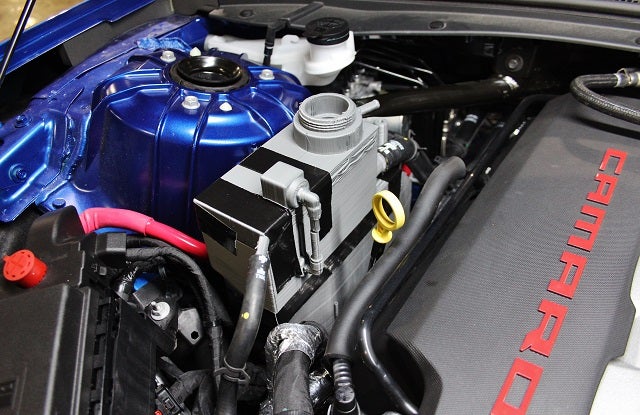 Eliminating the Eyesore. Mishimoto 2016 Camaro Expansion Tank R&D, Part 2: 3D-Printed Prototype
Design work and refinement continue with our 2016 Camaro expansion tank. To verify fitment within the constraints of the engine bay, we've 3D printed a prototype in plastic to install on our test vehicle.
Check out a few shots of this prototype installed!
The image above shows the tank with a sight tube instead of a sight glass, which we used on our previous 3D models. We are experimenting with both designs to determine which is easier to read and which is going to provide the most durability. Let us know what you think!
Along with the mounting points, we also need to ensure that all the hose connection points are in the same location as the stock tank.
A few minor adjustments are needed on the design, but this first prototype fit quite well.
Coming Up - Functional Prototype
Now that we've made design adjustments, we can begin constructing our first functional prototype. Check back next time for a look at our aluminum expansion tank.
Keep an eye on our blog for updates on development of additional 2016 Camaro parts!
Thanks for reading!
-John