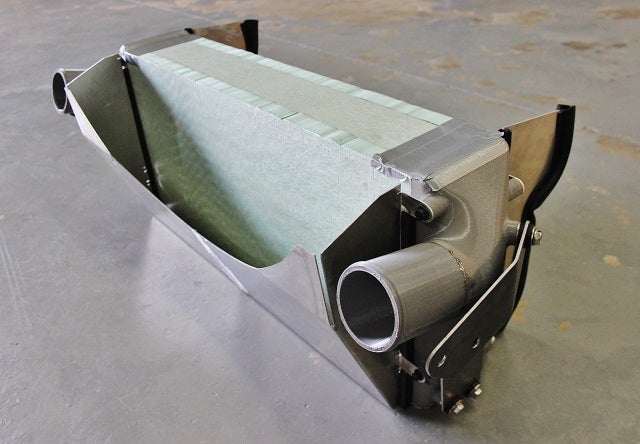 A Cooler Cummins - Intercooler R&D, Part 2: 3D Printing and Shroud Fabrication
After evaluating the factory intercooler, our team was prepared to begin designing an intercooler with even more efficiency. The process started as a simple 3D model that included our primary mounting points. This model was then sent to the 3D printer for some rapid prototyping.
Once our tanks were complete, we mated the different pieces using adhesive.
Shroud Fabrication
As you can see the 3D-printed tanks have numerous raised mounting points in place to hold our shroud design. On the factory setup, the base of the engine-cooling fan shroud is mounted to the intercooler, so we will need to replicate a similar setup with our design. In addition to the rear shroud, a front duct system will be incorporated to help guide airflow through the intercooler core. This ducting should provide an improvement in cooling efficiency.
The shroud was first designed in Solidworks. We then use a feature called "Flat Pack," which allows us to print templates to be used on flat sheet material. It outlines the dimensions and notes the bends needed to create our shroud.
Check out the templates laid out on our aluminum sheet.
We took our sheets to the bandsaw and started cutting out the shapes.
Our templates are completely cut out and ready for bending.
We started with the rear shroud, which mates with the engine-cooling fan shroud.
The front ducting is constructed from three sections of material. The lower portion is a flat piece that extends the full length of the core.
The edge is lined with weather-stripping to create a perfect seal and to prevent any scratching or noise from vibration.
The front duct also features two sides, which will be the big contributors to keeping airflow properly directed.
First Mock-Up Prototype
With shrouding complete and our end tanks printed, we were ready to test fit our first prototype. Foam was used to create our desired core size, which was attached to the end tanks to create a nice visual representation of our plans.
Very nice!
Coming Up - Initial Fitment Check
Now that our prototype is finished, we can check the fitment and make any necessary changes. Check back next time for a look at the results!
Thanks for reading!
-John