GTO Oil Cooler R&D, Part 4: Temperature and Pressure Testing
Before completing this project, we need to evaluate the performance benefits of adding this GTO oil cooler. We are confident that our cooler location is receiving ample airflow, so we should see a nice drop in oil temperatures.
Test Conditions and Apparatus
We have two different tests to conduct for this particular kit. First, we will record temperature and pressure data to determine the improvement in efficiency.
To provide accurate data, we need to ensure that our process is repeatable and reduces as many variables as possible.
Conditions
Driving: 65 mph highway cruise
Time: 5 minutes
Ambient temperature: 68°-75°FNo thermostat installed
Apparatus
·         AEM AQ-1 Data Logging System
This type of test is not as strenuous as most would anticipate for a performance product. The data we obtain will provide the most accurate comparison of efficiency during steady-state conditions, which should support the addition of an oil cooler. We are also testing without a thermostat in place, which will allow fluid temperatures to drop without being affected by a regulation device.
Actual on-track results will vary based on vehicle modifications, track design, environment, driving style, and numerous other factors; however, we are extremely confident that our 25-row cooler can adequately cool fluids in all driving conditions.
Testing Sensor Setup
Collecting data for each setup will require a different sensor setup. For the stock GTO oil cooler setup, we need two sensor ports, one for pressure and another for temperature. To achieve this, we are routing an oil line in a loop with two sensor bungs in the line.
When testing the efficiency of our GTO oil cooler, we use four sensors to capture temperature before and after the heat exchanger. This allows us to evaluate the temperature drop occurring within the cooler, as well as the degree of impact on engine oil temperatures from the reduction.
The harness runs into the cabin of the vehicle, where we log and view each run.
Testing Results
Now the fun part, data crunching. First, take a look at the plot recorded for the stock Pontiac GTO parts.
The plot above is typical of a stock vehicle in these driving conditions. At the start of the run, oil temperatures sit right around 195°F. As airflow passes through the radiator and cools the engine, oil temperatures begin to drop. By the end of the five-minute cruise, oil temperatures have dropped to 188°F.
Next up, data with our GTO parts installed.
At the start of the run, oil leaving the engine sits right above 170°F and drops to around 162°F by the end of the run. Fluid running from the cooler back into the engine measures 143°F at the start of the run and dips down to 120°F by the completion of our logging.
Comparing the temperatures pre- and post-cooler tells us how effective the heat exchanger is. In this test we see close to a 40°F temperature drop from the oil cooler itself, which is pretty significant.
The true comparison of cooler versus no cooler is provided by comparing the stock oil temperature to the "inlet temp" with the Mishimoto system in place. Comparing these data points shows a 20°-25°F temperature drop through the entire run. For a steady-state cruise, these are impressive results.
In addition to temperature data, we also collected pressure data. With our cooler in place, we saw a minimal yet acceptable pressure drop.
Thermostat Use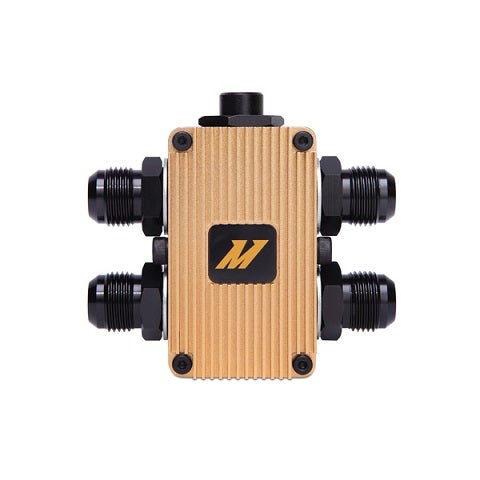 You may be looking at the charts above with concern over the extremely low fluid temperatures. This is why we've included a thermostat in our kit. Overcooling oil can be nearly as harmful as overheating oil, so it is important to quickly warm fluid up to operating temperature. We are using our inline oil thermostat, which will force temperatures to rise quickly to 185°F. Once up to operating temperature, fluid will pass to the heat exchanger and begin cooling in an effort to keep the temperature pegged at 185°F.
If this thermostat had been used in our testing, inlet temperatures would read 185°F, and outlet temperatures would read right around 145°F.
This thermostat assembly features a removable internal thermostat that can be exchanged for a 160°F or 200°F unit, depending on your needs and environment.
Coming Up - Discounted Pre-Sale and Additional Testing
We are very pleased with the results we obtained after testing these new Pontiac GTO parts. The GTO is a large and powerful vehicle, and we have no doubt that this setup will adequately cool your street car or track rat.
We are working on some additional testing data requested by forum members. As soon as this is complete, we will update this thread with the information.
In the meantime, we've started the production of our first batch of kits. We will be launching a discounted pre-sale for those interested in picking up one of our first units.
Feel free to follow-up with any questions!
Keep an eye on our blog for additional updates on upcoming Mishimoto GTO parts.
Thanks
-John