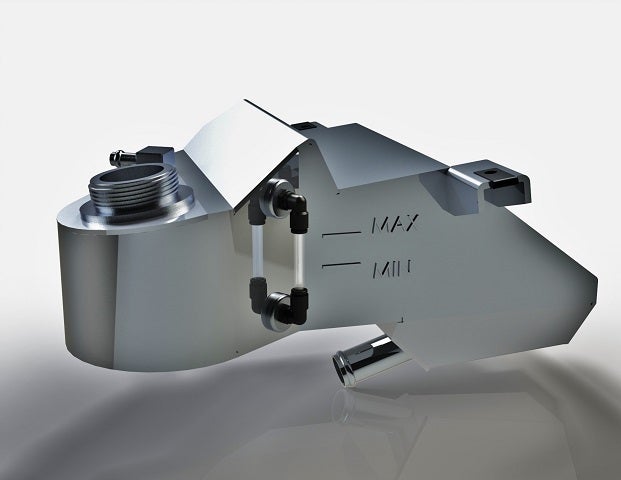 A More Durable Degas. Mishimoto's Ford Powerstroke 6.0L Aluminum Degas Bottle R&D, Part 2: Initial 3D Models
Posted:
February 02, 2016
Quick update for this awesome degas bottle project! Our engineering team has been working to construct an aluminum degas bottle design for the 6.0, using our 3D-modeling software. We've incorporated some neat features, and we've included factory-style hose connection points and bottle mounts.
Let's take a look!
In this model you can see our plans for maintaining an appropriate fluid level. A simple sight tube will do the trick for our bottle design. You can also see the machined cap threads that we designed to function with the factory cap.
The opposite side of the bottle reveals mounting points and three hose connections that are modeled after those on the factory bottle. A unique feature here is the pressure sensor port. We had numerous requests for this inclusion, so we worked it into the design.
We discussed possibly including internal baffling for this bottle. Internal baffling plays a big role in keeping air from entering the rest of the cooling system, and we are interested in testing this theory. Take a look below at a cutaway of our model showing some of the passages and internal ports.
Neat stuff!
Coming Up - 3D Printing
Instead of jumping right into producing a functional prototype, we have other methods for verifying our design in terms of fitment. We will be 3D printing our prototype to determine if any adjustments are needed to the mounting points, basic shape, or hose connection locations.
Keep an eye on our blog for additional updates on upcoming 6.0 Powerstroke parts.
Thanks for reading!
-John