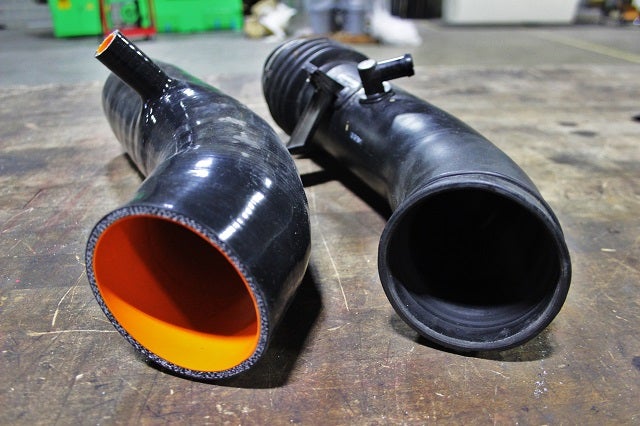 350Z Silicone Intake Hose R&D, Part 1: Stock Hose and Silicone Prototype
Posted:
February 10, 2016
We recently designed a performance intake system for the 2003-2006 Nissan 350Z. This included an airbox and filter that attaches to the end of the stock mass airflow (MAF) housing. Our results were positive in that we achieved a significant improvement in intake sound, and we increased power output by 10 whp and 13 wtq without any additional tuning.
This project is not so much performance oriented but is intended to add reliability and additional aesthetic appeal to the intake system on the Z.
To start this project, we rolled our test vehicle into our development facility and started inspecting the stock piece. Check out our test subject.
As we typically prefer, this vehicle was bone-stock in terms of performance adders.
Stock Intake Hose
Let's take a closer look at the stock rubber hose.
The stock hose is molded plastic and rubber. This component routes from the throttle body to the MAF housing on the driver side of the engine bay. Just before the throttle body we can see a flex joint that allows the hose to move when the engine torques during acceleration. Flex joints are typical failure locations on rubber hoses, as they tend to crack and degrade. Air entry past the MAF housing typically results in poor performance and a check engine light (CEL), as the computer cannot read the airflow past that point.
These vehicles are getting a bit older, and a reliable replacement for the intake hose would be a neat upgrade for Nissan VQ folks.
Mishimoto Prototype
After capturing dimensions from the stock unit, our team quickly put together a silicone design and worked up our first functional prototypes.
If you look closely, you can see slight ridges along the full length of the hose. We've included an internal wrap of steel wire that provides additional stiffness to prevent hose collapse under suction.
We've also incorporated the stock crankcase ventilation (CCV) hose connection port onto the intake hose, complete with a CNC-machined connector.
Check out a couple more images of our prototype hoses.
Stock Hose Comparison
Let's take a look at our prototype next to the stock piece.
Coming Up - Installed Shots and Dyno Testing
Next time we will be installing our prototype 350Z parts for some dyno testing. Although we don't expect substantial power gains, it will be interesting to see if the smoothness of our hose provides any power benefits.
Thanks for reading!
-John