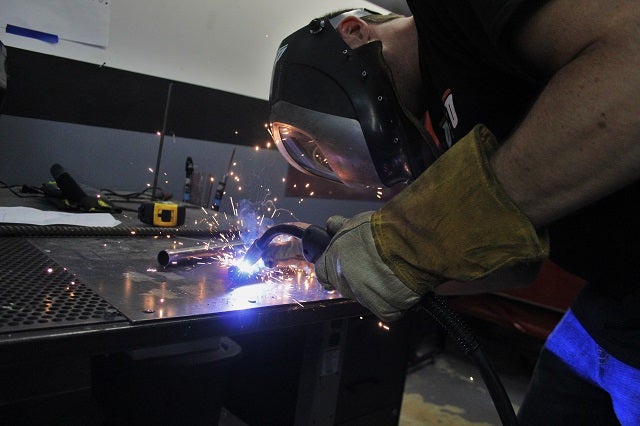 Stiffen Your 'Stang! 2015 Mustang Strut Tower Brace R and D, Part 3: Testing Rig Fabrication
It has been quite some time since our last update on this project, but for good reason. Our engineering team has immersed themselves into suspension research and determining the impact of stiffening on handling. Chassis bracing is a new market for our team, and we want to ensure we provide ideal solutions. In addition, we needed to develop a method for testing our components properly.
Not much information is available about the effectiveness of strut bracing. Would bracing have an impact on handling or on chassis flex? Do only sloppy, old chassis benefit from bracing? The Mustang is a great first test subject because it has a new chassis and an option for additional chassis stiffening. Let's get to work!
Pressure Gauge Fabrication
The first testing device we wanted to explore was a pressure gauge. Ideally, this would be installed within the strut brace to measure any pressure occurring as the strut towers flex toward each other.
With some new machining tools in the garage, we decided to create this gauge ourselves rather than purchase one.
We started with some round aluminum stock and aluminum tube. The stock was machined to the ID of the tube, and the tube was capped and welded.
The stock piece will function as a piston and requires a seal. We then cut grooves into the top of the piston to accommodate the O-ring we selected for a reliable seal.
As you can see, we've machined two grooves. The sensor in the cylinder will measure the pressure from the oil that will fill it.
We threaded the piston as a method for mounting to a steel strut bar.
We intend to use this gauge for future testing of strut bars on other vehicles. We wanted to make it fairly modular so we could pull it off one vehicle and place it on another.
Pressure Testing Strut-Bar Fabrication
After completing our gauge, we needed to make the strut bar. With all testing going toward our one-piece design (a definite winner in our online polls), we grabbed one of our initial prototypes and set to work.
Here, the strut bar was cut and a threaded rod was welded into place.
A cup was added to the top of the cylinder, and we bolted our first testing prototype into our EcoBoost Mustang.
Testing Rig Issues
Unfortunately we ran into some issues with this testing setup. It became a challenge to set up the gauge accurately. The mounting system had some movement with the gauge, which caused issues with recording initial data. We needed to work on a more robust mounting system that would eliminate any variable with the sensor mount.
Coming Up - Testing Rig Modification
Next time we will be working to improve our initial design. This will include the use of an aluminum bar. Check back to see how this works out for collecting accurate data!
Be sure to check out our blog for other interesting development of new 2015 Mustang parts.
Thanks for reading!
-John