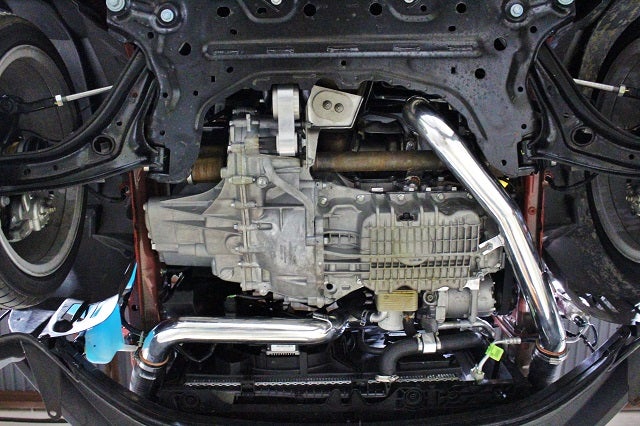 Pipe Down! Mishimoto Fiesta ST Charge Pipe R&D, Part 4: Prototype Test Fit
A few weeks ago we completed our first set of prototype pipes. After a quick evaluation by our team, it was time for a vehicle test fit. Last week we set our Fiesta ST (FIST) up on a lift and began swapping the stock piping for our components.
First, the hot-side pipe was bolted into place.
The hot-side pipe slid into place perfectly. Our mounting bracket lined up, and the hardware properly secured the pipe into place.
The cold-side pipe was a bit more challenging to install, but soon we had it in place as well.
As with the hot side, all components lined up and connected properly. Both our quick-connect vacuum line and the symposer port were properly situated for an easy install. We will need to make one adjustment to this pipe, however; the mounting bracket you see in the images above will be eliminated. We found that the connection points provided ample support for the pipe, so this bracket was deemed unnecessary.
Check out a shot of both pipes installed on our FIST!
Very nice! After installation we handed the keys to a member of our team and sent him on the road for some initial stress testing. We've heard a few reports of hot-side brackets becoming bent or shearing during use, and we wanted to be sure that our design would not meet a similar demise.
Coming Up: Dyno Testing
In addition to testing the durability of our kit, we also want to evaluate power output. We will be performing dyno tests with each pipe individually as well as with the full setup. Our Fiesta is stock otherwise, so this should give us a baseline for gains on the stock turbo.
Keep an eye on our blog for updates on other new Fiesta ST performance parts from Mishimoto!
Thanks for reading!
-John