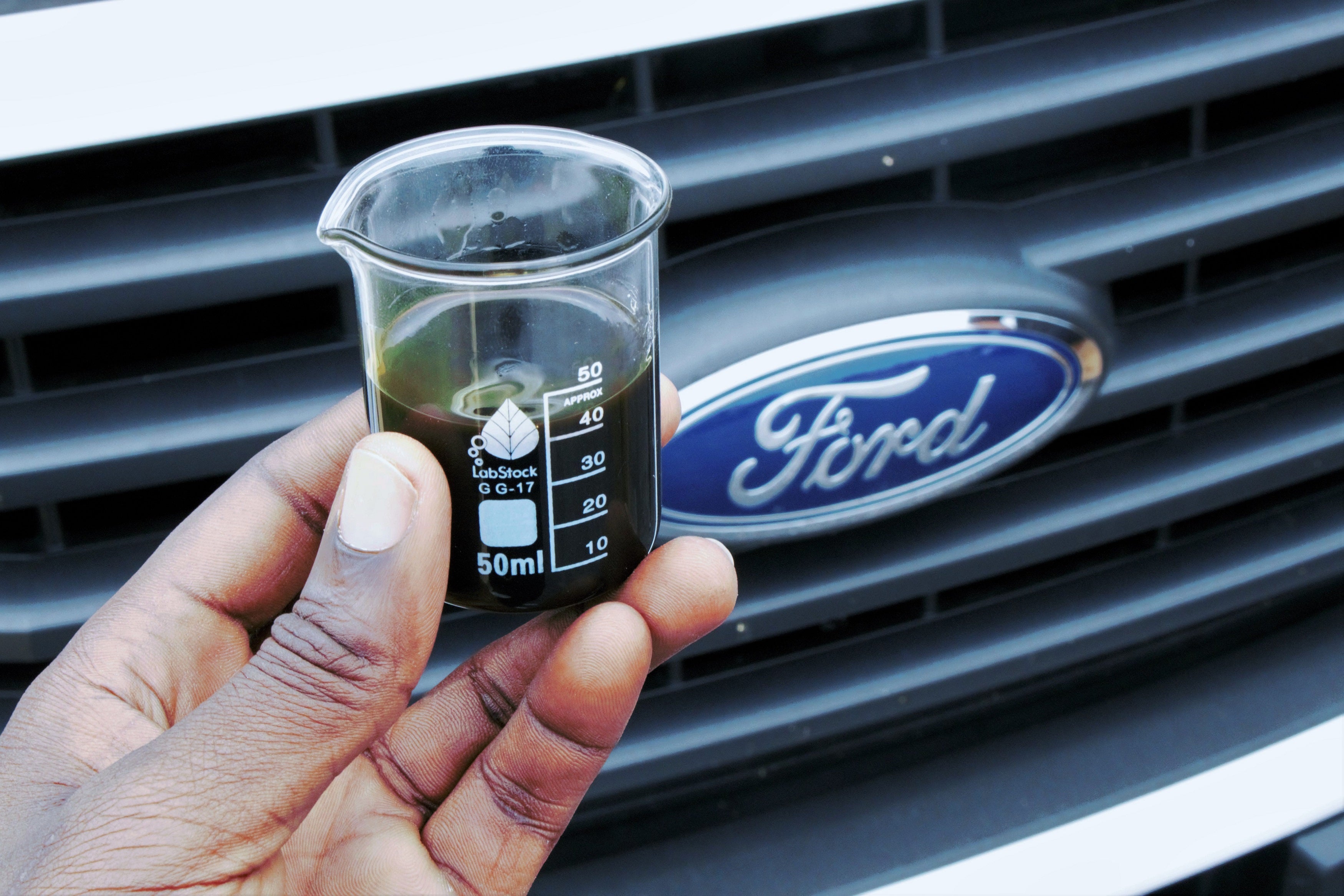 Blow-by 101: What is Blow-by and How to Keep it from Ruining Your Engine
Introducing Blow-by and the PCV System
Internal combustion engines are essentially controlled bombs; air and fuel combust to drive pistons and crankshafts.  One byproduct of this violence is power, but there are darker horses to contend with.  During combustion, high pressure on the top side of the piston pushes combustion gasses, as well as droplets of oil and fuel, past the piston rings and into the crankcase. This mixture is known as "blow-by."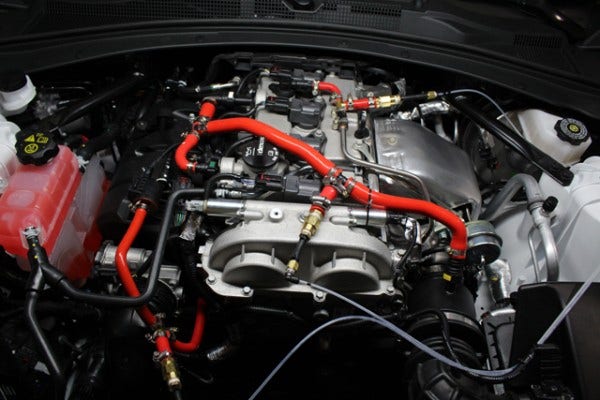 To keep the crankcase from becoming pressurized, causing issues with oil sealing and robbing the engine of power, blow-by is pulled from the crankcase via the positive crankcase ventilation (PCV) system and routed back into the intake.  You may be seeing the problem already; oil and fuel are not what you want in your air intake system. Many modern cars employ some sort of air-oil separator system to minimize the amount of oil and fuel vapors that reach the intake.  Due to cost and maintenance restrictions, however, these stock systems are usually not completely effective.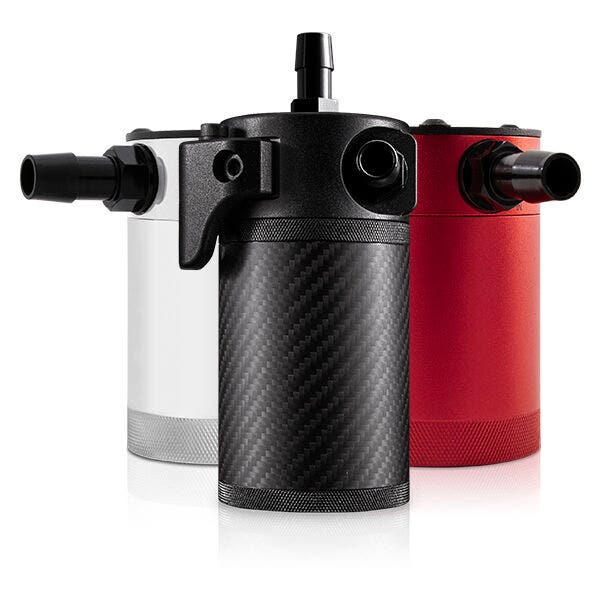 A catch can is a simple solution to the problem, but there's more to it than just throwing a cylinder and some tubes onto your engine.  Here's what you really need to know about catch cans and how to stop blow-by from ruining your engine.
The Blow-by Trifecta: Sludge, Carbon Buildup, and Knock
Over time, blow-by can reduce engine efficiency as it coats parts of the intake in oil and fuel.  In forced-induction and intercooled engines, blow-by often coats the inside of the intercooler, severely affecting its ability to transfer heat and cool the intake charge.  These issues become even more apparent with age.  As piston rings and cylinder walls wear, more and more fuel and oil is able to pass into the crankcase and eventually into the intake system.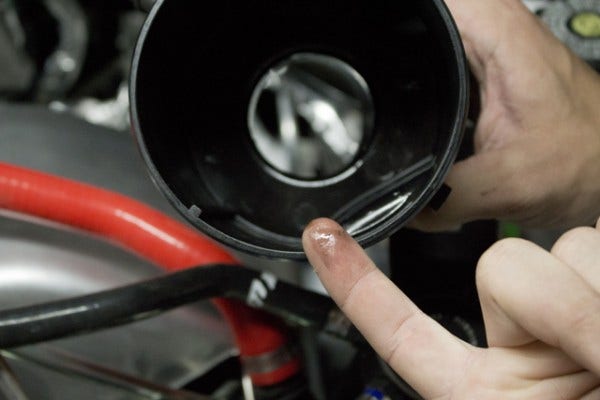 The effects of blow-by are not always limited to just the intake and charged air cooling systems; in some cases, the intake valves and other engine internals can suffer as well.  In vehicles that are typically only driven short distances, pistons don't get a chance to warm up and expand to the cylinder walls.  This allows more blow-by into the crankcase, and because the engine is still cool and then shut down, that blow-by condenses in large amounts inside the crankcase and PCV system.  Eventually that condensed blow-by makes its way into the head and cylinders.
Blow-by that makes it into the cylinder can lower the effective octane rating of the air-fuel mixture.  If the octane rating of the air-fuel mixture drops enough, it can cause knock (also known as pre-ignition), where the fuel mixture ignites before the spark plug fires, causing very high cylinder pressures.  Knock is one of the biggest killers of engines and can ruin even the strongest of builds.  The oil and fuel vapors can also coat spark plugs, fouling them in short order and causing misfires.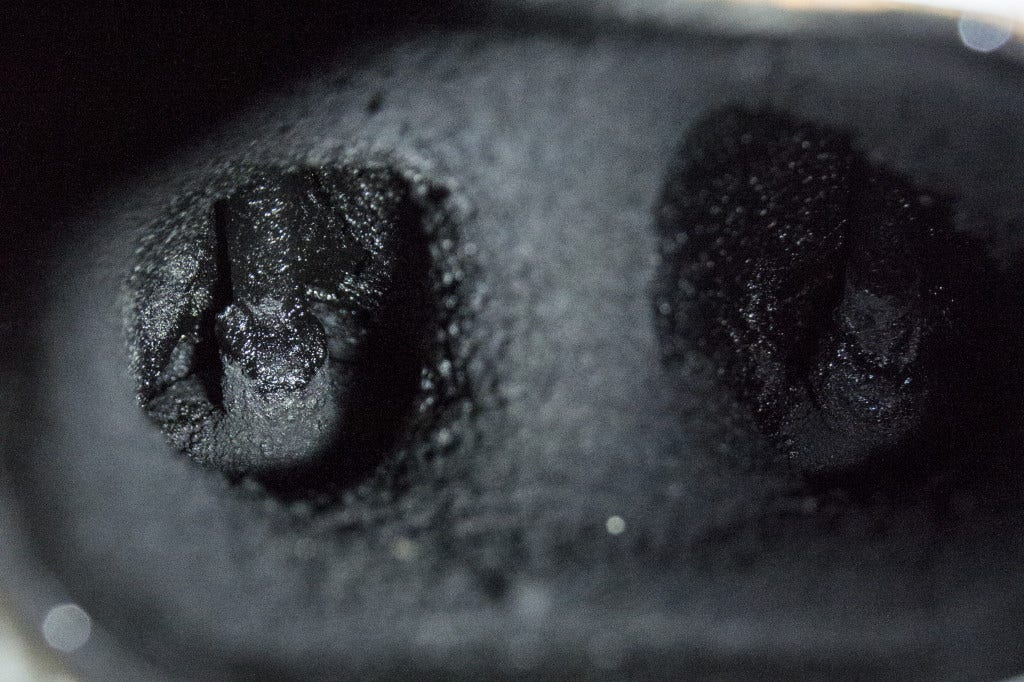 To compound the problem, in short-run situations, the valves never heat up enough to burn off carbon, so any blow-by that does make it to the valves will accumulate as sludge and carbon buildup. Carbon accumulation on valves is a huge issue for gas direct-injected (GDI) engines. In a GDI engine, fuel is injected into the combustion chamber downstream of the intake valves, eliminating the cleaning effect of fuel washing over the intake valves.  This means that blow-by can build up on the backs of the valves even faster, impeding airflow and causing potential running issues.
Catch cans - A Jail for Blow-by
I think you get the point. Blow-by is a giant menace that only wants to rob your engine of power and slowly destroy it.  So what can you do about it?  One of the most universal solutions to blow-by is the oil catch can.  A catch can is exactly what it sounds like: a can to catch and condense the fuel and oil vapors in blow-by before they reenter your intake system and engine.  Catch cans range from cylinders with breather filters, to that thing your neighbor made with a Budweiser can and some tubing that he calls "custom." You know who I'm talking about. You can buy a specific catch can for your exact make and model or you can check out a universal oil catch can from Mishimoto which fits most vehicles.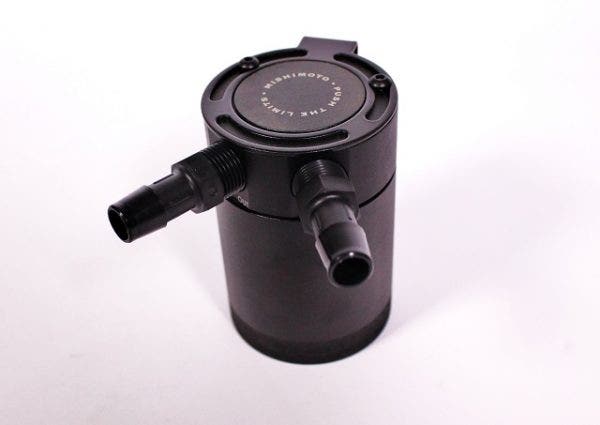 While the concept seems simple enough, to be successful in a daily driving or racing application, a catch can needs to perform two basic functions:
 Allow blow-by gasses to be vented from the crankcase.
 Give the oil and fuel vapors somewhere to condense, and prevent them from reentering the intake.
No More Sad Dolphins
Let's start at the top.  It makes sense that a catch can would still have to allow blow-by gasses to be vented from the crankcase; after all, that's the entire purpose of the PCV system.  However, how that is done is a controversial topic.  Some catch cans simply have one line coming from the crankcase to the can and then use a small breather filter to allow pressure to vent out of the top of the can.  This method completely eliminates the possibility of blow-by being recirculated into the intake.
While this may seem like the best solution, it's not very nice to the polar bears, and there are some legal issues associated with it as well. In most states a catch can that is vented to atmosphere will not pass inspection. Even if your state doesn't perform emissions inspections, venting a PCV system that is not vented from the factory is prohibited by federal law in the United States.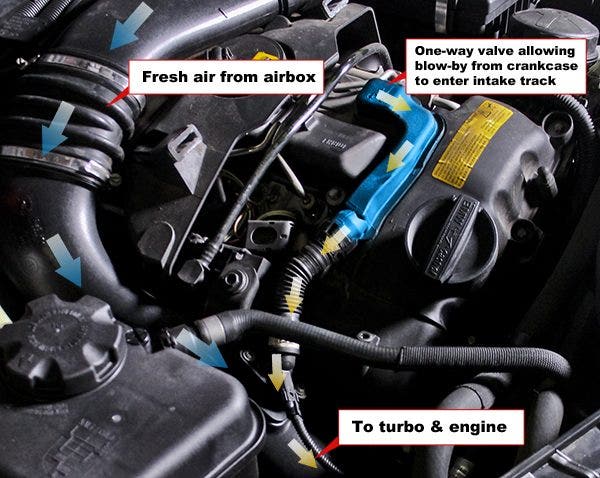 Another issue with simply venting the catch can to atmosphere is the fact that most modern crankcase ventilation systems are under vacuum from the intake manifold.  This vacuum helps clear oil and, more importantly fuel vapors, from the crankcase faster.  The longer these vapors stay in the crankcase, the more likely they will condense, causing damage to internal engine components and thinning the oil.  The vacuum also allows leftover combustion gasses to be recirculated and burned again, making for a more environmentally friendly vehicle and less sad dolphins. Therefore, if the factory PCV system is routed to the manifold vacuum, your catch can should be too.
Another issue to consider when adding a catch can to your stock PCV system is the number of ports on your engine compared to the number of inlets on the catch can.  Some catch cans offer only a single inlet, which can be a problem for V-configuration engines or engines that utilize more than one crankcase breather.  While one solution would be to add a Y-connector to combine two lines into one, that's three more possible points of failure in the system.  It's safest to match the number of inlets on your catch can to the number of breathers on your engine, when possible.
Condense, Prevent, Repeat
Now that we've figured out how to get the blow-by out of the crankcase, we need to stop it from being reintroduced into the intake and causing all the problems we identified earlier.  This is the area where most catch cans fall short.  When blow-by exits the crankcase, it's hot, really, really hot.  So hot, in fact, that the oil and fuel held within it are in a gaseous state and can flow like the wind through pipes, and around cylinders, without ever becoming liquid again.  That is, until they cool down and condense, which tends to happen in your intake or intercooler, which is designed to cool and condense air.  Go figure.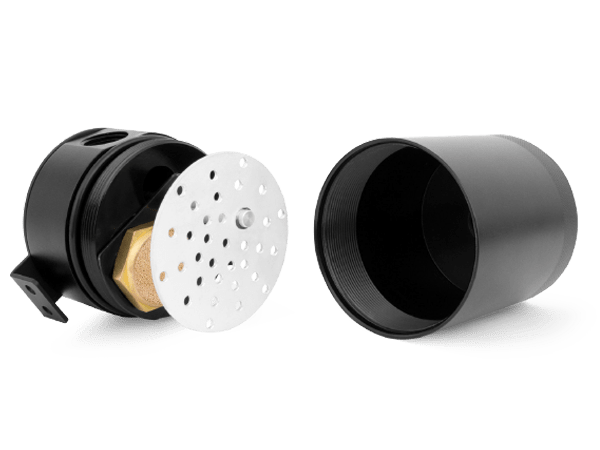 Where most catch cans miss the mark is in the fact that they are simply open cylinders that allow the blow-by to go in and right back out, without cooling and without giving the vapors somewhere to condense.  Surface area is the key to cooling and condensing the fuel and oil vapors found in blow-by.  The more surface area the blow-by has to flow over, the cooler it will become and the more fuel and oil will condense.  Forcing the blow-by through some kind of filter material or perforated plate also gives the vapors something to smack against and collect on while the rest of the gasses are allowed back into the intake.
A Baffling Idea
Once the oil and fuel vapors are condensed, we still have to worry about that condensed liquid entering the intake.  I've heard horror stories from people with catch cans and air-oil-separators at the track.  Those stories usually go a little like this, "I hadn't emptied my catch can in a while, but I figured it was fine.  Then, as I was going around a turn at speed, I felt the motor bog and tons of smoke came out of the exhaust." As it turns out, the person's catch can wasn't baffled, and as he took the turn, the oil that was in the catch can reached the outlet port and was sucked into the intake, flooding the motor with oil and old fuel. Not good.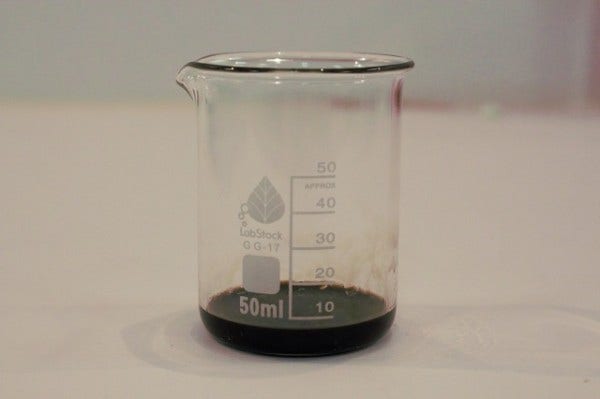 While there is no substitute for emptying your catch can regularly, baffling will assist in keeping oil in the bottom of your can. Baffles are widely used in various parts of engines. A baffle in the oil pan keeps oil around the pickup, and there are usually baffles under the valve covers on overhead valve engines to keep oil on the camshafts.  If it's important and it needs oil, there's probably a baffle around it, and your catch can should have a baffle too.
Baffled catch cans typically use a horizontal or vertical divider to keep the oil at the bottom of the can during high-speed turning, braking and acceleration.  In some catch cans this baffle also acts as a condensation point for the oil and fuel vapors, as described earlier.  Having a baffled catch can is a must for anybody who races, or even the daily driver who sees a banked highway on-ramp every now and then.
The Ideal Solution
So now that we know what a good catch can needs, how do we build one that works? As I've mentioned, the ideal catch can would be baffled to let you throw your car around as much as you want without having to worry about inundating your intake with oil.  The baffle would also act as a condensing point for the oil and fuel vapors.  Another feature to look for in a catch can would be an internal air diverter to help slow the air entering the can, allowing for more effective air-oil separation.
While baffles and air diverters do a great job of cleaning up blow-by, the ideal catch can could go one step further.  A catch can that includes a filter would catch even more fuel and oil, and would provide the greatest possible protection to your intake and engine.
Finally, even the perfect catch can will need to be serviced from time to time.  It's important to look for a catch can that can be taken apart and cleaned easily.  If your engine bay is particularly cramped, removing and reinstalling the catch can to drain it may be a difficult task.  If this is the case, a catch can that offers a drain kit should be high on your list.
Hopefully this article will help you make a more informed decision when looking for your perfect catch can. If you'd like to learn about how we developed our catch can, check out the engineering blog for an in-depth look.  If you'd like to know if we make a direct-fit kit for your vehicle, shop our compact baffled oil catch can direct-fit kits, or check out the universal two-port or three-port kit for custom applications!