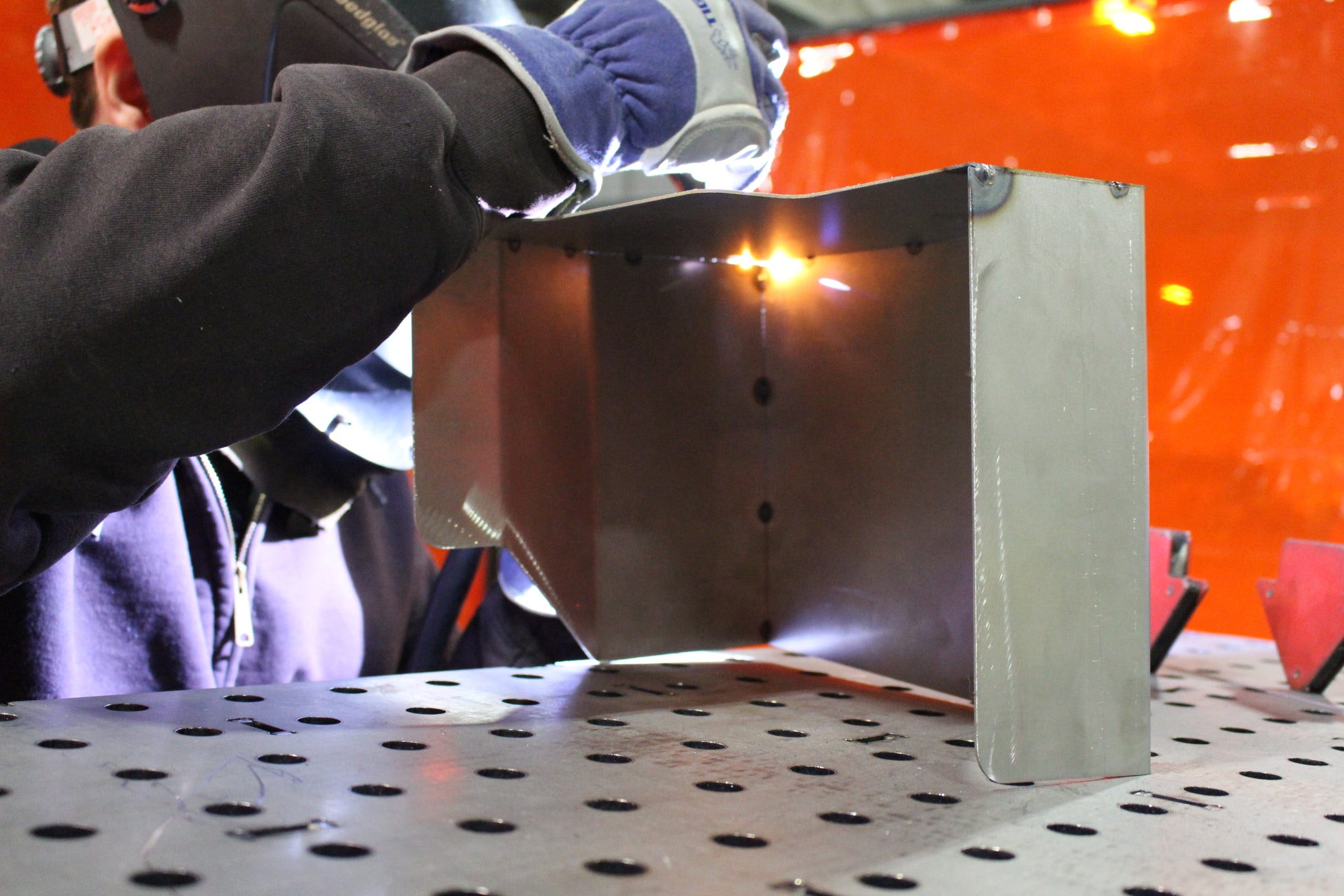 Prototype Fabrication and Fitment - Mini Cooper Intake Development, Part 2
In our last post for this project, we went through the stock system and left you with a teaser look at our initial design plans for the filter's heat shield. We now have a functional prototype fabricated, which will soon be ready for testing. Let's go through the interesting process of how we were able to make the heat shield and pipe.
Parts Fabrication
Usually, when it comes to creating the pieces to a heat shield, our process involved measuring twice and cutting once with the use of a band-saw, shears and a bender. It was laborious and time-consuming.
With this project, we took a slightly different approach during the design and prototyping phase of our heat shield R&D. After capturing the dimensions we needed from the vehicle, a prototype design was drawn in 3D modeling software. Once completed, we used our waterjet machine to cut the shapes out of the steel metal sheets.
If you don't know about the waterjet, it is an apparatus for precision cutting using highly pressurized water. Virtually any shape on a flat plane can be made - small or large - limited only by the designer's imagination. Check out an image of the cutting process below. The images on the screen are pieces of the intake box for this Mini Cooper S.
Now let's check out some of the shield being cut!
Once the procedure is finished, we can take the Mini Cooper air intake piece out one by one to clean them up and grind down the sharp, freshly cut edges.
These flat metal sheets will be accurately bent to the correct angle. Our fabricator measures the exact angle and bends them on our sheet metal bender.
After the pieces are cut and bent, they are assembled and welded in place so the shield can finally start to take shape. This entire method has been a much faster and easier way of box/shield construction - it made our previous methods seem primitive!
Once all of that is complete, we are now ready to fit the shield into the space.
The pipe was fairly simple since it's short, but we used a sizeable filter to support ample airflow. A MAF (mass airflow) adapter will be included with the pipe, so for this prototype, we 3D-printed an adapter. Let's look at how it sits in the box!
Coming Up
A few more things need to be buttoned up with this prototype before we can begin dyno testing, and our next update will include those dyno results.
The waterjet process was pretty cool, right? We'd love to hear your comments! Thanks for reading and stay tuned for our next update!
-Diamaan