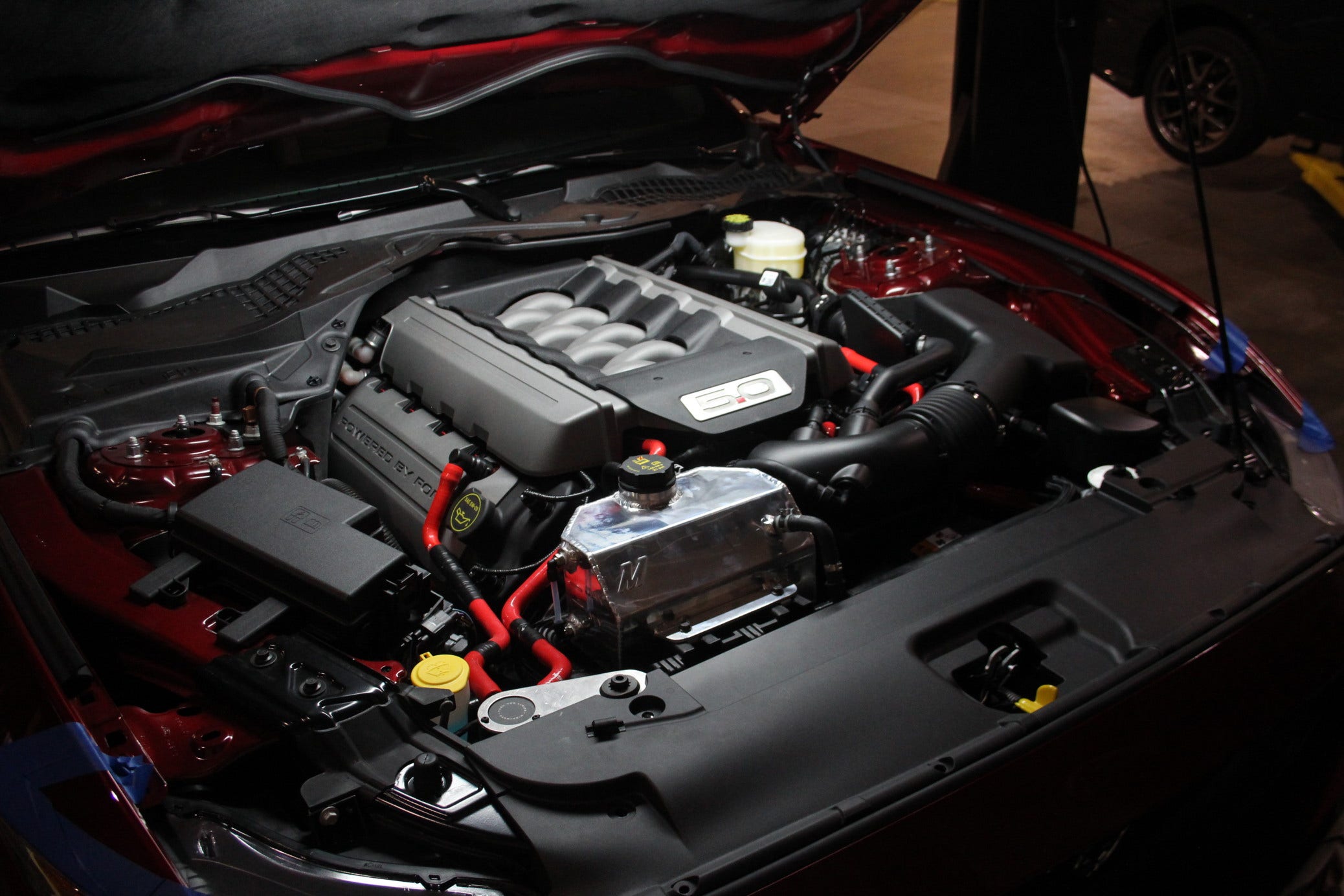 Keep oil out of your intake - Oil Catch Can R&D, Part 1: Blow-By Introduction
Posted:
November 24, 2015
The 2016 Mustang GT has arrived at Mishimoto, and we are wasting no time in developing products for Ford's newest version of the Pony car. We decided to begin with a version of our baffled oil catch can specifically designed to be direct-fit with the Mustang GT.
You would be doing your Coyote a favor by installing some type of catch can for preventative maintenance. Some feel that a catch can is not a necessity until you introduce forced induction, which may be the case. On the other hand every ounce of blow-by collected in a catch can is an ounce that is not heading back into your intake to kill fuel mileage, buildup on valves, and increase the risk of detonation. To read more about the benefits of a catch can in depth, check out our complete write up on Blow-By 101.
Mishimoto's Baffled Oil Catch Can was designed to trap virtually all blow-by from sneaking its way back into your intake. Our can is equipped with internal air diverters to direct airflow, a large baffle to catch and trap blow-by, and a 50 micron bronze filter to ensure that not a drop escapes into the intake.
We began with our tried-and-tested compact baffled oil catch can and designed a bracket to tuck it away in the GT's engine bay. Check out some photos of the bracket being created in our engineering facility on our water jet at our engineering facility.
Our engineers decided to locate the catch can out of the way in order to accommodate those who decide to add forced induction to their GT. This bracket allows our catch can to sit out of the way of other Mustang parts, making room for some of the larger turbo and supercharger kits. Check out some shots of the first prototype being test fitted on the S550.
The next step was to decide on the prototype hose routing for the first round of testing. Check out some photos of the prototype catch can hoses installed on the Mustang GT.
Now that we have a prototype bracket and hose setup installed on the passenger side, we can begin testing! We want to make sure that our catch can traps a decent amount of blow-by to protect your Mustang GT effectively. We will also be designing and testing a driver-side catch can as well as additional Mustang parts. Check back for testing results and more information about the design of Mishimoto's Mustang catch can system.
Thanks for Reading!
-Sara