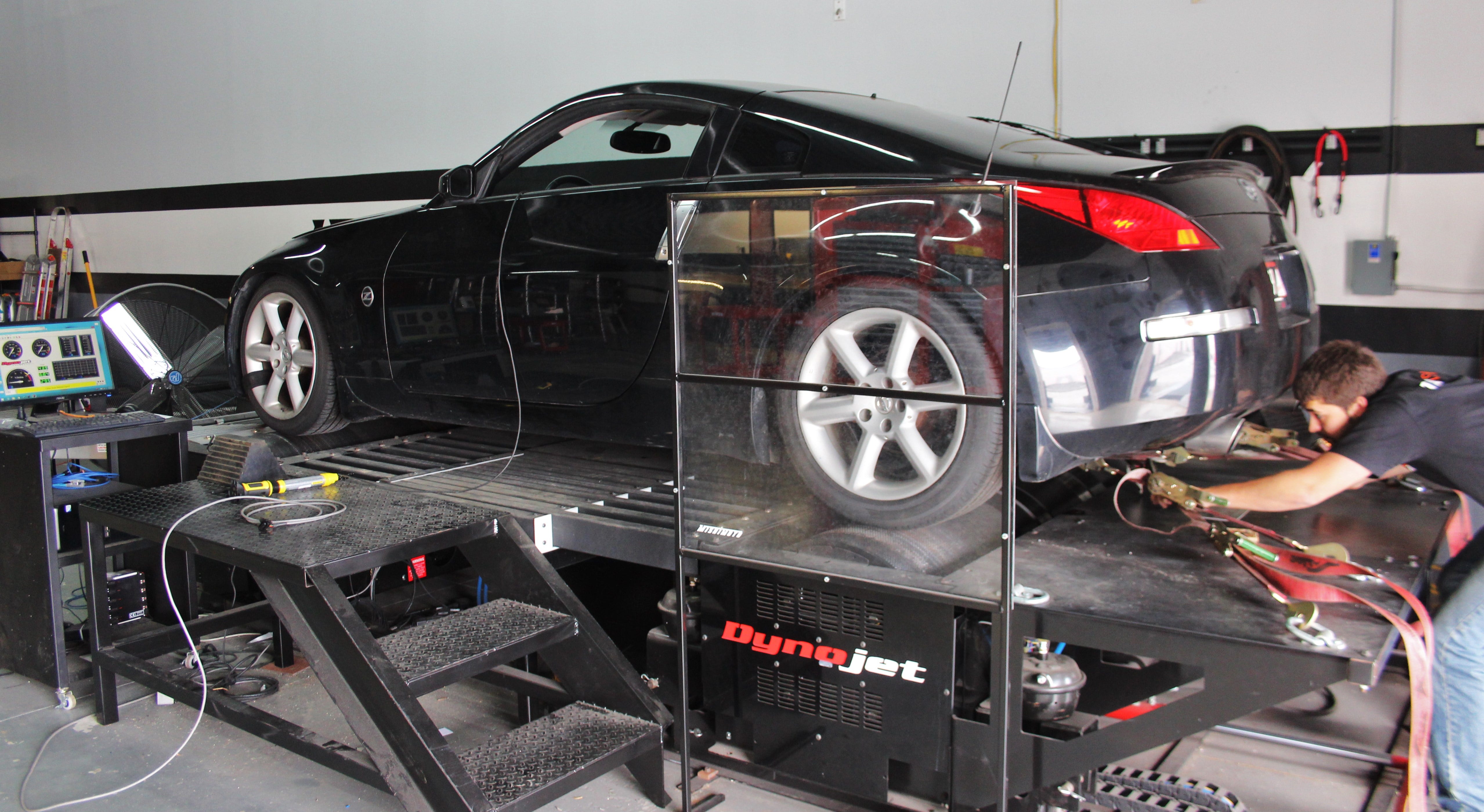 Pure VQ Sound! Mishimoto's 350Z Performance Intake R&D, Part 3: Dyno Testing and Results
Interested in purchasing our awesome intake system? Check out our product page linked below!
With our initial design completed, it is time to strap our Z to the dyno and make a few pulls. We would be evaluating power output and engine sound, both of which are important aspects of our Nissan 350Z intake design.
Dyno Testing
Once we had the car lined up properly, we were ready to make some pulls!
Check out a compilation from our dyno runs! You can really hear the VQ sing with our intake system installed.
Man, what an engine! The VQ sounds so good and is quite refreshing compared to the turbo four-cylinder vehicles we focused on for previous intake designs. The Mishimoto 350Z air intake elevates the volume and seems to deepen the overall tone, especially during initial throttle application. Overall, we had positive results for the sound produced, and we are very pleased.
So how did we do with power?
Keep in mind that we made numerous pulls with each setup (both stock and Mishimoto) until a consistent power curve was produced. Once we had three consistent runs, they were averaged to produce the comparison in power output shown below.
As you can see, very nice results! We made power throughout the entire powerband, from 3,000 rpm all the way to 6,400 rpm. Our maximum gains were achieved in the midrange, equating to 10 whp and 13 wtq. At the peak of the rpm band, our gains were 6 whp and 9 wtq.
When adding an intake, one of the primary concerns is the impact on the stock ECU tune in terms of air/fuel ratios. A review of the results showed that the ratios of our intake are extremely similar to the stock intake ratios. This setup is entirely safe and will not have a negative impact on engine integrity during any driving conditions.
Airflow and elimination of restriction are big contributors to our power gains. Our filter features a substantial improvement in surface area. Check out the actual data in the chart below!
Using our cone filter more than tripled the surface area of the stock air filter!
Creating a 3D Model
After recording successful testing data, we were pleased with the performance of our existing design. The next item on our list is to put these components into a 3D model. First, we collect dimensions for the airbox and MAF adapter using our CMM (coordinate measuring machine) table and Romer Arm!
Coming Up!
We need to make a few final tweaks to our 350Z air intake box design for improved fitment, which will be completed in the 3D modeling phase of development. Once done, we will be constructing a final prototype that reflects our full production design.
Check back for a look at our Nissan 350Z intake 3D models and our complete prototype!
Thanks for reading!
-John
Interested in purchasing our awesome intake system? Check out our product page linked below!