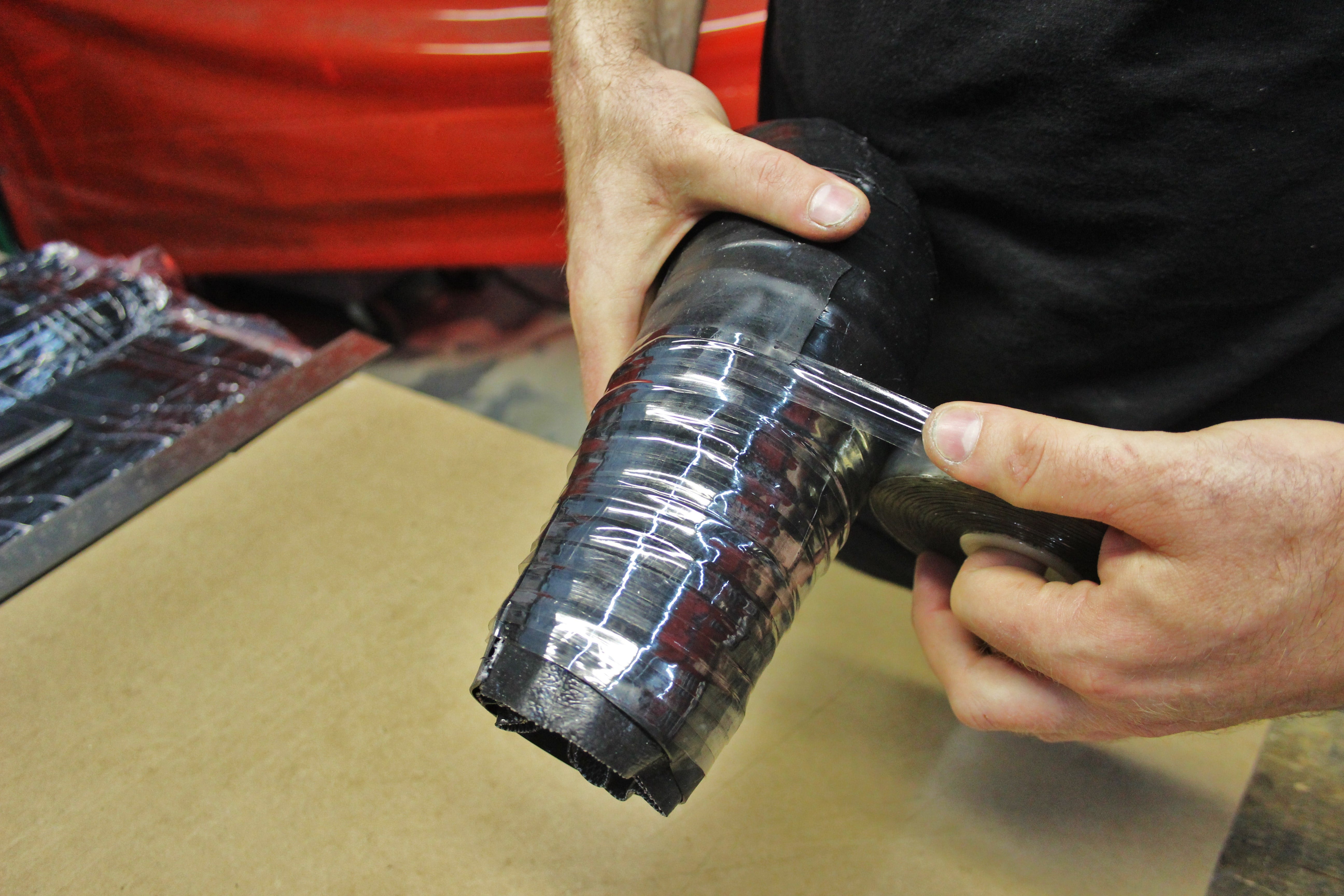 Fresh Air for the Fiesta! ST Performance Intake R&D, Part 3: Making a Silicone Inlet Hose
This is a pretty cool post, something a bit out of the ordinary for our projects. We typically utilize our existing silicone boots in our intercooler kits, intake systems, etc. For this project, we decided to manufacture the first portion of our intake system from a wire-reinforced silicone hose. This would facilitate an easier installation, and it would also provide a smooth airflow transition from the small turbocharger compressor inlet to our intake's large pipe diameter. Since we like to show you what goes into developing our prototypes, check out the process for creating our silicone turbo inlet hose below!
Printing Our Fixture
The hose we have in mind will follow the path of the stock induction hose, which is actually a plastic piece on the stock ST. Before beginning our silicone project, we needed a fixture that would serve as a base for the silicone layers that will be applied. After making a model in Solidworks, we fired up the 3D printer and watched as it churned out our component.
And our end result is below!
As you can see, the diameter of this pipe gradually increases from small to large. The outer diameter of this fixture will become the inner diameter of our completed silicone inlet hose.
Silicone Inlet Hose Creation
We've got some work to do! Our first layer of material is standard silicone, which is wrapped around the fixture until the entire piece is covered in a single, flat layer.
After some careful work, our first layer was complete.
Our second layer would be a slightly different material. Check it out below.
This layer is composed of fiber-embedded silicone, and it is the key component for the rigidity and strength needed in our end product. The fibers provide greater pressure tolerance, making it ideal for any pressurized system (e.g., cooling, CAC).
Like the standard silicone, this layer is wrapped around the fixture in a similar fashion.
The next portion of this build is a bit out of the ordinary for your typical silicone hose. Normal hoses and boots encompass the silicone and fiber layers, but for this inlet hose, we will be using metal wire to further reinforce the integrity of the hose. Why? Well, standard silicone hoses tend to collapse under extreme vacuum or suction, which is exactly what this hose will see. All our hoses that attach directly to a turbocharger compressor inlet are wire-reinforced for additional strength.
The wire is wound around the hose throughout its entire length.
The image below shows our Fiesta prototype next to a cutaway of our Subaru WRX turbo inlet hose, which also features wire reinforcement. Our final rendition of the Fiesta induction hose will likely feature thicker wire with less winds, similar to the WRX piece.
Our next layer is yet another slice of silicone on the sandwich that is our Fiesta inlet hose. Or perhaps it's more like a wrap? Anyway, another layer of silicone is applied over the wire.
Another layer of fiber-reinforced material is added, followed by a final layer of plain silicone, resulting in our four-ply induction hose. I won't bore you with more images of Mike wrapping these last two layers on the fixture, but I assure you he did it!
We're not finished yet. There are a few more steps as we progress toward a completed silicone hose. Our next step is to wrap the hose in a protective tape to keep the silicone in place for baking. This tape is resistant to our baking temperature and will keep the silicone in position during the process.
This "tape" is not sticky and does not adhere to the silicone. It is wound tightly around the pipe to compress the silicone to its final shape.
The tedious portion of the process is now complete. From here out, it is as simple as baking a batch of brownies. We fired up the oven, popped in our hose, and waited while the silicone cured.
Note: Don't do this at home. Baking silicone in the oven releases a pungent odor that will fill your house and ruin any meals cooked in that oven for the next few days.
Once we completed the numerous baking sessions and the hose had cooled, we trimmed the edges to our desired length. This revealed the numerous layers of material, similar to what you would see with any of our silicone products.
The baking tape was then removed, revealing our final product!
We even test fit this piece on the car with our intake piping!
Coming Up!
Before dyno testing we still have one important portion of our intake to tackle: the airbox. We have some pretty interesting plans for the design, so expect a post crammed with cutting, bending, welding, and plenty of flying sparks.
Thanks for reading!
-John