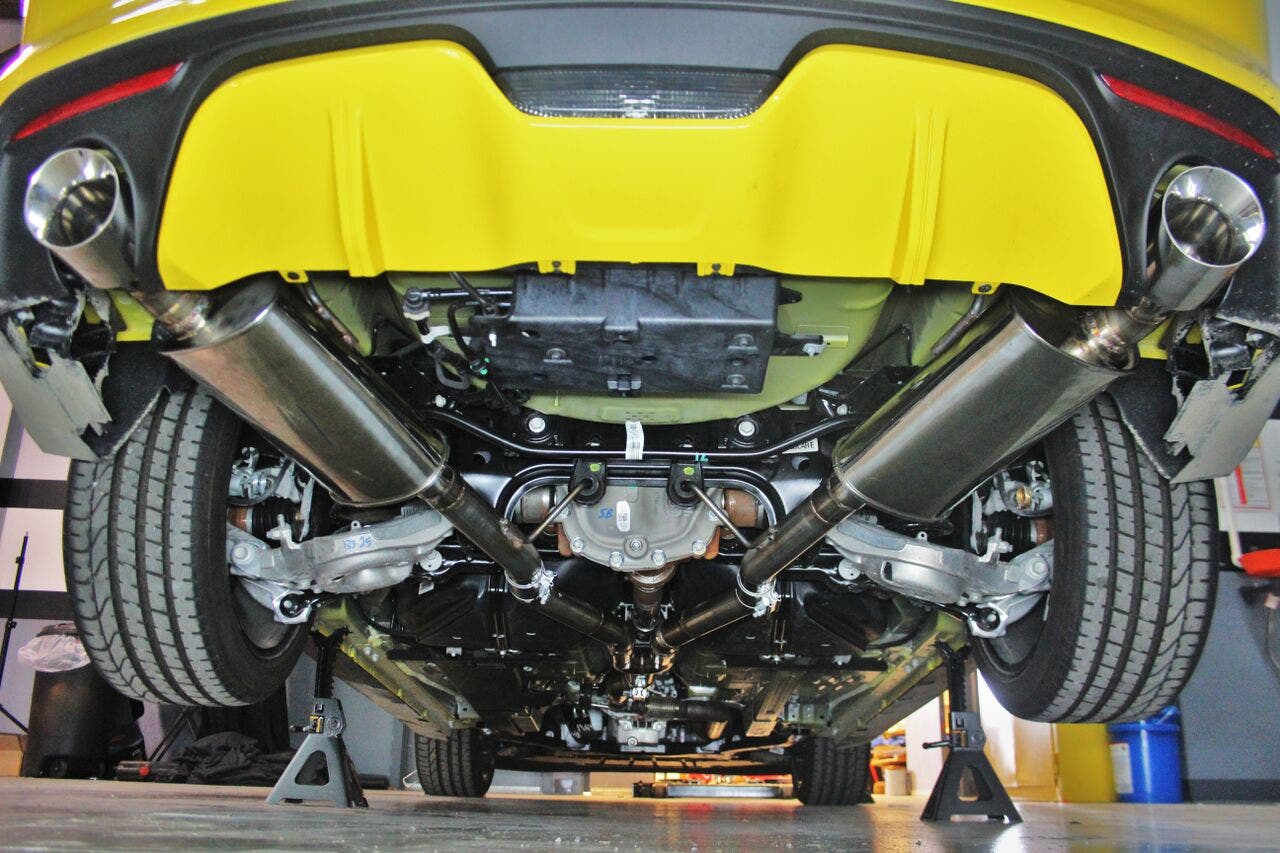 Enhance Your EcoBoost Exhaust! Cat-Back Development, Part 4: Tip Fabrication
We've logged some miles (and smiles) during the testing of our two cat-back exhaust setups. We've decided on a strategy for the muffler selection, one that we feel best suits the tones of the Mustang EcoBoost (EB). Our team determined that the round muffler setup is just a touch too loud, and that the oval mufflers shown in the previous segment provided the exact sound we are seeking. Months of tedious design and testing have resulted in drone-less operation on the highway, improved volume at wide-open-throttle( WOT), and stock-like sounds during light/partial throttle.
I am sure you guys are eager for some final sound clips, but you will have to wait just a bit longer. In the meantime, we've settled on the muffler tip we will be using, and we've fitted it to our final prototype. Check out the process below!
Tip Design
We've gone with an appealing tip design for our EcoBoost Mustang exhaust system. Check out a few shots prior to mating this with the rest of our system.
These tips are constructed from polished, double-wall stainless steel and measure 4.5" in diameter. Internally, this diameter narrows to 2.5" to mate with our exhaust piping.
Here is a look at the tips mocked into place prior to fabrication. They look quite nice!
Tip Fabrication
Time to mate these tips with our existing cat-back setup. We made a couple minor adjustments to the piping and muffler location to accommodate the length of the tip. Nothing our experienced team could not handle!
First, we cut off the existing tip on our muffler.
We then constructed a component that would orient the tips properly. This required some measuring and tweaking until the placement was perfect.
We then placed this piece into position and tacked it to the vehicle.
In addition to the modifications post-muffler, we also made a few adjustments pre-muffler for fitment of the tip. Once again, the modifications were small components and were quickly tacked into place.
Check out the tip in place and its fitment with the rear bumper!
Mike then set to work at the welding table and fully welded our final prototype.
Final Prototype
Check out a few shots of our final prototype fully installed!
Coming Up!
The important part is coming! Our video team is gearing up to film this exhaust during some on-road testing. We will be collecting sound clips at idle, acceleration, highway cruising, and during a high-rpm pull. These clips will provide a clear depiction of how this exhaust sounds!
Thanks for reading!
-John