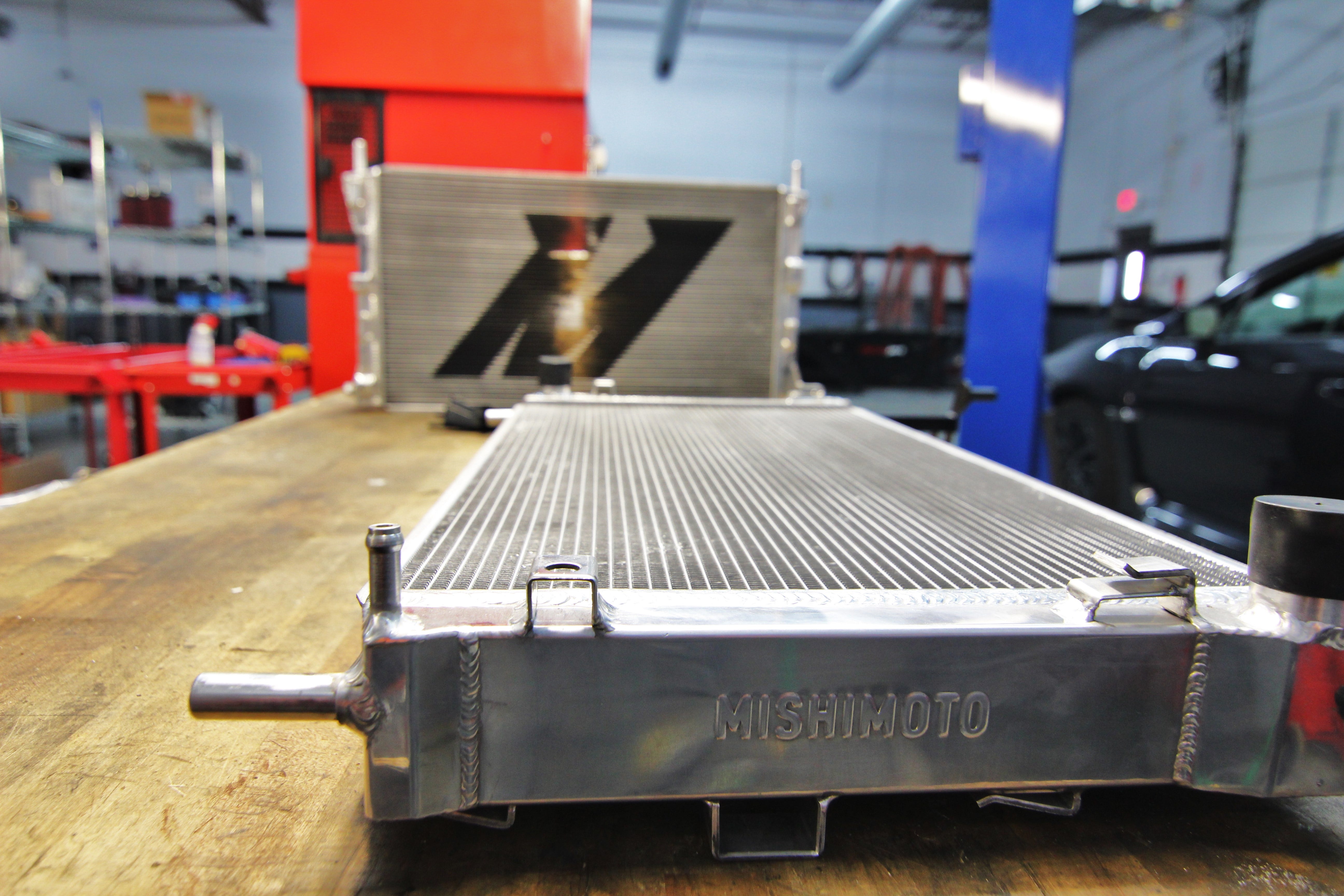 Mustang EcoBoost Aluminum Radiator R&D, Part 2: First Prototype
Interested in purchasing this awesome aluminum radiator? Check out more details on our product page linked below!
It has been ages since we've had an update on our EBM aluminum radiator, and for good reason. Our team has been hard at work putting together a functional prototype for some initial test fitting. We used dimensions from the stock base model radiator, the performance package radiator, as well as measurements from the vehicle to ensure our prototype would fit and function with all factory components. Our line of 2015 Mustang EcoBoost parts is continually growing and we are looking forward to offering a full cooling package.
First Prototype Unit
After making several tweaks to our 2015 Mustang radiator design for fitment purposes, we finally had a complete design that could be developed for some on-car fitting. Check it out below!
We've been working on some pretty cool logo/branding on some of our newer products. For the EB radiator, our logo will be stamped into the end tank like shown in the image above! We also have our logo sprayed on the front. Here is a look at that:
As you can see, we incorporated all mounting points from the factory radiator. This includes the AC condenser mounts, as well as the cooling fan shroud connection points. This will ensure our product is compatible with all factory 2015 Mustang parts.
Check out a close-up of the core!
One of the unique features of the stock EB radiator are the two legs which serve as mounting points for the base of the radiator. These pieces provide space for the intercooler in the front grille area.
On the stock radiator, these mounts are built into the plastic end tanks. For our design, we are constructing the brackets as a separate piece, to be attached to the radiator tanks upon installation. Below is a couple shots of our first prototype bracket sets.
These are pretty complex pieces!
And a look at this bracket mounted up to our end tank.
Stock Radiator Comparison
The size increase over the stock radiator is quite substantial and is certainly going to result in a fantastic improvement in heat transfer. This product will be a fantastic addition to our line of 2015 Mustang EcoBoost parts.
And a close-up shot of the radiator mounting legs!
The true difference is in terms of core thickness, which is best shown in the images below.
The physical differences between the stock radiators (base and PP) and Mishimoto prototype are shown in the chart below!

Stock 2015 Mustang radiator removed
We then (gently) tossed our prototype in and checked out clearances with all factory-equipped 2015 Mustang parts!
Fitment Report
Overall fitment was great with this prototype. All factory 2015 Mustang EcoBoost parts clear the larger core and our mounting points all mate with their respective components perfectly. We do have a few modifications to make to our design. First, we will be changing our fin height to match the factory core. With the same fin height and our radiator's larger core, performance should be improved! Once we complete this, road testing will verify if our changes make an impact on heat transfer. In addition to this adjustment, we will strengthen our radiator mounting brackets. The single bolt mounting point was not as robust as initially thought. We will increase the mounting strength for our next prototype.
Coming Up!
We have another prototype in the works which will function as our test unit for on-road data collection. Check back soon for a look at our second prototype design and a summary of our findings from testing! Be sure to check out our blog for full coverage/information regarding our entire line of 2015 Mustang EcoBoost parts!
Thanks for reading!
-John
Interested in purchasing this awesome aluminum radiator? Check out more details on our product page linked below!