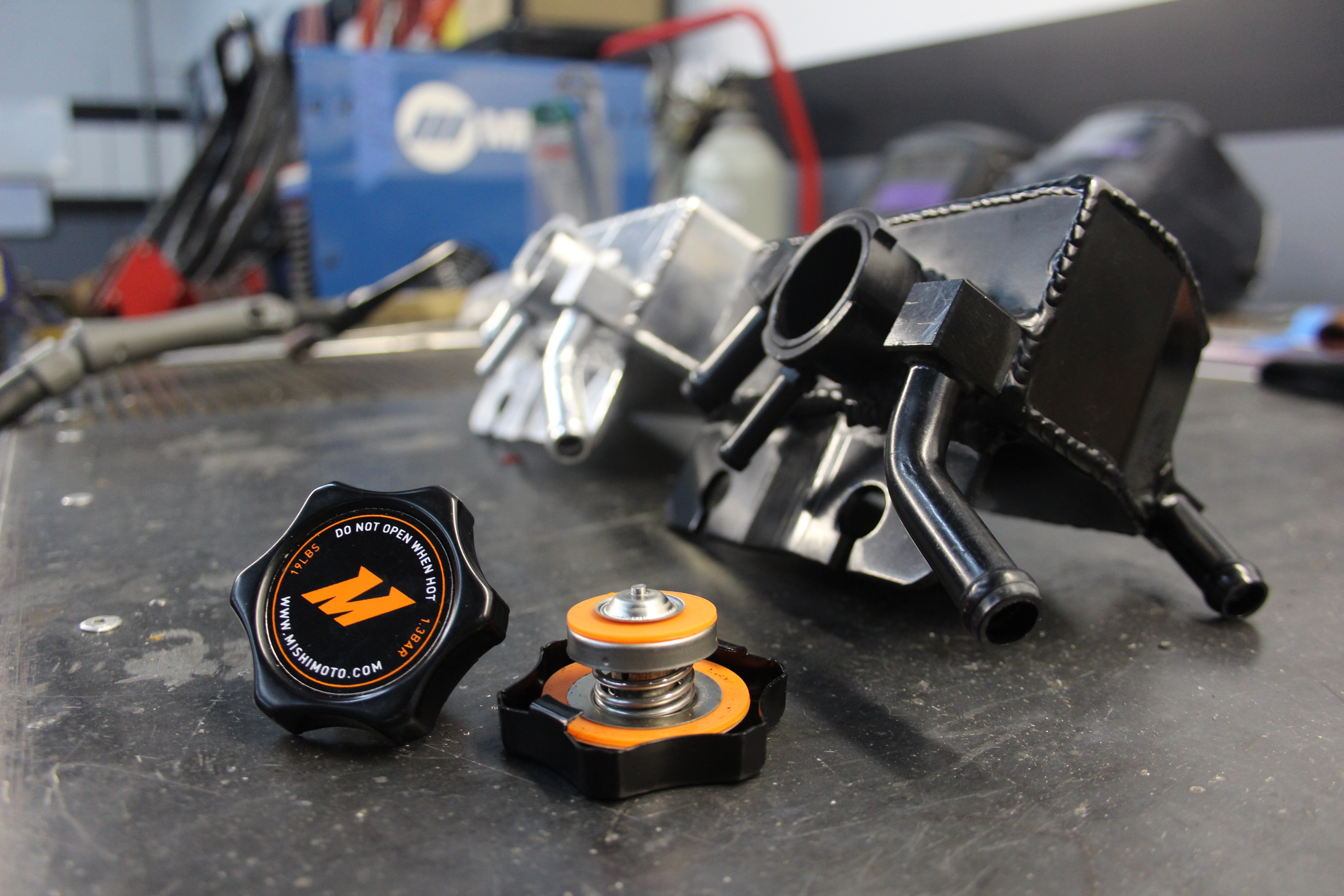 Get rid of the plastic! Mishimoto's Subaru 2008-2014 WRX Aluminum Expansion Tank R&D
Interested in picking up this awesome aluminum expansion tank? Check out more details on our product page linked below!
Last year we released an aluminum expansion tank for the 2004-2014 STI and 2002-2007 WRX. We received a ton of awesome feedback from customers and enthusiasts regarding this component, as well as recommendations to produce such a tank for 2008-2014 WRX owners.
While we normally highlight our development process in multiple installments, for this Expansion Tank we wanted to give you everything in one quick shot.
Stock Expansion Tank
Although we don't see quite as many failures with the 2008-2014 expansion tank, we can assume it will incur some wear over time. This tank sits relatively close to a very hot turbocharger/exhaust and handles coolant with temperatures over 200°F. With this kind of exposure, we frequently see plastic components degrade and crack/split, resulting in leaks.
Here is a look at the stock expansion tank!
The stock tank features 4 different coolant ports, one fill neck, and a variety of mounting points. As noted previously, this piece is fully constructed from plastic, with the exception of the sleeve in the lower mounting point.
Mishimoto Expansion Tank 3D Models
After evaluating the stock expansion tank and collecting dimensions and critical feature information, it was time to work up a design for our aluminum counterpart. Check out a few 3D models showing our plans!
Functional Prototype
After confirming our design plans, we moved forward with constructing the first prototype to check fitment and functionality.
Check it out!
This polished unit fit into place perfectly, and all hoses fit nice and snug on their respective ports. However, we were not completely confident with the actual fitting and the fill neck connection points. On this prototype, these portions were welded internally, which left a bit of an unusual look. This presented an opportunity to experiment with a few different ideas. We decided on an external weld that was far more aesthetically pleasing, which brings us to our second prototype.
Check out both prototypes!
Test Fitting
So how does it look in the engine bay? See for yourself!
With final fitment confirmed, this project was complete!
Along with the rigidity and reliability provided by the aluminum construction, we've also managed to increase fluid capacity by 22% compared to the stock plastic tank!
Now What?
Now that this project is complete, we are ready to launch a discounted presale for folks interested in picking up one of our new tanks. Check back soon for more information regarding our discounted rate.
Thanks for reading!
-John
Interested in picking up this awesome aluminum expansion tank? Check out more details on our product page linked below!