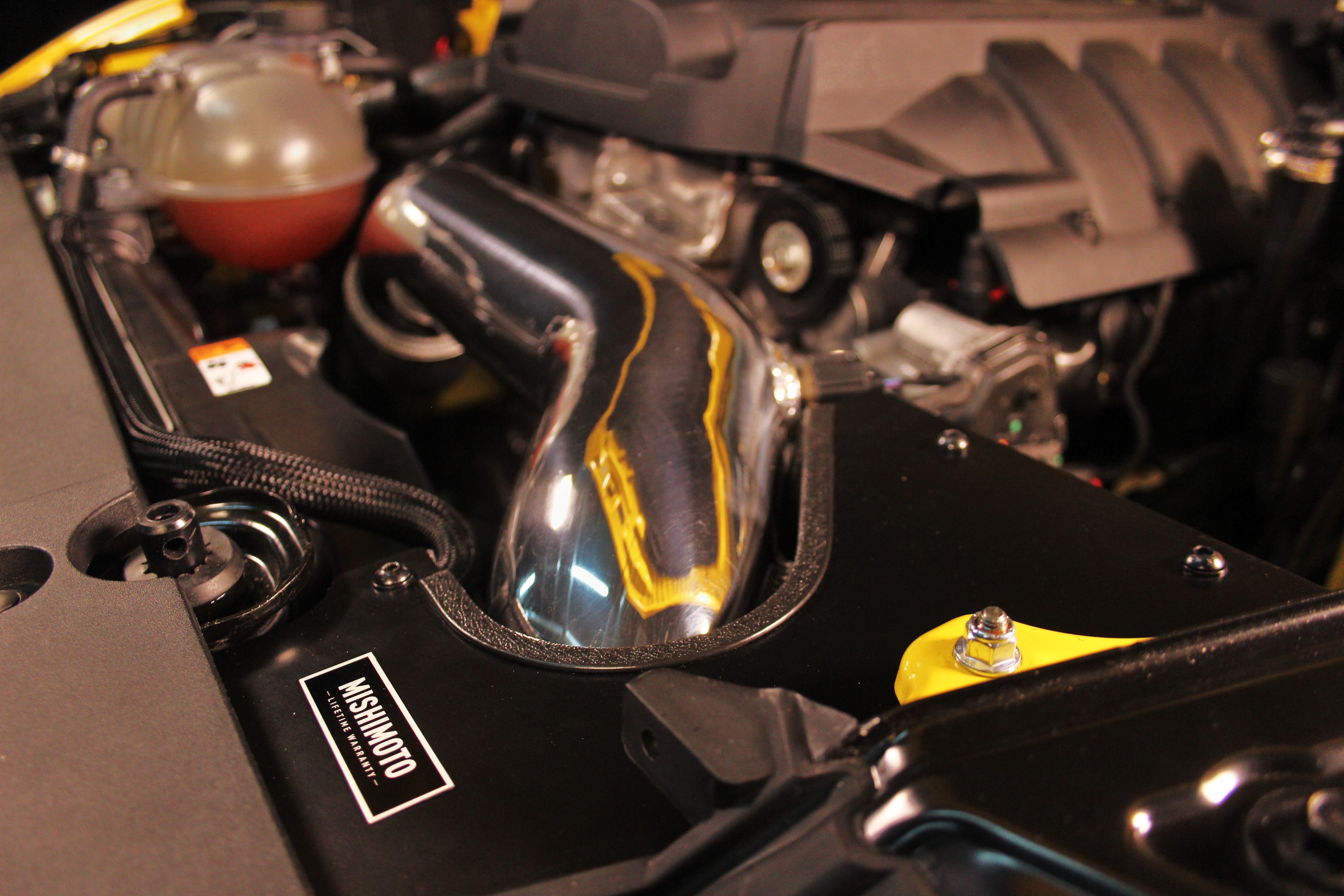 The EcoBoost Intake Project, Part 4: Testing Data & Final Product
Posted:
February 27, 2015
Interested in purchasing our Mustang EcoBoost intake system? Check out more details on our product page linked below!
After wrapping up the design of our intake for the 2015, it was time to put the car on the rollers to see if we were making any power gains. As mentioned earlier in this series, we believed that significant power gains were unlikely due to the MAP-based ECU, which is not normally affected by modified intake systems.
Dyno Testing
With that in mind, we strapped the Mustang down and made a few pulls.
Testing Results
After making several pulls with both the stock intake and Mishimoto intake, we averaged the runs, and the results are shown in the plot below.
Although we were a bit skeptical about power gains for this vehicle, we did end up with some nice increases throughout most of the RPM range. These gains are likely due to the reduced restriction caused by the stock airbox system. We saw 4-8 whp gains from about 3,500 rpm through redline. Torque benefits were similar and peaked around 9 wtq at 5,500 rpm.
It is extremely likely that additional modifications and tuning will provide even greater gains with our intake system, thanks to the free-flowing filter and piping design.
We are very pleased with these results. Not only did the vehicle make some decent power gains, but we also really liked the improved tone provided by the intake setup. Spool noise is greatly amplified and sounds terrific both inside and outside of the vehicle.
Filter Surface Area
Along with dyno pulls, we performed some comparison analyses of the stock air filter versus the Mishimoto unit we would be using with our kit.
Air filter surface area is one of the features we like to compare when looking at the stock intake system. So what is the benefit of greater surface area? Greater filter surface area significantly increases the potential CFM of our filter. More air passages will provide less restrictions, especially for modified vehicles moving more air than a stock vehicle.
Silicone Inlet Hose
Another interesting update for this project is the arrival of our final prototype for the silicone inlet hose. We have been discussing this part for quite some time, and we have posted some 3D-printed prototype images. Check out this unit in its final form!
The next image shows a more detailed shot of our CNC-machined fittings that are molded into the hose.
The final shot shows the thickness of this hose and the fibers that are embedded with the silicone we use to manufacture this piece.
Intake Piping
Along with our finalized silicone piece, our intake piping was also completed. Check out a few shots.
A few details about this pipe. This unit is constructed from mandrel-bent aluminum, and it features smooth bends to route air from our airbox to the turbocharger inlet. We utilize a bracket to stabilize the pipe and prevent vibration. The bung mounted to the top of the pipe mates perfectly with the stock sensor for the intake air temperature (IAT).
Not a fan of the polished look? Don't worry, we will be offering this piping in a wrinkle black finish as well. We are also considering a blue (Ford) finish of some sort, so let us know if this interests you and perhaps we can give it a run!
We finish off the end of this piping with our Mishimoto oiled air filter.
Completed Airbox
The airbox is a key component that helps reduce the effect of engine bay heat on our filter and on air temperatures. You saw our 3D-printed unit earlier; check out the final design below.
We also created an easily removable lid for servicing of the filter.
This box is constructed from powder-coated steel and works to properly isolate the air filter. This unit mounts to existing points within the engine bay and provides a stock-like appearance.
Fully Installed Kit
And check out this kit fully installed in our EB!
Release Details
Now that all our data are complete, we are fully prepared to release this product. Keep an eye on this thread, as we intend to release our kit within the next 1-2 weeks.
A big thank you to everyone who followed our progress in the development of this product!
Feel free to follow up with any questions!
-John
Interested in purchasing our Mustang EcoBoost intake system? Check out more details on our product page linked below!