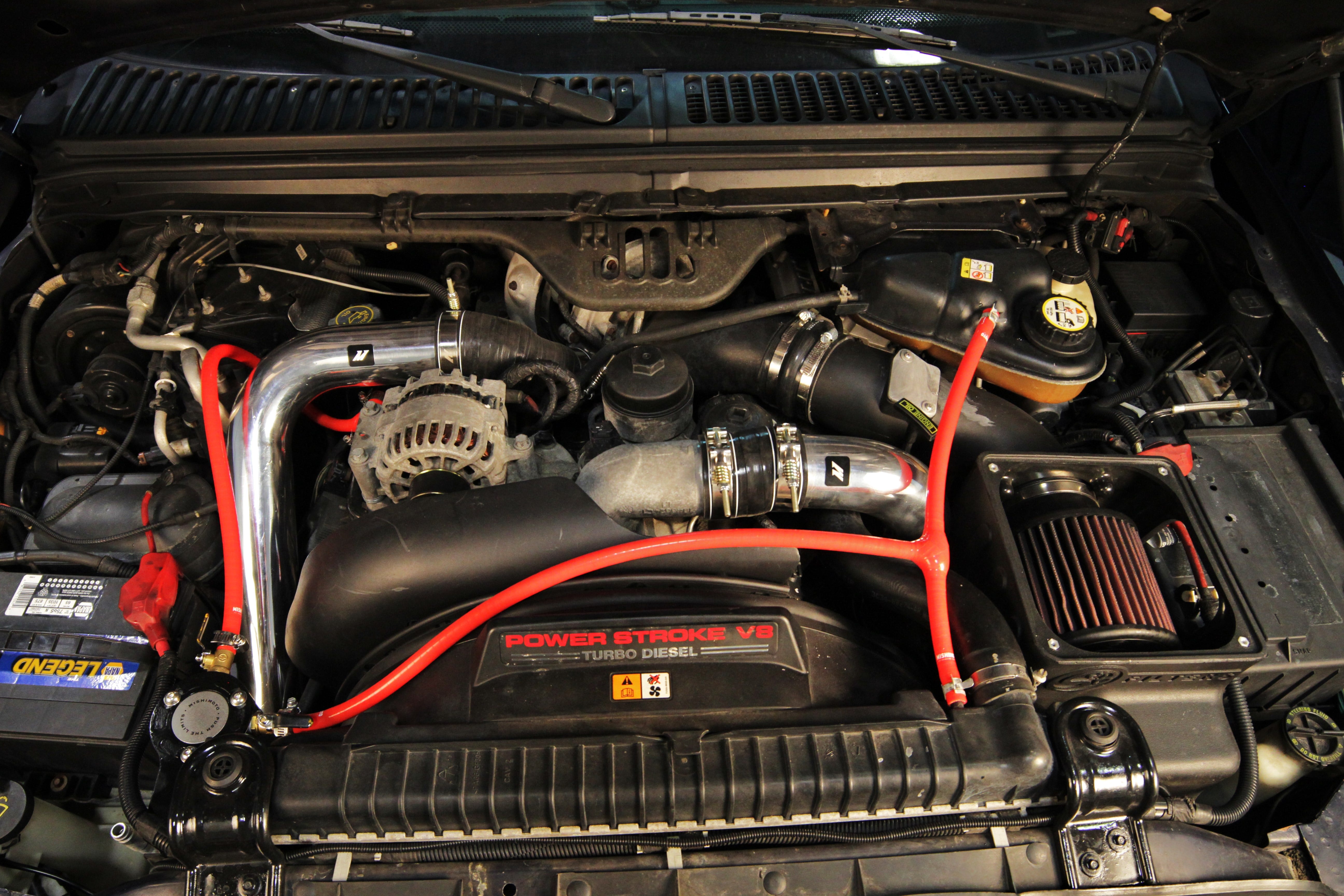 Mishimoto Ford 6.0L Powerstroke Coolant Filter Kit, Part 3: Final Components and Project Completion
Posted:
December 19, 2014
Interested in purchasing this Coolant Filter Kit? Check out our product page for more information!
We are nearing completion of this awesome project! With our bracket and housing finalized, it was time to fill in the gaps for the rest of the necessary components. First up, the filter selection. As mentioned earlier, we were looking for an efficient filter that could easily be purchased at any parts store. We went with the WIX 24070. Of course, any brand that will cross-reference with this filter will also function with our kit.
Filter Selection
A look at this filter mounted, with the necessary hardware for the bracket.
Valves
Our next key components are the valves for the housing and lines. We will use ball-style valves for easy, reliable operation. Check out a couple shots of our plans for this component.
Silicone Lines
Our last component we need to address are the lines needed to install this kit on your 6.0L cooling system. As mentioned in the beginning of this build, we would be working to eliminate the need to splice into your factory lines. An additional goal is to reduce the number of failure points in the system. We did so by creating a system utilizing just two hoses, which are both one-piece units. This eliminates the need for any plastic or brass tees in the system. Check out the hoses we developed!
Now that we had all of the components completed, we could fully install our coolant filter system! Check out the final product!
As you can see, this kit looks fantastic in our test vehicle's engine bay. One of our lines ties into the degas bottle and radiator overflow port. The second line ties into one of the heater hoses. We then set this truck on its way, to start a new life with a cleaner coolant system! Well, with our project complete, it is time to recap our goals to be sure we hit this one out of the park.
Project Goals Recap
Must be 100% direct fit; make all attempts to reduce the cutting/splicing of stock hoses.
This goal was easily reached by our team of skilled engineers. This kit bolts into position as if it were equipped on the truck from the factory. The silicone coolant lines we developed for this kit are a complete direct fit and do not require any splicing into your stock lines. The installation of this kit is completely reversible as well, making it easy for you to revert to the factory setup.
Include all necessary components for installation.
This kit is all-inclusive and provides all the necessary components for an easy installation. We include the coolant filter housing, bracket, mounting hardware, valves, clamps, filter, and silicone hoses. You will not need to purchase any additional components to install this kit on your truck.
Utilize valves to reduce coolant loss during filter changes.
We utilize valves on both the line inlet and outlet ports. This reduces the amount of coolant lost during a filter swap, saving you money and time in the long run.
Use a common off-the-shelf coolant filter for easy access.
We designed our kit to function with a common WIX filter or any other brand equivalent. This filter has proven to be very effective at filtration, is relatively inexpensive for our customers to purchase replacements, and is easy to find at local parts stores.
Installation should be simple and utilize common hand tools.
This kit is extremely easy to install, and only requires some basic mechanical knowledge/experience. The only challenge for installation will be bleeding the cooling system upon completion, which is a process explained in our installation guide for this kit. If you are unsure about installing this kit, be sure to check out the installation video to get an idea of what lies ahead.
With all our goals met, I think we can put a close on this project. Keep an eye on our site for this kit to hit shelves soon! Thanks for reading our article, and feel free to follow up with any questions or comments!
Thanks.
Interested in purchasing this Coolant Filter Kit? Check out our product page for more information!