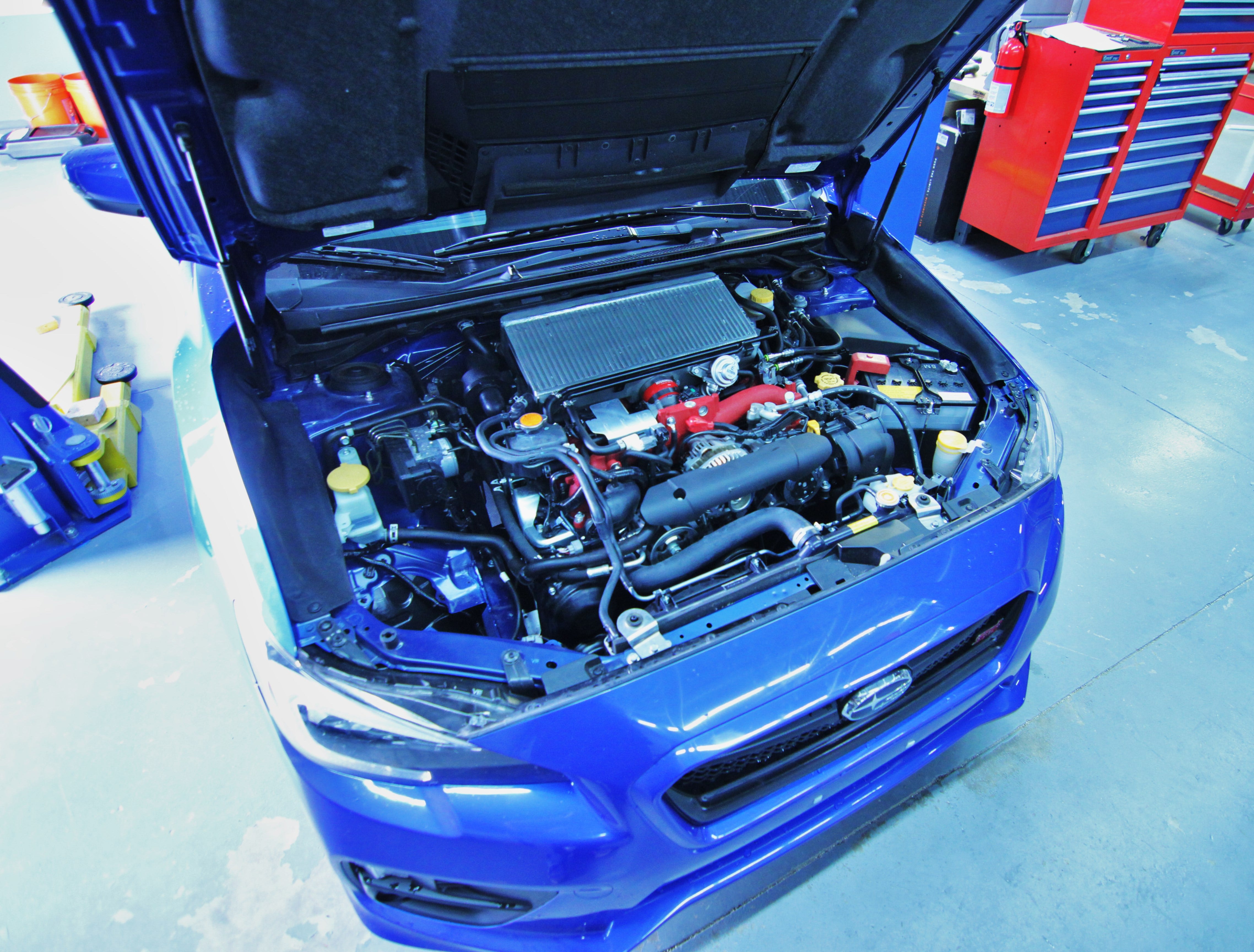 Mishimoto 2015+ Subaru STI Performance Cold-Air Intake System, Part 1: Project Introduction and Goals
Posted:
December 16, 2014
Interested in purchasing our 2015 STi intake system? Check out more details on our product page linked below!
Introduction
Our team is finally working on some cool components for the new 2015 Subaru STI! As you know, the 2015 STI is essentially a hybrid of old and new Impreza components. It features the newer body style paired with the trusty EJ engine, instead of the new DIT motor featured in the WRX. We won't get into which is better or which we prefer, because we have nothing but praise for the updated chassis. Our team has spent a great deal of time with both vehicles, and we are impressed with how the STI drives, handles, brakes, and functions as a comfortable yet sporty sedan.
As you may already know, we developed an intake system for the 2015 WRX recently, and we had a ton of success producing some really nice power gains. We also offer an intake system for the 2008-2014 WRX/STI equipped with the EJ engine. You can see where we are going with this. Before we had a look at the STI, we already knew we had a chance to use some preexisting components from one or both of the intake systems we already offer. Not only would this speed up the development process, but it also means we would be using proven components. Before we set our engineers loose on this vehicle, we set up some guidelines for this particular project.
Project Goals
Must be direct fit and require no vehicle modification.
Must provide an increase in power output while maintaining safe AFRs on the stock ECU tune.
Include all necessary components for installation.
Fully test product to provide real-world data.
Yes, these goals are rather intuitive, but we will provide a bit more detail below.
Direct Fit
As with any aftermarket component, fitment problems are always a consideration. Nothing is more frustrating than trying to install your new component, only to find that it has been poorly designed and does not fit well. Our goal here is to develop an intake system that is a 100% bolt-on unit. Obviously you do not want to have to modify your brand new car, so this kit will have to fit without any cutting, drilling, or trimming. Our engineering team is no stranger to this requirement, so this should be an easy one.
Adding Safe Power
Intakes and applicable tuning have been hotly debated in the WRX/STI community for some time. If possible, we will design this intake to provide increased power on the stock tune, and we will test this unit extensively to ensure engine safety is not compromised. With our 2008-2014 intake setup, we achieved gains of 25 whp and 25 wtq on the stock tune with completely safe AFRs. We tested this unit in all forms of engine operation to be sure that our customers would not have issues. The same testing regiment would be needed for the 2015 STI intake we design.
Easy Installation
An intake upgrade should be a simple bolt-on modification. We want this process to be extremely simple and achievable, requiring only simple hand tools and a basic mechanical knowledge. Part of making this process seamless is the inclusion of all necessary components for installation, which is a top priority for this project.
Testing Data
The last goal is the most important. We conduct a ton of testing for each product that leaves the facility. If it was designed by Mishimoto, you can be sure that we thoroughly tested and perfected our design. Our in-house Dynojet will certainly help with this portion of development. Our thorough testing and presentation of test data are key elements that separate our company from the others.
Vehicle Evaluation
With our goals in place, it was time to pull the STI into our shop and start evaluating potential designs and product fitments. The kind owner of this 15' Launch Edition was nice enough to lend his brand new vehicle for some testing. Check it out!
First, we wanted to check fitment for a few of our 2008-2014 components to see if anything would cross over to the new chassis. After replacing the stock intercooler with the Mishimoto unit, we noticed that this low-mile 2015 vehicle is already showing some oil in the intercooler system " evidence that a catch can system would be a wise investment. We will be working on a direct-fit kit for the 2015 STI, similar to what we offer for the WRX.
Next we slid our intercooler into position to check for any fitment concerns. We were happy to discover that our 2008-2014 STI intercooler is a direct fit for the 2015 model as well!
We also checked out a variety of other vehicle components and discussed the similarities and differences in an informative video review. Check it out below.
First Mock Up
Now, back to the project at hand! With all our other product test fitting out of the way, we could begin planning what we would like to do for the intake.
Knowing that the body of the 2015 WRX and STI is similar, we started with checking the fitment of the intake box we designed for the WRX. The box obviously fit into the same location in the STI, but the piping presented an issue. With its front-mounted turbo setup, the WRX intake system utilizes a different intake tube setup that would not work with the STI box. Next, we grabbed our race intake system for the 2008-2014 models, which utilizes an intake box and a short-ram pipe with filter. We then mocked this unit into place.
This design could certainly work, requiring modification to only the box. The setup also features a larger MAF housing compared to the stock inlet pipe. This would cause some issues with our claim of "no tune required," which is why we offer this kit for 2008-2014 owners with aftermarket tunes. By doing so, we can cater to customers who have aftermarket tunes, as well as those who want to stick with the stock tune. We will come back to this particular setup later, when we move forward with a race intake design for the 2015 STI.
Check back with us next time as we explore another option for this intake system!
Thanks
Interested in purchasing our 2015 STi intake system? Check out more details on our product page linked below!