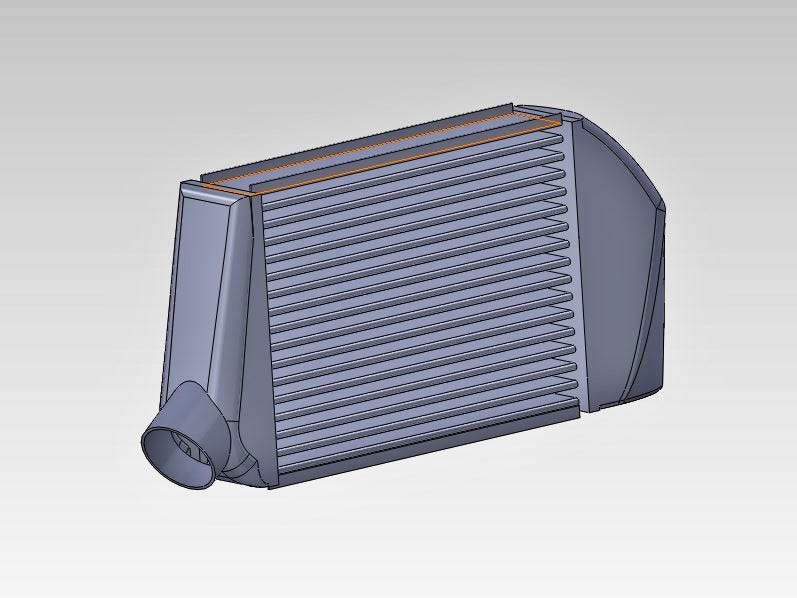 Does the 2015 WRX Need an Upgraded Intercooler? Part 1: Intro and Initial Development
Posted:
December 18, 2014
Interested in purchasing our 2015 WRX top-mount intercooler kit? Check out more details on our product page linked below!
Many of you checked out our recent thread about our progress on the 2015 WRX top-mount intercooler. We are finishing some testing to ensure that our product will provide the improvements our customers expect. Our prototypes look awesome, and so far they are proving to be quite efficient. So, we've decided to back-track a bit and highlight the process our team went through to create such an awesome product. We will also be including our final test results, as well as information about how you can get your hands on one of the first units to hit the shelves. Keep an eye on our threads and blog; we have some exciting stuff in the pipeline!
How It All Started
In late March our team ventured nearly 250 miles to pick up our new 2015 CVT WRX. Shortly after, we launched a video review series, and our engineering team set to work developing some awesome new components that we knew you guys (and gals!) wanted right away. So far, we have successfully released these components for the 2015 WRX:
2015 WRX Cat-Back Exhaust System (Coming Soon)
Along the way, we also picked up a 2015 6-speed WRX so we could check product fitment on both transmission types.
Now that we had the basic modifications covered, we looked to the next component our customers would need. To handle the heat generated from bolt-on modifications and tuning, an efficient top-mount intercooler system would be necessary. Steve, our lead engineer for this project, set to work designing a cooler for the 2015. But, we didn't just cut him loose without direction. We laid out a few basic guidelines, just to be sure we were meeting the needs of most (if not all) 2015 owners seeking an intercooler upgrade.
Project Guidelines
Must be direct fit, requiring no irreversible vehicle modification.
We want this cooler to fit into position just like the stock unit. We also understand that this is a brand new model, so our customers will not want to cut or trim their vehicles in any way. We will be designing a larger intercooler that still fits within the constraints of the stock engine bay of the 2015 WRX.
Must be larger than the stock cooler.
As always, improving the size of our heat exchanger will have a direct effect on the heat transfer. By increasing the size, we can also broaden our coverage when it comes to power output support. A larger volume will allow our cooler to provide support for modified vehicles to a specific power output. Typically, we see from 325 whp to 400 whp limits for our top-mount setups. I anticipate this cooler will be at the top of this range.
Must provide improved cooling efficiency and a bolt-on increase in power output.
This is our primary target for this project, as it should be for any intercooler. We want to reduce inlet temperatures compared to the stock intercooler. Period. If our prototype cooler won't do this, we need to redesign it until it does. A fancy looking cooler is worthless if it does not provide improvements in intake temperatures. Additionally, designing a cooler that results in a power increase would enhance the value of our product. In the past, we have been able to develop intercoolers that achieved great reductions in temperature and reasonable increases in power output. I have full confidence our team can do it once again!
Utilize cast end tanks and an efficient bar-and-plate core.
Important aspects of designing a successful intercooler include the choice of materials and the method of construction. With years of experience in heat exchangers, our typical starting point is an intercooler with cast end tanks and a bar-and-plate core. The cast end tanks provide an advantage with flow thanks to the smooth internal surface. They are also far more robust than the stock plastic end tanks or any cut-and-weld aluminum tanks. Our core design requires a ton of engineering, calculations, and testing. We will be designing a few different cores for real-world testing so we can check our theories on core design and choose the design that will work best for the Subaru.
Experiment with larger charge piping for improved flow.
Many folks have complained about the stock intercooler charge pipe on the 2015, and we don't blame them. It is plastic and necks down in size at numerous points. We will be designing a replacement pipe that complements our intercooler, and we will test this unit to see if any additional flow will result in power increases. This new charge pipe will be functional with both our new intercooler and the stock cooler. Our material choice is aluminum for durability and heat dissipation purposes. Keep an eye out for more information on this piece.
Initial Measurements and Design
First, we grabbed our Romer arm to collect dimensional data from the stock engine bay so we could define any space constraints. Our core would obviously be much larger than the stock unit, but we would want it to fit just as well.
Once we had our data from the vehicle, the stock cooler was placed on our coordinate measuring machine (CMM) table and was modeled in 3D. The 3D model provides basic mounting locations and general shape, which is information we need to design our cooler.
Check out the 3D model below.
The stock intercooler uses a common tube-and-fin core, which is crimped to a pair of plastic end tanks. Like other vehicles, higher boost pressures will certainly test the limits of these crimp connections, and we expect to see some failures. The 3D model also showed us that we had a ton of room to expand the size of this cooler. Check out some shots of the external and internal core of the stock intercooler.
Check back next time for a look at the 3D modeling of the Mishimoto intercooler, as well as some of the actual prototypes we created.
Thanks for reading!
Interested in purchasing our 2015 WRX top-mount intercooler kit? Check out more details on our product page linked below!