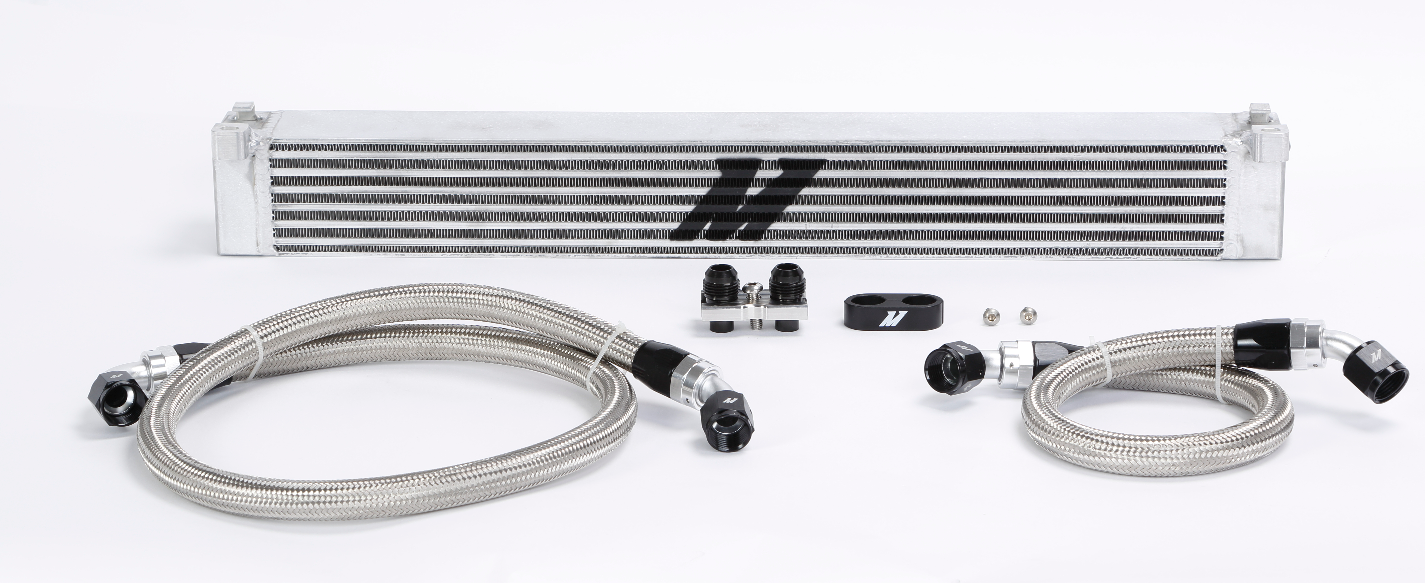 Mishimoto BMW E46 M3 Direct-Fit Oil Cooler Kit, Part 5: Final Data Review
Posted:
September 15, 2014
Interested in purchasing this E46 oil cooler? Check out our product page for more information!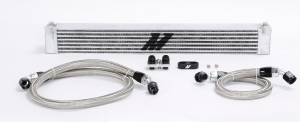 The results are in and they are exactly what we expected! This cooler provided huge gains in cooling efficiency. Let's take a look at the data we compiled. First up is the core volume comparison.
As you can see, the Mishimoto oil cooler provides a huge increase in total core volume. The fluid capacity for the stock cooler is 0.34 qt, while the Mishimoto cooler holds 0.78 qt. This is an increase in volume of 152%!
The additional fluid capacity will add 4 lb to the front end of the vehicle. Although not a huge number, we still needed to check if this added weight would produce any issues with the mounting brackets and stress-related failures. Our team used Finite Element Analysis (FEA) software to ensure that the bracket would support the added weight.
This analysis reveals any areas of the component that will experience stress and how that amount of stress will impact the integrity of the part. In this case, the material being used features a much higher yield strength compared to what it will experience during use. This component checks out!
Next up is the data that will answer the most important question of all: How is this cooler going to benefit you and your M3? Check out our temperature chart below!
The Mishimoto oil cooler provides huge gains in cooling performance. Remember, testing conditions were identical for both the stock cooler and the Mishimoto oil cooler. We saw the outlet temperature for the Mishimoto cooler decrease by as much as 30°F.
The next chart shows our evaluation of cooler efficiency. By measuring the inlet and outlet temperatures, we can see how effective the cores are at exchanging heat.
The Mishimoto oil cooler provides an efficiency increase of 29% compared to the stock cooler. This improvement is vital for keeping safe temperatures on the track.
Finally, we collected fluid pressure data to ensure that our product did not have a negative impact on oil pressure.
The Mishimoto oil cooler provides a dramatic 11 psi reduction in pressure loss compared to the stock cooler!
So, now that we had a slew of impressive performance gains, this product testing was complete. Let's quickly review our initial goals to see how well this project stayed on target.
Project Goals
Kit must be a direct fit, all inclusive, and require no irreversible vehicle modification.
This kit is a direct-fit unit that includes all necessary components for installation and requires no irreversible vehicle modification. The kit includes an oil cooler, stainless steel braided oil lines, an adapter kit for the oil lines, and all necessary hardware. The only minor modification required is the removal of the oil cooler shrouding, which can be reinstalled if the user wishes to revert to the stock setup.
Must provide a proven reduction in oil temperatures.
Our real-world testing showed a 30°F reduction in fluid temperatures and a 29% improvement in cooler efficiency. This oil cooler is a perfect upgrade from the stock unit for those who drive aggressively and/or track their M3.
Pressure loss must be similar or better compared to the stock cooler.
Our oil cooler provided an improvement in pressure loss of 11 psi across the core!
Cooler must function with either the stock or Mishimoto radiator.
Our test fitting confirmed that the Mishimoto oil cooler will function perfectly with the stock radiator or the Mishimoto Performance Aluminum Radiator!
This project is complete! Check out the image of this kit below!
Feel free to follow up with any questions or comments. Stay tuned for future BMW development projects!
Thanks
Interested in purchasing this E46 oil cooler? Check out our product page for more information!