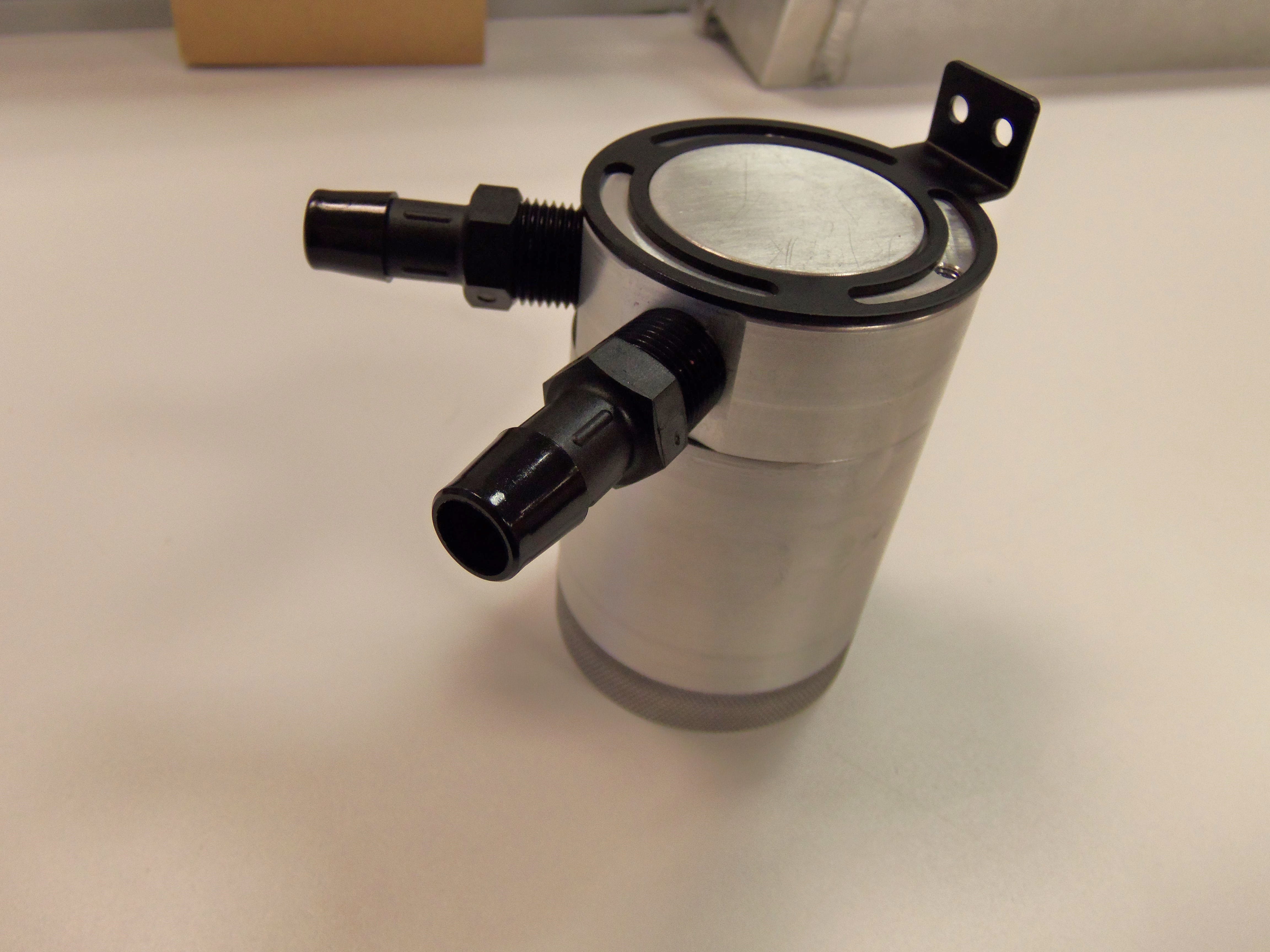 Mishimoto Compact Baffled Oil Catch Can, Part 3: Final Prototyping
Interested in purchasing this catch can? Check out our product page for more information!
The CNC-machined components keep rolling in! Our last prototype has been constructed and is now ready for our final evaluation before beginning mass production of these units. This prototype is a raw aluminum version; our final version will feature a black anodized finish.
The first completed component is the base/can portion of the product. This is a CNC-machined piece with internal threading on the upper portion, a port on the bottom for a drain or valve, and knurling at the bottom for ease of removal.
In the image above, you can see that we did some road testing with this catch can, using one of our employee's vehicles, to ensure that it was operating as we designed it. Everything checked out, and we caught quite a bit of oil even during short periods of driving!
The image above shows our final prototype lid/top. This piece features some gorgeous CNC machining. The Mishimoto logo is visible yet subtle on the top. The ports are also labeled in/out for convenience during installation.
The image of the top above shows three port locations, two threaded and one unthreaded. The smaller threaded port attaches the baffle to the lid via a machine-threaded rod. The larger threaded hole is for our bronze filter, and the smaller unthreaded port is for airflow. The lower portion of the lid is also threaded to mate properly with the base. Check out a few shots below with a fitting installed. As mentioned before, these brass units are being used simply for mockup and not with the final product.
Next we installed our filter unit, baffle mount, and air diverter. The diverter in the image below is our fabricated component and does not possess the polished finish of our final version. This component will be properly displayed in later images.
Our final components include the steel mounting bracket and the aluminum baffle unit. The bracket will provide ample support for mounting the catch can in just about any scenario. Check it out!
Now that we had all components, we could fully assemble our prototype. Take a look at what our team created!
The fittings you see attached in this image are representative of what we will include with our final product. These fittings are constructed from a durable nylon material, able to withstand pressures of 150 psi and with an operating temperature range of -50°F to 275°F (-45˚C to 135˚C). We are very confident these fittings will endure years of temperature variation and exposure to fuel and oil. Nylon fittings also provide protection for the aluminum threads in the lid if the fittings were overtightened.
After looking over this component and making minor tweaks and suggestions, we are very pleased with the design. We even mocked up this unit in several vehicles brought to our facility for other product development to make sure it would fit properly. We are also planning to bring a line of direct-fit catch can kits to market in the very near future. This will take the guesswork out of mounting, line routing, and installation for those who prefer products made specifically for their year/make/model vehicles. Check back next time for a look at the finalized catch can!
Interested in purchasing this catch can? Check out our product page for more information!