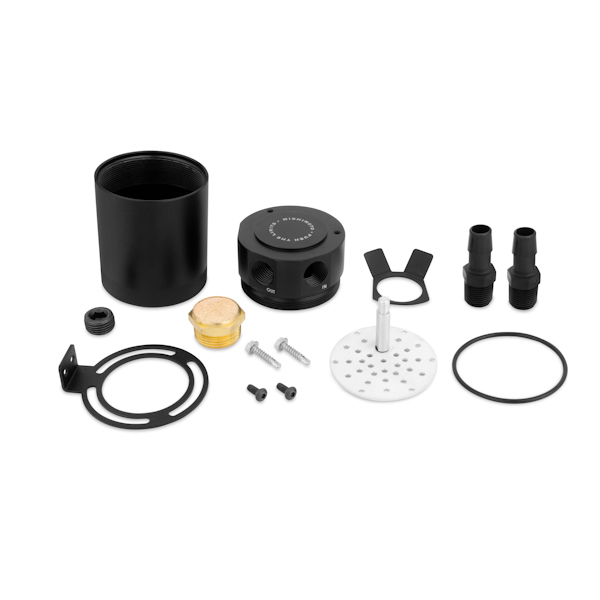 Mishimoto 2015 Subaru WRX Direct-Fit Baffled Oil Catch Can System, Part 1: Product Introduction
Interested in purchasing our WRX catch can kit? Check out more details on our product page linked below!
If you follow our engineering blog or are involved with any of our social media outlets, you should be well aware of the new baffled oil catch can we recently released. This new product features a much smaller footprint compared to our existing catch can, allowing for fitment in tighter engine bays.
While developing this catch can, we wondered about using it in direct-fit kits for popular vehicles. For most drivers, a catch can is a DIY project requiring only the routing of hoses and fabrication of brackets for mounting the can. Installing a DIY setup that appears like it was made for the vehicle can be quite a challenge. This is where we come in, to take the guesswork out of a catch can installation. We are planning to provide mounting brackets, hardware, silicone lines, and a detailed installation guide for these kits.
Our shop vehicle would be our first target for this new line of products. We have two 2015 Subaru WRXs that we have been using to develop a variety of cooling products, such as silicone hose kits, aluminum radiator, direct-fit oil cooler, CVT oil cooler, J-pipe, and cat-back exhaust. The WRX is the perfect vehicle for a catch can, thanks to its direct injection system that is known for producing carbon buildup on intake valves.
If you did not get a chance to see our catch can design, check out a few quick images of the final product below.
Since the primary component was already developed, this would be an easy project right? Not entirely. We would need to dig deeper into the CCV/PCV system of the FA20DIT and determine the locations for our lines. Additionally, we would need to find suitable underhood locations for the catch cans.
Before diving into the project, we set a few goals for our team of skilled engineers.
Project Goals
Remove oil particles from PCV/CCV air before entry into the intake tract.
Position catch cans with a strong bracketing system in ideal engine bay locations.
Include direct-fit premade lines for easy installation.
Let's break these goals down for a quick explanation of each.
Oil Separation
The primary goal for any catch can setup is to reduce the amount of oil particles entering into the intake tract. PCV and CCV systems work together to provide optimal crankcase pressures and to ventilate the air in a safe and environmentally friendly fashion. This air is then recirculated back to the intake to be burnt in the combustion process. Although this is a simple way to recycle these contaminants, the presence of oil in your intake system will result in carbon buildup on your valves and will lower the octane of your combustion mixture. This is not something you want in a performance vehicle. To reduce carbon buildup, a properly functioning catch can system will capture all oil and fuel particles and return clean air to the intake tract. Above all, oil separation will be our team's primary focus.
Proper Placement
Although it may seem like a small detail, can placement will be key for this particular kit. We need to consider any other aftermarket components that could come into contact with our catch cans. We also need to locate ideal mounting positions and design our brackets to function with them. Finally, we must cater to both LHD and RHD vehicles, so as not to leave out our friends outside the US.
Ease of Installation
The entire premise of this project is to provide an easy-to-install kit that includes everything needed. We want to take any guesswork out of installing a catch can for your 2015 WRX. To be sure this kit is all inclusive, we will be including premade silicone lines that will route PCV and CCV air to the catch can and back to the intake. Our application-specific mounting brackets will include all necessary hardware to take this product out of the box and install it on the vehicle in very little time.
Now that we have the groundwork laid for this particular project, we could begin the design process for the catch can mounting brackets. We want a very clean bracket system that is subtle, yet engineered for a precise and strong securing point.
Check back with us next time to see the prototype and mock-up of our initial bracket design.
Thanks!
Interested in purchasing our WRX catch can kit? Check out more details on our product page linked below!