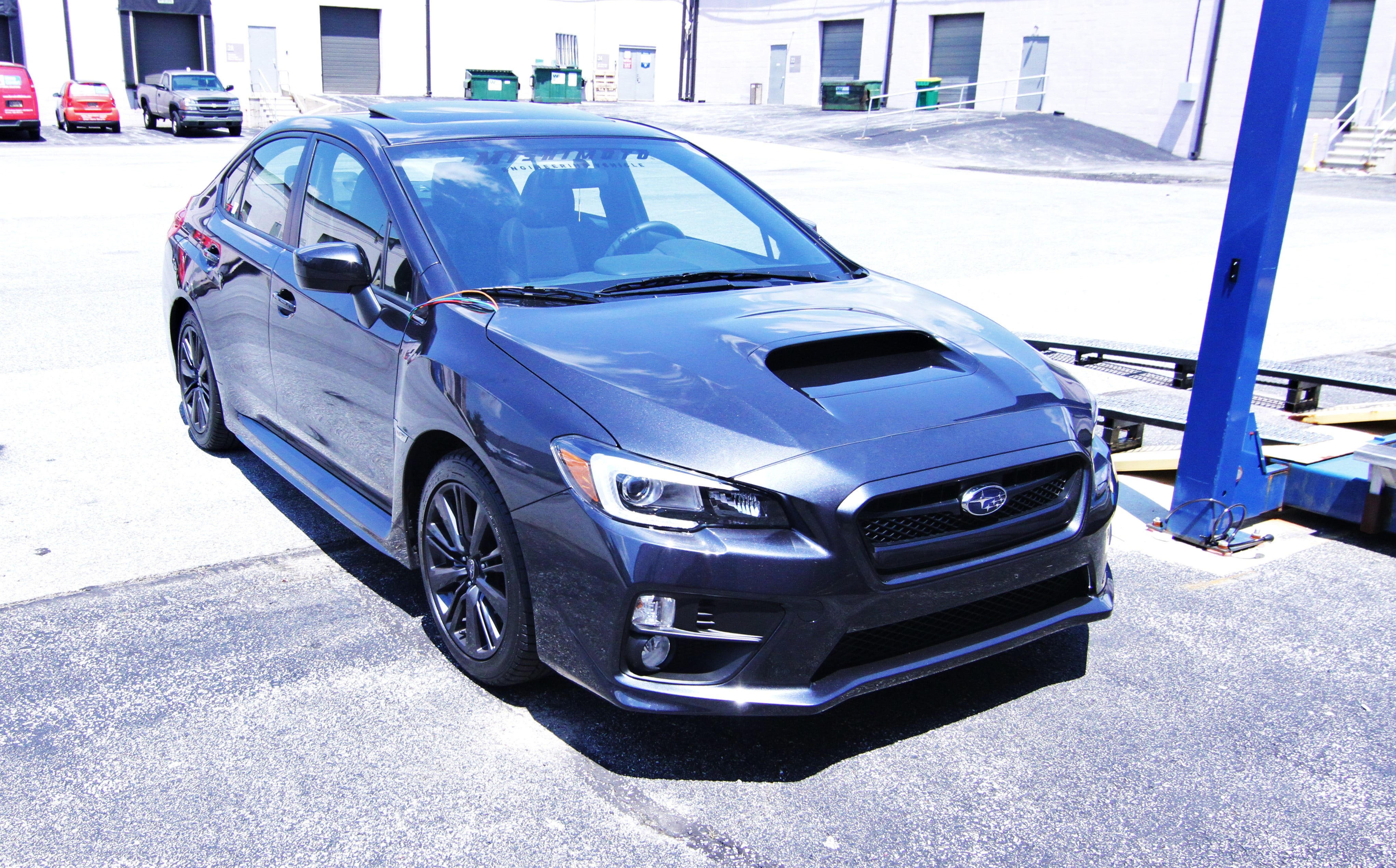 Mishimoto 2015 Subaru WRX CVT Transmission Fluid Cooler, Part 1: Project Introduction and Goals
Interested in purchasing our WRX transmission cooler? Check out our product page for more information!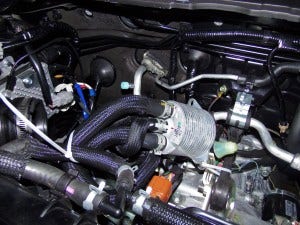 WRX stock liquid-to-liquid CVT cooler
The lines are  rubber with a sheathing to protect them from any rubbing. This unit mounts to the side of the engine block on the passenger side. After evaluating the stock unit, our team decided to design a product to assist the stock unit. The stock setup also functions as a fluid warmer, which will help bring the fluid up to operating temperature, and then our supplemental cooler will help retain optimal temperatures. Check out our test vehicle below!
So we had everything we needed to start the project: a team of engineers, an office full of car enthusiasts, a 2015 WRX, testing equipment, and a shop full of fabrication equipment. First, we set a few simple goals to follow to obtain the results we wanted.
Project Goals
Kit must be easy to install and require no vehicle modification.
Cooling performance gains must be proven through real-world testing.
Cooler must supplement the stock liquid-to-liquid cooler.
With these simple goals in mind, our engineering team began to envision and create the best-performing product possible A quick breakdown of these goals is detailed below.
Easy Install
We pride ourselves in developing products that are easy to install and bolt on to your stock vehicle. Our goal is to provide efficient, accurate instructions for our products, which can be installed with common hand tools. The WRX is a brand new vehicle. I am not sure that many folks would want to hack into their new vehicles. This kit will feature a completely reversible installation so if you choose to remove it, there will be no signs that it was installed. We too are consumers of the performance aftermarket world, and we can appreciate a product that installs perfectly and looks like stock equipment.
Cool It
The primary focus for this project is cooling performance. We want to reduce temperatures as efficiently as possible so you can drive your car in any way you choose, whether tackling those back roads you have been eying, or that weekend autocross. Our goal is to provide efficient cooling so you can truly enjoy your new WRX!
A Helping Hand
As mentioned before, our cooler would not replace the stock cooler; instead it would be supplementing the stock unit. This system is also rather efficient for engine oil cooling, as we found when testing our 2015 WRX oil cooler kit.
That's all for our first installment of the build. Check back next time for the development of our first prototype design!
Thanks
Interested in purchasing our WRX transmission cooler? Check out our product page for more information!