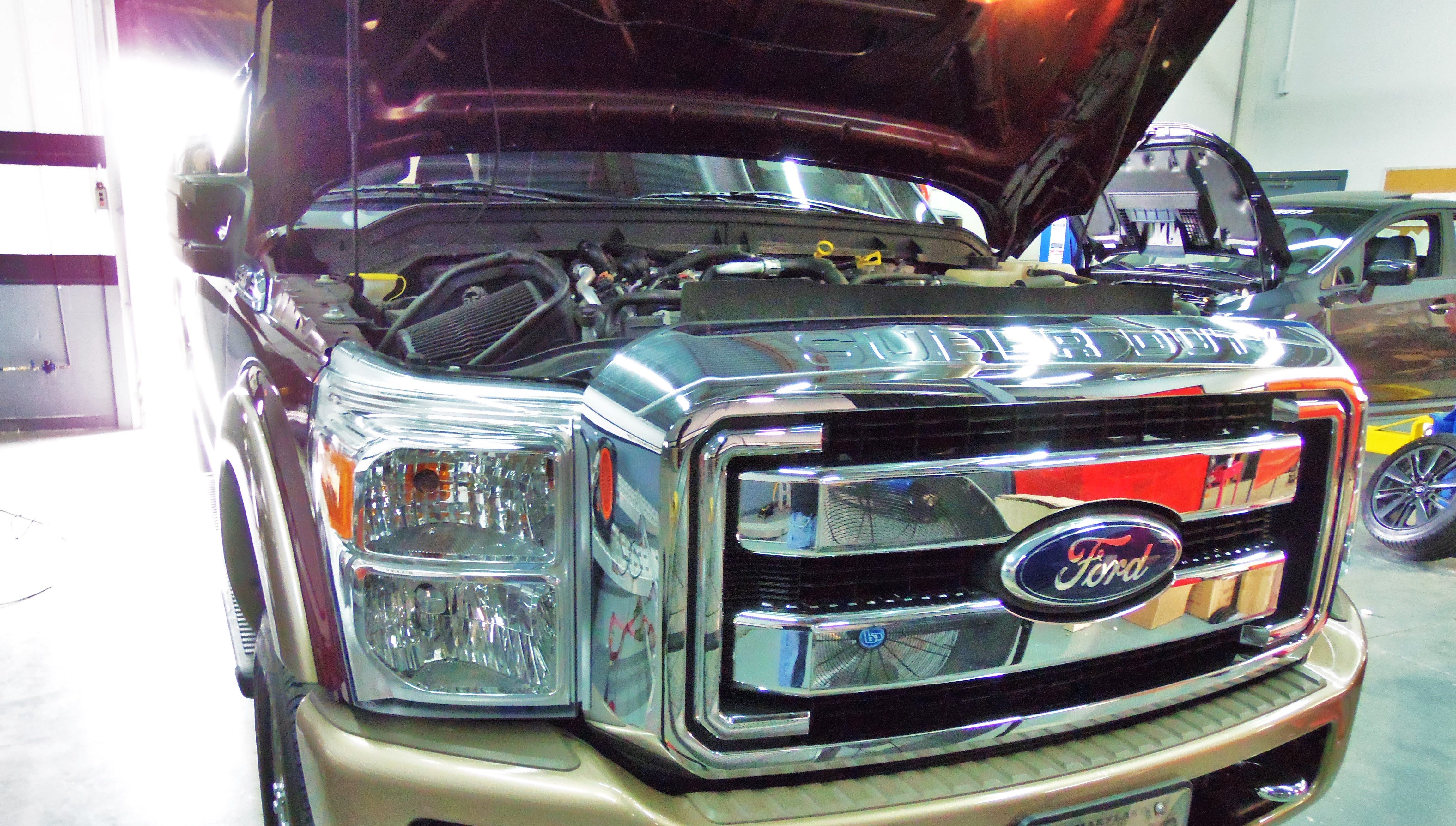 2011-2014 Ford 6.7L Powerstroke Performance Aluminum Radiator, Part 1: Product Introduction, Explanation, and Factory Radiator Analysis
Interested in purchasing our 6.7L Powerstroke radiator? Check out our product page for more information!
The Ford Powerstroke 6.4L has not had a fantastic reputation for radiator reliability. Radiator failures are nearly a guarantee, with many vehicle owners experiencing frequent failures in an extremely short time frame. Ford began tackling the problem with a variety of Technical Service Bulletins for coolant system upgrades to remedy the issues. To provide even more protection, the team at Mishimoto developed a very successful bolt-in radiator for the 6.4L that eliminates several common failure points in the factory unit: the plastic material used in the end tanks, and the crimp connection of the core to the tanks. We also investigated the reasoning for frequent failures in certain trucks, and we identified several factors that would have an impact on overall radiator longevity. These include coolant system components such as the degas bottle and thermostat, as well as chassis bushings, which play a huge role in radiator flex.
Enough about the 6.4L. The focus of this article is on the new Powerstroke on the block, the mighty 6.7L. Ford has done a great job with the new engine. Although we've heard of some turbocharger issues and additional minor problems, the new truck seems fairly stout and responds well to modifications. The 6.7L is the first medium-duty diesel designed and built by Ford; International is no longer the engine supplier.
During our time spent on web forums, with enthusiast groups, at truck events, and in discussions with our vendors, we began to receive feedback regarding a need for a 6.7L aluminum radiator solution. If enthusiasts need a cooling solution, we are always ready to tackle a problem to develop an effective solution. We set some initial goals for the project to ensure that our engineering team would stay on track and create the product our consumers were requesting.
Project Goals
Must be direct fit and require no vehicle modification.
Provide additional coolant capacity and an efficient core design.
Test and provide data regarding radiator performance compared to OEM unit.
Let's break these goals down for a quick look at each.
Make It Fit
Fitment is one of our primary product goals with all components going through the development process. We want our products to fit just as well as their factory counterparts. Our team comprises automotive enthusiasts and consumers, and we all have had experiences with an aftermarket piece that does not fit as well as it should. That situation is quite frustrating. Our products are engineered for an exact fit, and we put all our products through a strict process of vehicle test fitting to ensure that the final design is optimal.
Our team will be using the factory radiator to model the mounting points and to develop a 3D rendering of our proposed product. Additionally, we plan to increase the capacity of this radiator, which normally results in an external size increase. We will need to account for this, as we do not want any vehicle modifications necessary for installation. Balancing the increase in capacity and fitment will be key to developing a great product. In short, this radiator will need to fit properly without altering any portion of the truck.
Increased Capacity and Efficiency
As with any of our radiator projects, efficiency is going to be our primary target for product design. Manufacturing this radiator out of aluminum provides improved reliability and durability. This benefit alone is a reason to make the upgrade to aluminum, considering the frequent failure of plastic end tanks. Because of the constant and frequent variation of temperature, plastic end tanks have a reputation for degrading over time. Aluminum is far less susceptible to heat-induced wear, and aluminum will also provide improved heat dissipation. This means it will recover from high temperatures more quickly, which is very helpful when towing or driving aggressively.
Along with designing this product completely out of aluminum, we will be looking to increase fluid capacity. An increase in fluid capacity will result in improved cooling efficiency, but simply making this radiator larger is not enough. We will also be inspecting the factory core, fins, and coolant tubes so we can design our radiator with a denser core. What does this mean? Core density is a measure of the fin and tube composition of the radiator core. Packing more fins into a specific area will result in more heat-transfer points, which results in improved heat exchanger function. Our goal will be to improve on the factory unit by designing a core with shorter fins so we can pack more fins and coolant tubes into the core.
Our hope is that all these improvements will result in real-world improvements in cooling efficiency. What is the point of upgrading your radiator if it isn't more efficient than the factory unit?
Data Support
Unfortunately, the aftermarket performance world is full of absurd claims by manufacturers and also skeptical customers. All products in development at Mishimoto are thoroughly tested to ensure that performance is improved over the factory unit. This allows us to provide real-world data that our consumers can trust.
We will be road testing this radiator to ensure that it cools in an efficient manner. If we can provide gains in efficiency, this will translate to huge benefits that will be seen when towing or hauling large loads.
Now that we had our project goals and guidelines, it was time to bring in a truck for some initial data collection. Check out our test subject, ready to be torn down for radiator removal!
A peek into the engine bay! Things look quite cramped in there, so this should be a "fun" radiator removal. Book time puts this at just under five hours for replacement.
As you can see, open engine bay real estate is nearly nonexistent. Ford used a liquid-to-air intercooler, which is occupying the driver's side of the engine bay. Additionally, this CAC system uses its own cooling system, separate from the main cooling system. The CAC system needs an additional pump, hoses, and even a secondary radiator. The secondary cooling system runs on a much lower thermostat-regulated temperature.
Take a look at the extensive cooling system from the front, with a few of the front-end components removed.
Next we set our team to work removing the factory radiator. We snapped a few shots of some of the components during removal.
Here we can see the upper mounting point for the radiator on the 6.7L. The round bushing attaching the upper peg is very similar if not identical to the bushing used in the 6.4L.
Check out a neat shot of the plastic end tank crimp connections.
Finally, after a fun day under the hood of the 6.7L, the radiator was freed from the grasp of the truck. Check out a few shots of the radiator once removed!
As you can see, the factory radiator utilizes a single-row core, 43.5mm thick. Our evaluation of engine bay constraints shows that we can expand this slightly to provide improvements in fluid capacity.
Check back with us next time where we grab data points from the factory radiator and begin test fitting our prototype radiator!
Thanks for reading!
Interested in purchasing our 6.7L Powerstroke radiator? Check out our product page for more information!