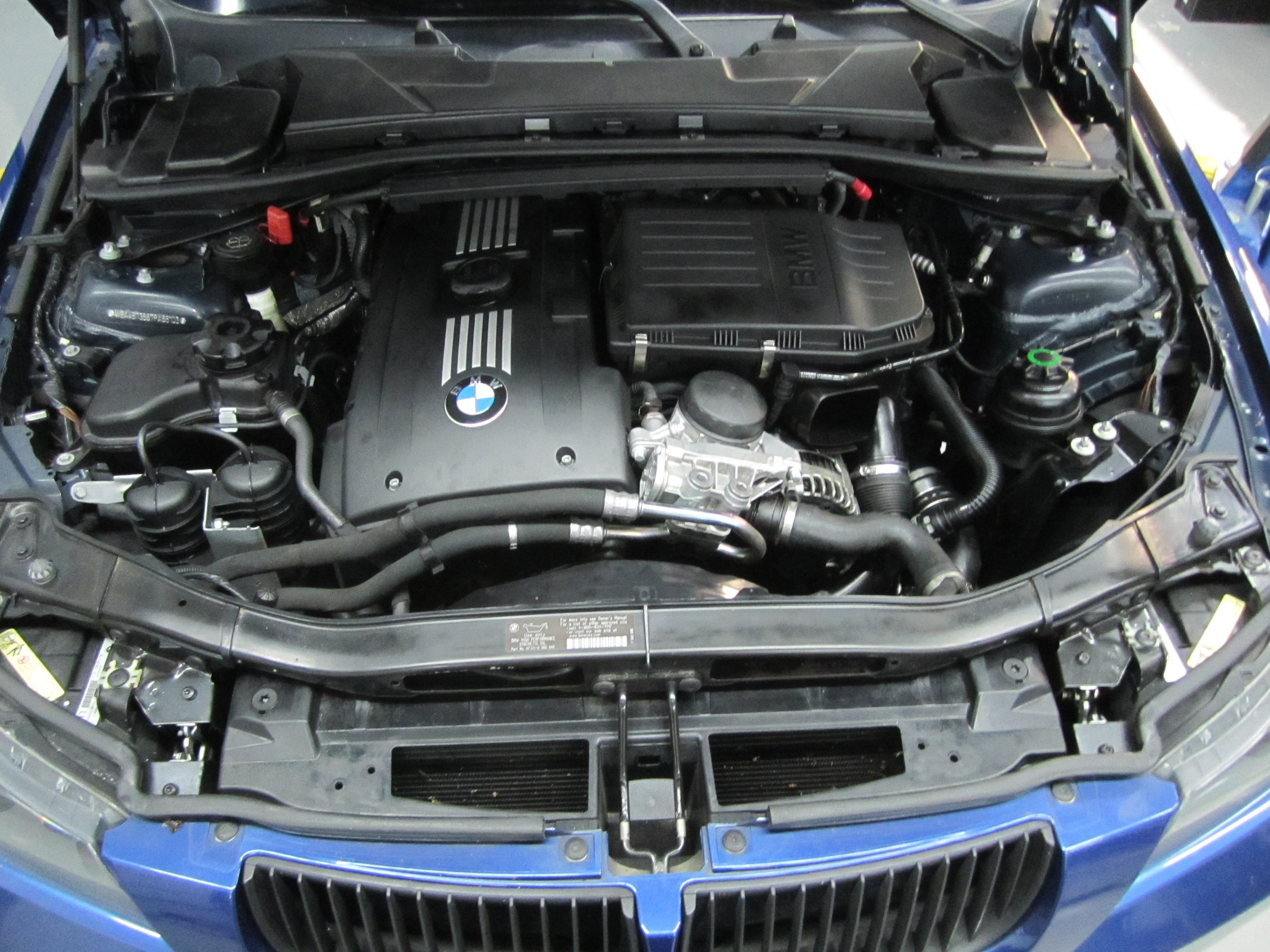 2007-2011 BMW E90 335I/135I Performance Aluminum Radiator, Part 3: Prototype Test Fitting
Interested in purchasing this E90 radiator? Check out our product page for more information!
Test-fitting day! After scouring local forums and maxing out our contact list, we were finally able to locate a 335i owner willing to lend us his vehicle for the day.
Peering into this engine bay reveals " well, not much really. Shrouding and the upper radiator support hide the radiator almost completely. The entire package is mounted fairly far forward in the vehicle, and the best glimpse when fully installed is of the radiator hose connections. Check out a few shots of the stock radiator still installed.
Once we developed a game-plan for the day, our engineers set about removing the stock radiator. The "book time" for replacement is just under two hours for this radiator, which is slightly longer than most, but not terribly so. I would recommend giving yourself a weekend morning to take your time, being sure to remove things carefully. Plastic components become fragile with years of constant temperature variation. It is quite a scene when that hose you are leaning on suddenly bursts and coolant sprays all over your pants. For those of you completing a full cooling system refresh, you have a bit of a longer day ahead of you!
Once we installed the Mishimoto prototype radiator, we were very pleased with the overall fitment. The mounting points matched up and the shroud bolted to the radiator perfectly. We also found that the thickness selected was essentially spot-on and created a nice cushion for component movement. Although difficult to show, check out a few installed shots!
Although the test fit went very well, we had a few areas we wanted to improve. First, the upper corner of the radiator on the driver's side was a bit of a tight fit and required some tweaking to mount perfectly. We would be adjusting our design to amend this. The second correction we planned to make was to the upper inlet. We saw a small amount of restriction in flow with our current design, so we decided to modify the mounting to the tank to alleviate this. Otherwise, we can consider this a very successful test fit.
Our next update will include our final product testing and data collection. Keep an eye out for this in the next few weeks!
Feel free to follow up with any comments or questions!
Thanks
Interested in purchasing this E90 radiator? Check out our product page for more information!