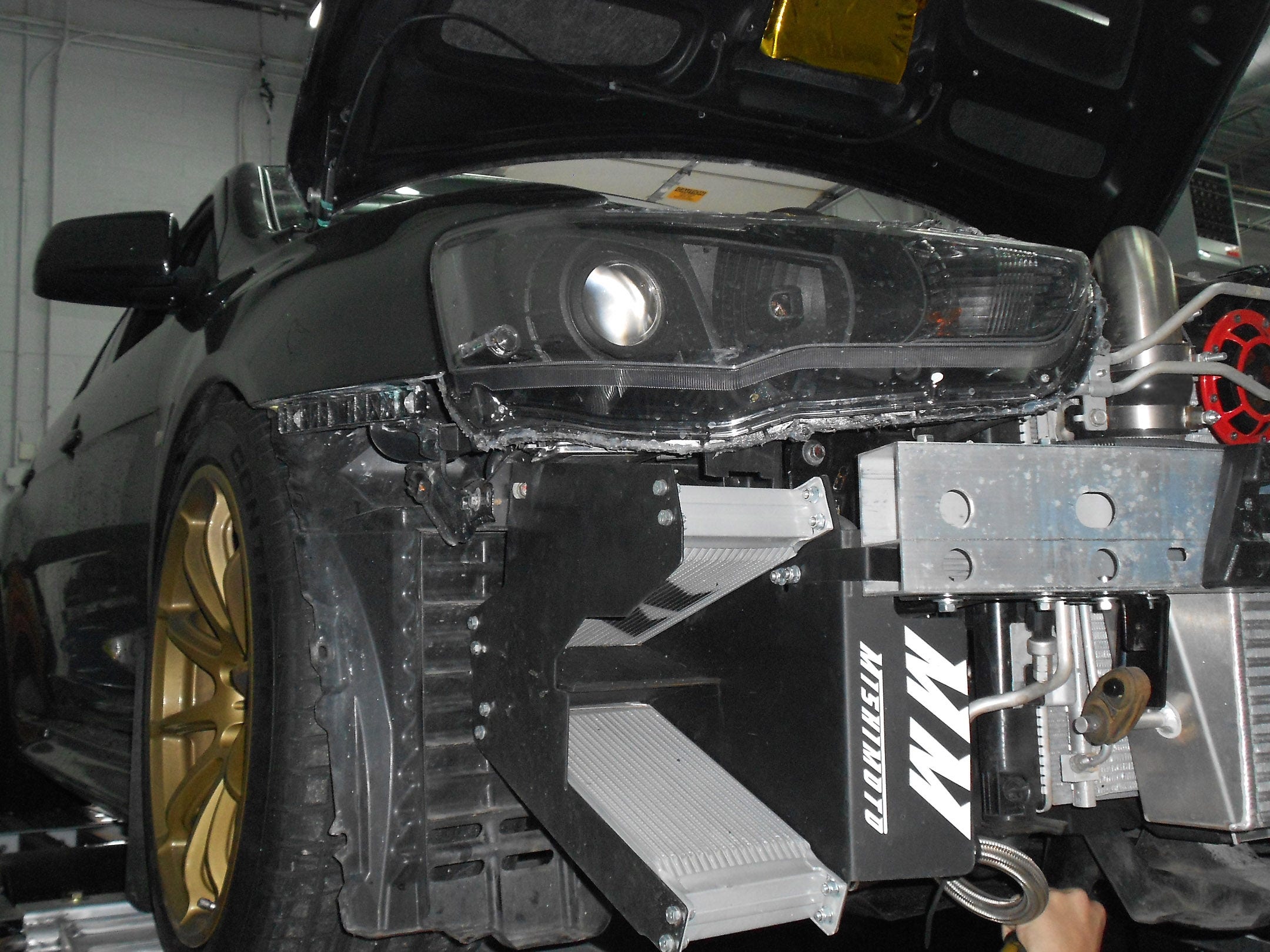 2008-2014 Mishimoto Lancer Evolution X Direct-Fit Oil Cooler Kit, Part 2: CAD Design and Product Testing
Interested in purchasing our Evolution oil cooler kit? Check out our product page for more details!
With our general design created, our engineering team set to work developing 3D models of the components for this kit. Check them out below!
The bracketing would be split into several components and the coolers mounted in a V format. The diverter in the middle of the coolers would prevent airflow escaping between the cores and direct it through the heat exchangers. Oil flow would enter through one cooler, move to the next, and then exit back toward the engine. Check out some 3D images below of the fittings that we needed for this kit.
Now that we had our renderings, a real prototype was worked up, and we needed to find a vehicle for test fitting and data collection. We used our local contacts to source a 2010 GSR model that fit the bill perfectly.
Once the vehicle was in the shop we assembled our testing equipment and decided on a few details of the process.
Testing Conditions:
55 mph cruising
5th gear at 2,850 rpm
Five miles of continuous driving
Ambient temperatures around 50°F
Data Collection:
Oil Pressure
Oil Temperature
Our team then completed testing on both the factory cooler and the Mishimoto dual 19-row cooler setup. Check out the results below!
The Mishimoto oil cooler dropped temperatures by 10°F compared to the factory cooler. Although this might not seem substantial, there are a few other factors to keep in mind. For one, the stock oil filter housing has a built-in thermostat that regulates temperature to 170°F, which is exactly what our cooler did. Another important factor is the type of driving conditions for this test, which could be considered normal. Under extreme driving conditions the temperature difference between the stock cooler and the Mishimoto kit would be even more significant.
Another key point of data to consider is pressure loss. Often times when adding oil coolers to a system, a certain percentage of pressure loss is incurred, due to line routing, increased capacity, and other factors. It is important to note that the Mishimoto oil cooler kit, with dual 19-row coolers, showed identical oil pressure compared to the factory unit. This kit also adds nearly a quart of oil capacity to the system. Installation is rather simple and can be completed with basic hand tools. Check out the installed product below!
Check out a few videos for this kit!
Features and Benefits
Installation Guide
Thanks for reading through the build! Feel free to follow up with any questions or comments regarding the product and/or testing.
Thanks
Interested in purchasing our Evolution oil cooler kit? Check out our product page for more details!