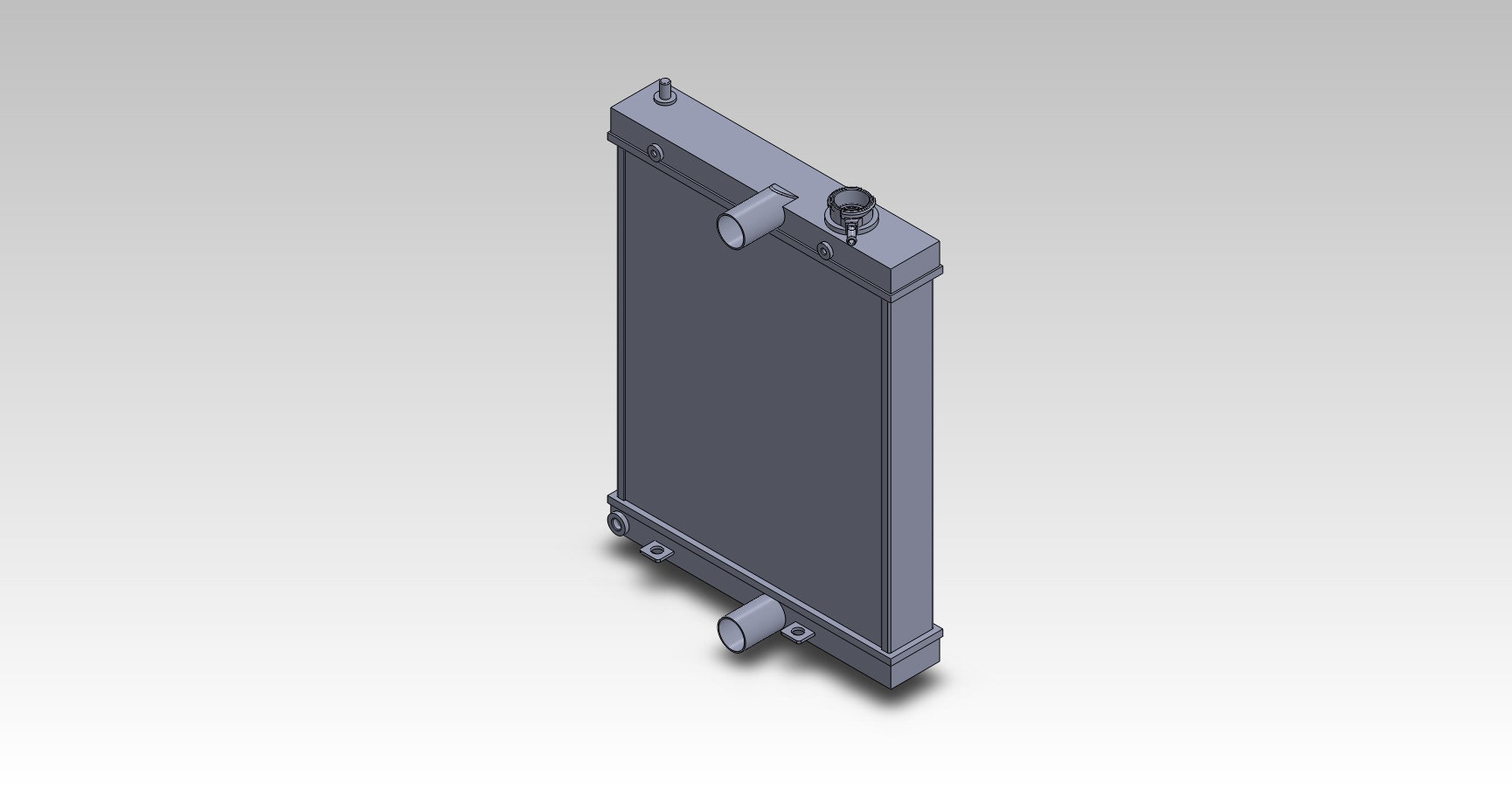 2001-2007 Mitsubishi Lancer Evolution Half-Size Radiator, Part 1: Project Introduction and Initial Test Fitting
Posted:
February 10, 2014
Interested in purchasing our Evolution radiator? Check out our product page for more details!
It is hard to argue with the masses who rave about the Mitsubishi Lancer Evolution. A turbocharged, AWD, rally-inspired chassis wrapped in a tastefully designed and aggressive body is enough to provoke envy in anyone, enthusiast or not.
During the past few years, we've kept a close eye on the Evolution forums and enthusiast groups, and we've also kept tabs on the success of our current products, including oil coolers, intercoolers, radiators, and silicone hose kits. In doing so we have become aware of the needs and wants for products that would make the lives of our customers easier. We found an interesting project that needed support – a half-size radiator for enthusiasts who bolt in large-frame, twin-scroll, and front-facing turbocharger setups. This isn't a modification you will see on a regular basis, but we saw a need for a reliable, efficient, half-size radiator that was priced reasonably and bolted into the Evolution with little or no modification.
So began our research to discover what our customers would want from a product like this. We recognized that this radiator is fairly specialized for drivers who compete in short sprints either in a straight line or through a course, such as autocross or drag racing. Prior to our design phase we established a few reasonable goals that would provide a good base for the start of the project.
Design a direct-fit radiator for the Evo 7/8/9 chassis with no cutting or trimming required.
Allow for full function with OEM hoses and factory fan shroud.
Provide sufficient cooling and space for large/front-facing turbocharger setups.
Offer at a reasonable price point for customers.
We realize that drivers who are modifying their vehicles to this extent would likely have the fabrication ability or a budget large enough to invest in a cooling solution. That being said, we knew that simplifying this component of the build would make the whole process quicker and easier and would allow for more focus on other aspects of the build (tuning, injector selection, turbo sizing, bottom-end components, etc.). Additionally, every dollar saved is another drop of fuel that can be used for flogging about and scaring friends in test drives. Who doesn't enjoy that?
Designing our radiator to function fully with OEM hoses would eliminate any time spent behind the parts store counter, coat hanger in hand for sizing up potential hoses. This can be quite a hassle, especially when you get home and discover that your selection is just a bit short. A half-size radiator utilizing factory hoses would make finding replacements easy, and upgrading to a Mishimoto silicone hose set (I wonder who offers these?) even easier.
Proper cooling and direct fitment will be our main focus for this project. It's great to have a massively powerful vehicle, but what good is it if you have to pull to the side of the road after every third gear pull to let it cool down. Overheating is no fun whether you have a stock engine let alone a built engine you blew your holiday bonus on. The use of an iron block and aluminum head doesn't help with avoiding a blown head gasket and warping.
So let's move onward to our first round of R&D!
Our first test-fit vehicle was borrowed from a gracious enthusiast, and we set to work removing the factory components. For fitting purposes we mocked up our Honda Civic half-size radiator and began taking measurements.  At this point we discovered the modifications necessary for using the Civic style half-rad: the lower mounting points, the radiator hose inlet and outlet, and the upper mounting points would all require extensive modification.  We wanted to eliminate hours of fabrication work with a drop-in design.  This fabrication work would require a TIG-welder with adequate skills. This is not a skill everyone has on their resume.
The photo shows the radiator dropped into the support with the mocked-up OEM fan shroud, as well as a Mishimoto silicone upper hose. This radiator was obviously going to be quite small in width, so we would need to compensate with an increase in depth. The design would include a large core, unique end tanks, proper mounting points for the fan shroud (for OEM compatibility), and accurate inlet/outlet locations for use with factory hoses.
Check out a couple of other images showing the close proximity to the turbo. This particular vehicle was not using a front-facing setup, but our research provided information on where to place the radiator to avoid the manifold runners and turbo. The manifold and turbocharger are rather close to the radiator, so we will need to deal with the additional heat.
Fan clearance would not be an issue with this particular design, especially if a slim fan is used. For convenience this radiator includes OEM fan shroud mounting points. The factory fan puts out a fair amount of CFM but is rather bulky. Upgrading to a slim fan is simple and would allow attachment to either a custom shroud or directly to the core.
Look at all that free space begging for some upgrades!
All the measurements, images, and information collected allowed us to generate a prototype or two for testing. Enter Dan, the lead engineer for this project, who set to work on modeling our potential design. The prototype that emerged promised perfect fitment and exceptional performance. Solidworks renderings looked fantastic, and we were excited to get this project moving.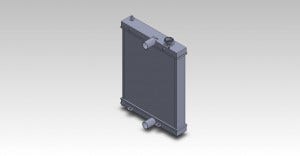 Check back next time as we solidify our design and perform additional test fitting!
Thanks
Interested in purchasing our Evolution radiator? Check out our product page for more details!